Thieves have been branded as "sick and cynical" after raiding a store and making off with charity cash being raised in support dementia research.
The break-in in the early hours of Monday is the latest in a string of burglaries at retail outlets in Hawick, Roxburghshire.
An estimated £600 in coins stacked up in a gallon whisky bottle were snatched.
The manager of the Iceland store, Bill Innes, told of his outrage at the raid.
He is convinced the culprits had been monitoring the cash in the bottle and struck when it was almost full.
Mr Innes said: "I go on holiday this week, and I was planning to empty the bottle before I left. There must have been between £500 and £600 in there.
"We'd already raised and banked £1,200 for the charity from an earlier whisky bottle collection, so we were on our way to making it almost £2,000 for dementia research.
"Then this goes and happens. It was despicable.
"It happened on Monday morning at 4.30am. They came in through the fire escape.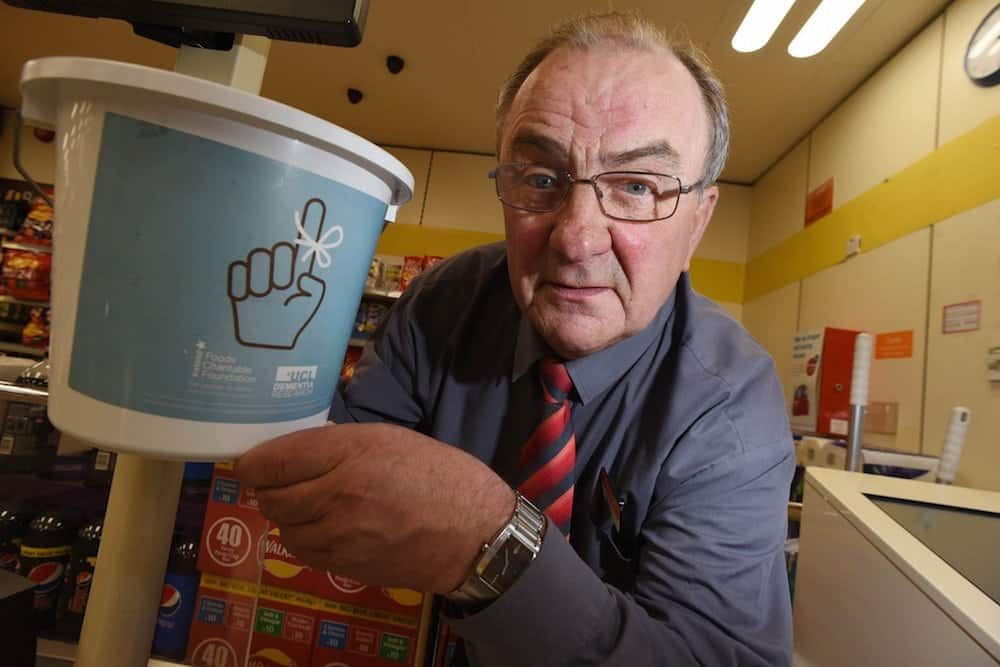 "The police responded within four minutes, but they were in and out in a minute.
"They never touched anything else. It was just the charity bottle that was taken. That's what they were after.
"They obviously knew what they wanted, and I'm pretty sure they had been monitoring it and knew that it was almost full.
"It's beyond me how anyone could be so cruel to take money so clearly aimed at helping people with dementia.
"It is so heartless. These people are just low life."
Despite that setback, Mr Innes said he is determined not to allow the thieves to win.
He said: "This was pretty sick and cynical, and I've posted messages on Facebook to let as many people as possible know about this.
"We have replaced the bottle with a bucket which is screwed down, and I intend to put a wee notice up to say that we are not going to allow what has happened to beat us.
"The support we have had from the people of the town has been quite amazing. I think we were averaging about £100 a week in the bottle."
Local councillor Stuart Marshall has also condemned the culprits.
He said: "It's very worrying that there is such an increase in break-ins at the moment in our town.
"These thieves stoop to a new low level when they steal charity money.
"It's quite appalling really, and one can only hope that the police get to them before more premises are targeted."
Anyone with information on any of the raids is asked to contact Police Scotland via 101 or Crimestoppers on 0800 555111.