A green-fingered Londoner was left red-faced with rage when her community garden was torn up by the council – because she lives on the wrong street.
Lou Downe spent more than a year tending to the vegetables, flowers and herbs which grew around the corner from her home before they were dug up by council contractors – because they say she was trespassing.
But she woke up yesterday (Thurs) to find council workers uprooting the plants which was a welcomed burst of colour to her neighbouring estate, in Shoreditch, east London.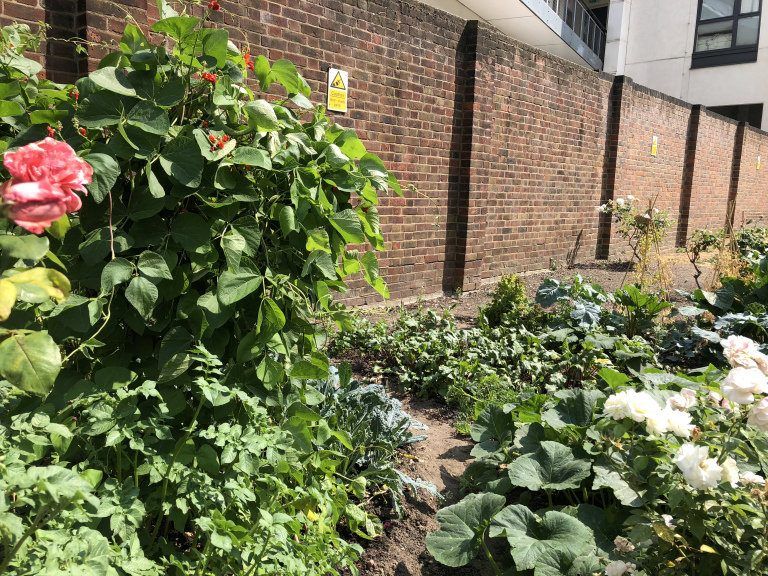 She said: "I live in a tiny one bedroom flat. It has no outdoor space which is not unusual in London where less than 50 per cent of homes in have a garden.
"I'm not complaining. I chose to live in Hackney because I love the area but last year, like with most people, our rent went up. As did the price of food, and pretty much everything else.
"A combination of these factors and a hope that I could alleviate some of this problem not just for myself but the local community lead me to think about starting a community garden.
"It was a 4 x 3 metre area between some dead rose bushes.
"There was no clear ownership so I set about improving the soil and planting vegetables.
"Nothing I was doing was permanent and would only have improved the site for whoever owned it.
"The garden literally blossomed and by summer was producing enough vegetables to keep us and our neighbours fed."
Lou and her neighbours planned to expand the vegetable patch into an official community garden last year, until someone complained on 'Health and Safety' grounds.
Lou, who works as a design and service standards director said: "I received an email from our estate agent with a snippet of text they had received from the holding company of our building.
"It said the plants I'd grown there constituted to trespassing and that would be prosecuted in ten days unless I removed them."
The vigilant gardener said she tried to contact several councillors and finally managed to halt the process – on the condition she collected enough signatures to make the patch of land an official community garden.
She said: "But after a long winter when only the most intrepid gardeners are thinking about gardening, I was struggling to find anyone in the estate to put their name to the project.
"Many were keen to be involved but it's one thing to be involved in a community garden and another to run one."
An optimistic Lou thought she could have another go in spring but came to the devastating realisation that this was not possible – when she woke up to find council workers uprooting the garden.
She said: "I looked out of my window to see the garden being destroyed.
"A notice had apparently been posted in plain view asking me to stop my 'unauthorised gardening'.
"In fact, the notice was obscured by rose bushes, was a long way from the garden and had been posted just four days earlier."
Mayor of Hackney, Phillip Glanville responded to Lou's raging Tweets which she directed at the mayor and Hackney Council.
He posted: "That's awful, I don't make individual decisions like this and have backed estate community gardens from the start.
"I am so sorry this has happened and will investigate what has gone wrong.
"I thought I'd been involved before in trying to preserve this."
Other users showed support for the disappointed gardener.
Kirsty Kenney posted: "Awful response to amazing community led work."
Kate Ivey-Williams commented: "I'm so sorry that's awful, all your hard work! So heartbreaking. So pointless."
Hackney Council said it has apologised to the keen gardener but was forced to take action following several complaints about the vegetable patch.
Ajman Ali, director of housing services said: "We are extremely sorry that we cleared land on Whiston Road Estate that Ms Downe had been cultivating without contacting her directly.
"We have been in touch with her to apologise and explain why we did this.
"Green projects are high in our list of priorities and we will always support growing initiatives where and how we can.
"In the past few years, we have helped social tenants and leaseholders set up more than 60 community gardens and plots in estates, under the Grow Your Own scheme.
"However we have to balance the competing needs and wishes of all our residents.
"Ms Downe is not a resident of Whiston Estate yet was using land on it, so we asked her to seek support from tenants and leaseholders who do live there to collaborate on a Grow Your Own project.
"Any Grow Your Own project needs the backing of at least five residents but we were not contacted by any Whiston Road Estate resident in support this scheme and as a result we did not feel we could give her permission to use the land.
"In addition, land needs to be deemed suitable for growing food. This check did not take place.
"Unfortunately, we received a series of complaints from those who live on the estate about the vegetable patch she had cultivated on housing communal land, requesting that we remove it.
"We had been in contact with Ms Downe on a number of occasions last summer and made it very clear to her what the process was for setting up a community garden, particularly around gaining support of the estate community.
"We also tried to set up a meeting at the site but she was unable to attend, we then wrote to Ms Downe asking her to stop, which she didn't.
"More recently we received a health and safety complaint and as a result of that, we decided to take action."
https://www.thelondoneconomic.com/news/watch-grow-your-own-brexit-survival-kit-to-combat-food-shortages-in-event-of-no-deal-brexit/08/03/