A kindhearted waitress whips up fresh meals for the homeless in her community and says she has dished out 75,000 DINNERS from her own kitchen.
Granny Gloria Lewis, 54, spends her weekends making 225 fresh dinners and 180 breakfasts from her two-stove, four-fridge kitchen after years of living on the brink of homelessness in her low-income job.
Gloria, who moved to the US from Barbados in 1987, spends $700 on groceries every weekend to make dozens of home-cooked meals for those in need.
Every Sunday the charitable mom-of-two preps giant trays of chicken parmesan, spaghetti and meatballs, barbeque chicken and ribs, along with fresh veggies and rice to help those on the street.
Waitress Gloria, who also works full time, spends her Mondays in downtown Fort Lauderdale, Florida, where hundreds of people gather for her fresh meals every week.
Gloria and her mechanic husband, Anthony Vargas, 44, began their charity Care in Action in 2012 out of their own pocket making just 20 meals a week.
However, the kind-hearted pair has seen their output increase by 90 per cent thanks to the financial support of Pennsylvania businessman Bob Byers who became involved in 2015.
Gloria said: "I have always worked in low-income jobs and I could see just how easy it is to become homeless. It's so easy.
"The stereotypes that surround the homeless are so far from the truth. I see myself every day in these people and I think it could be me so easily so I go and feed them.
"I started in 2012 making 20 meals every Sunday. What we did then is just go out onto the street. People were so grateful for fresh meals and prayers.
"We've gone from making 20 meals to over 200 every Sunday now.
"It's just me and my husband. We believe God will provide for us and our needs.
"My husband and I should have been putting money away, but we put it all into this, everything we had.
"A businessman, Bob Byers, he has been our angel.
"He has been an amazing support for Care in Action.
"He saw my struggles and how much of a sacrifice we were making.
"We were on the verge of not being able to do it anymore when he gave us a check for $10,000. He's been funding us regularly ever since."
Despite her hard work, granny-of-three Gloria feels she is not making a dent in her locality's homeless crisis, which still sees almost 2,500 people sleeping on the streets in Broward County.
Gloria says the growing rents in her adopted hometown of Fort Lauderdale make it very difficult for people to remain off the streets and she urged politicians to do their part.
"I've become close friends with a lot of the people I've met.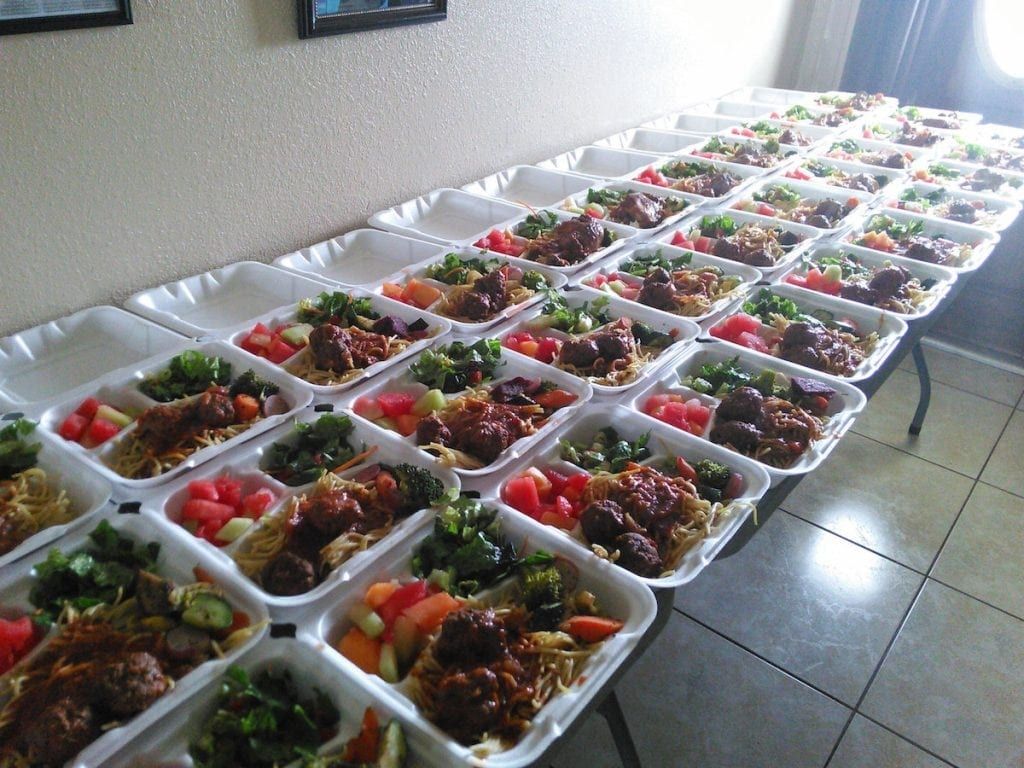 "The worst thing about homelessness is that even when you get off the street, it's so easy to end up back there.
"The cost of housing is so outrageous here. I have a friend who got off the street but she's struggling to get the $600 a month to keep her bed in a room with three other people.
"Politicians have to come up with affordable housing to end this crisis.
"Even though I have tried so hard, I feel like I haven't been able to make that much of a difference because there are still people on the streets and the number is growing and growing.
"I keep hope that one day there will be no one living on the streets. I feel like I can only help people so far."
However, the busy cook said she will continue her mission to help in any way she can, which she said was 'God's purpose'.
"I couldn't do this without God, he called me and my husband to do this.
"There's such a stigma about homeless people but they are a group of people that are so helpful to one another and so supportive. It's been my honor to do what I do."
To donate to Gloria's cause visit: https://www.youhelp.com/everyone-deserves-a-safe-home
Bus firm becomes first in Britain to offer free travel to the homeless
Touching tribute left for homeless man who died in cold weather
Watch Video Here