This is the terrifying moment residents feared there was another "terror attack" in London after a moped gang were spotted fleeing a stabbing – wielding a SHOTGUN.
Onlookers said they heard "five bangs" before a yob on a moped screeched to a halt carrying a passenger brandishing a shotgun. A film, taken by a frightened local on Tuesday (6th) night, shows the moped driver and his armed passenger rowing with a gang on the pavement in central London.
Onlookers on the estate in Camden, north London, said they heard 'five bangs' as one of the passengers fired off shots.
The 56-year-old man who filmed the incident, said: 'I heard about five loud bangs and I thought they might be car backfiring.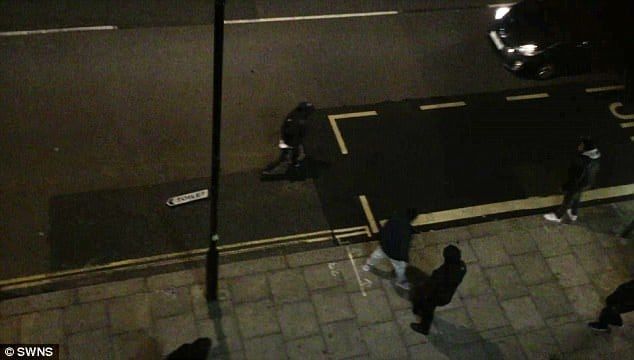 'I looked over the balcony and saw two motorcycles with passengers armed with shotguns and knives.
'There was a gang of youngish people chasing them also carrying improvised weapons.
'Suddenly one of the motorcycle passengers opened fire with shotgun. As far as I know no one was hit.
'Then he reloaded.
'I was greatly shocked and thought this might be a terror attack so I took out my phone and began filming.
'I was in a state of shock.
'I think the moped attack gang problem has become much worse recently.
'To see and hear a shotgun fired directly near me was shocking, especially in the light of recent terrorist attacks.'
Police confirmed they were called to the Grays Inn Road area at around 11.40pm on Tuesday, 6 June to reports of gun shots.
Watch Video Here