The murder of a teenager who was shot in the face has "shocked the local community and the rest of London".
Amaan Shakoor died in hospital after he was shot in the face on Easter Monday.
The 16-year-old was gunned down outside a leisure centre next door to his school at around 10pm near his home in Walthamstow, east London.
He was shot less than 30 minutes after 17-year-old Tanesha Melbourne was gunned down three miles away in Tottenham, north London.
Pal Mohammed Asghar (doub corr), 15, who was with Amaan when he was attacked was treated for non-lifthreatening injuries at hospital, after getting stabbed in the arm.
Dad Ali Asghar said his son was not in a gang and that Amaan came from "a good family".
The 42-year-old said: "There were four of them standing around outside the leisure centre and two people came up and attacked them out of nowhere.
"The first gun shot missed Amaan and they fired again and hit him in the left eye.
"They then stabbed Mohammed in his right arm, the wound was two inches deep.
"They had parked a car outside the gate as they were locked and it was quite dark.
"As they came closer they said nothing, they were wearing balaclavas and Mohammed could not see what they looked like at all, not even if they were black or white, they just came and started shooting, it happened out of nowhere.
"I got a call to say Mohammed had been shot, I was calling him but he would not answer.
"Eventually my brother found him and said he was in hospital, he is not talking much now, I think he is in shock.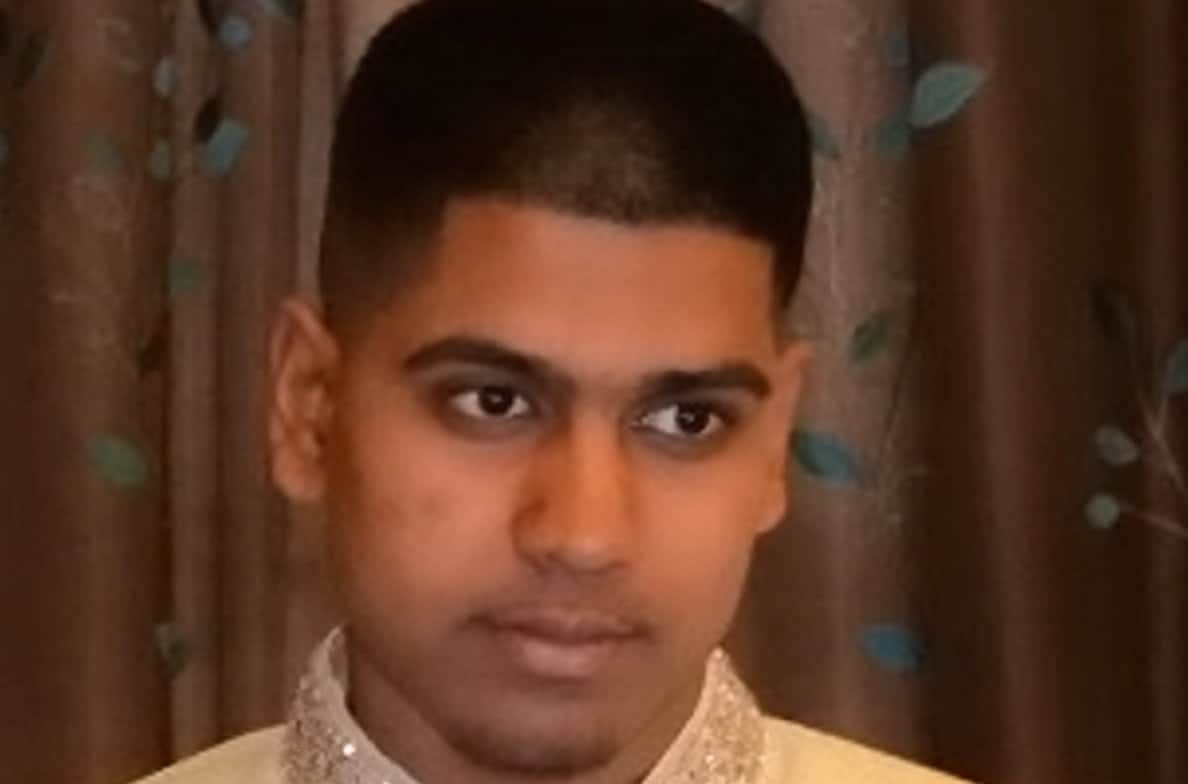 "I am just about to take him to the Royal London Hospital to get his arm looked at by specialists to see if he needs further treatment.
"Mohammed is not part of gangs, I have heard it might be part of a post code war, but I do not think my son is part of gangs or drugs or anything.
"If they wanted to shoot Mohammed or even all of them they could have done, my son and his friends did nothing to harm these people.
"Mohammed and Amaan were at the front of the group, I think they went there to kill Amaan and then they stabbed Mohammed to spread fear.
"I do not know Amaan personally, but he comes from a good family."
Detective Chief Inspector Gary Holmes, who is leading the investigation said the whole of the capital was shocked at the murder.
DCI Gary Holmes said: "This is a tragic murder of a young man which has shocked the local community and the rest of London, and our thoughts are with the victim's family at this incredibly difficult time.
"Serious violence on London's streets cannot be abided, and I would like to assure the local community that my officers and those on the borough are working very hard to piece together what happened and identify those responsible for this violent incident which resulted in a teenager tragically being killed, and another seriously injured.
"There are a number of leads that we are following up on and we are aware of speculation regarding the circumstance of this murder.
"At this very early stage, I am keeping an open mind and I would urge anyone who witnessed this attack, or has any information about the murder to come forward and contact us via the incident room."
https://www.thelondoneconomic.com/must-reads/well-loved-grandmother-who-died-in-london-after-being-shoved-to-floor-dedicated-life-to-her-children-devastated-family-said/04/04/
https://www.thelondoneconomic.com/must-reads/detectives-probing-the-murder-of-a-community-hero-in-london-have-offered-a-20000-reward-for-information/04/04/