This is the miracle dog brought bark to life after its heart stopped beating and it 'died'- for 20 minutes.
Kurt the three-year-old Springer Spaniel was saved by vets at the Royal (Dick) School of Veterinary Studies in Edinburgh who resuscitated him after his heart stopped.
The adorable pooch was in the care of the vets after being brought in by his owner when Kurt collapsed out on a walk.
Kurt was diagnosed with toxoplasma myocarditis – a heart disease said to be rarely found in dogs – and was due to have a doggy pacemaker installed to help his heart.
But before the life-saving op could be performed Kurt's heart stopped beating for 20 minutes before vets were able to revive him with a defibrillator.
Kurt, who's successful revival was described by vets as "rare", is now back home with owner Simon Reed, 37, with no long-term effects and is making a full recovery.
Simon, from Hull, East Yorks, said: "Our dog minder had been looking after a dog with kennel cough, so we took Kurt to the vets to get vaccinated – we thought his symptoms were just side effects of that.
"The next day I was walking him and I threw the ball and he went for it, but when he was coming back he collapsed.
"He got up straight away, so I wasn't sure if he had just slipped and fallen or actually collapsed.
"The next day he was absolutely fine but I took him to the vets and they found that his heartbeat was down to 22bpm – they said it should be around 80bpm.
"The vet was really worried and said we needed to take him to a specialist right away.
"I got him to a specialist vet who did lots of tests on him and an EKG but his first words to me were 'can you get to Edinburgh?', so I knew it was something serious."
Dedicated Simon drove almost five hours to get Kurt to the vets in Edinburgh, who whisked him away, diagnosed him with heart disease and scheduled him to have a pacemaker fitted the next day.
Simon said: "They said he needed a pacemaker fitted – I didn't even know dogs could get them.
"They put it into the side of his neck, not in his chest like they would a human.
"The vets pushed to get him an operation the next morning because it was so serious.
"The morning of the operation, the vets went round to see him and they think he just got so excited to see people that his heart stopped.
"It had all been too much for his heart to take.
"His heart was stopped for 20 minutes while they tried to bring him back around using a defibrillator.
"They took him straight for surgery after that but it didn't go as well as they had hoped, they think because of the massive trauma he had suffered before it.
"They put the cable for the pacemaker into the vein in his neck, leading into the wall of his heart, and it sends shocks to his heart.
"They said they would keep him in for ten days, but a week in they called me and said his heart was still beating irregularly.
"He had to go for a second operation to reposition the cable because it was in a damaged bit of his heart."
Little Kurt was kept in for four weeks after his operation in March.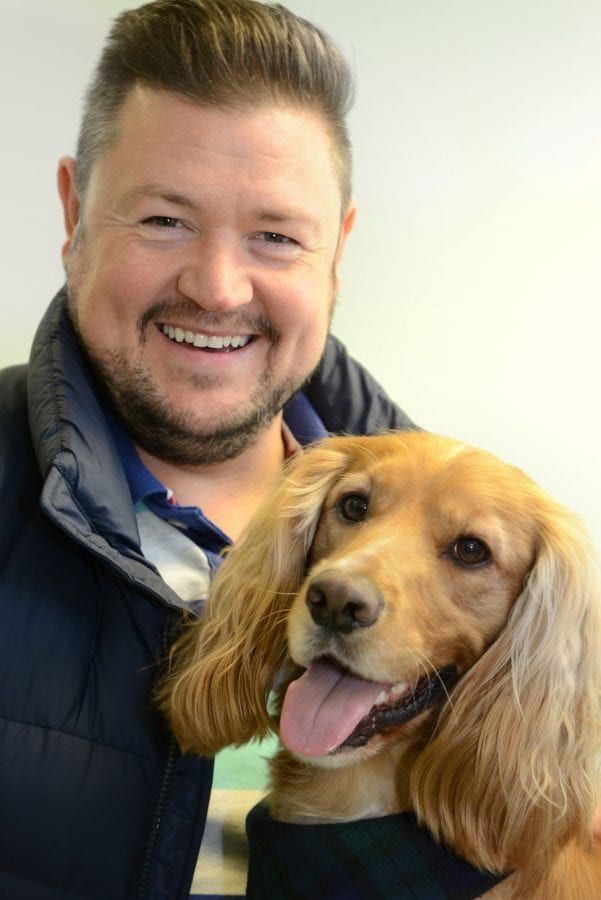 But he is now on the mend and has just had his six months check up with the Edinburgh vets who have praised his speedy recovery.
Simon, who works for a shoe company, said: "He had to spend two weeks on 'cage rest' which was very challenging because he just wants to sit and cuddle with you.
"He was uncontrollable when I picked him up but we had to keep him as calm as possible.
"He wouldn't be here with the incredible work of the Edinburgh vets."
Craig Breheny, one of the vets who helped with the resuscitation, said: "Kurt's heart disease was likely due to an infection.
"In these cases, it is very rare for the patient's heart to suddenly stop beating, and even more rare for them to be resuscitated successfully.
"We are very proud of the ICU team's quick and appropriate actions, which allowed us to restart Kurt's heart, and we are delighted that he is doing so well."
ENDS