Funeral home staff have been blasted for abandoning a coffin inside a hearse for 30 minutes while they went to gorge on a FRY UP.
A carpet fitter claims he saw the hearse park outside a nail shop in Cambridge with three males wearing funeral suits sitting inside.
He says the trio got out the hearse and walked into a cafe up the road while the coffin was left to swelter in 20 degree heat.
The 40-year-old, who does not wish to be named, was horrified to witness how "disrespectful" the funeral staff treated the deceased on Friday as they ate in a greasy spoon.
He said: "I couldn't believe it – I found it disgusting.
"They left somebody's mum or auntie parked up in a lay by – while they go off to have a fry-up.
"It was 22 or 23 degree heat as well.
"They left the car for about 20 or 30 minutes.
"That's totally disrespectful if you ask me.
"I mean bless them – somebody's mum or sister is on their final journey to their resting place.
"They have been left by themselves and none of the family know the funeral staff have left her in a lay by to go and get their breakfast.
"There was definitely somebody in there because I could see a picture of the deceased on top of the coffin.
"It is just sick and disgusting."
The shocking pictures show a hearse parked up on the side of the road with the coffin inside and flowers on top – which usually means a body is inside.
In one of the images you can clearly see the flowers surround a frame which presumably is a picture of the deceased in the coffin.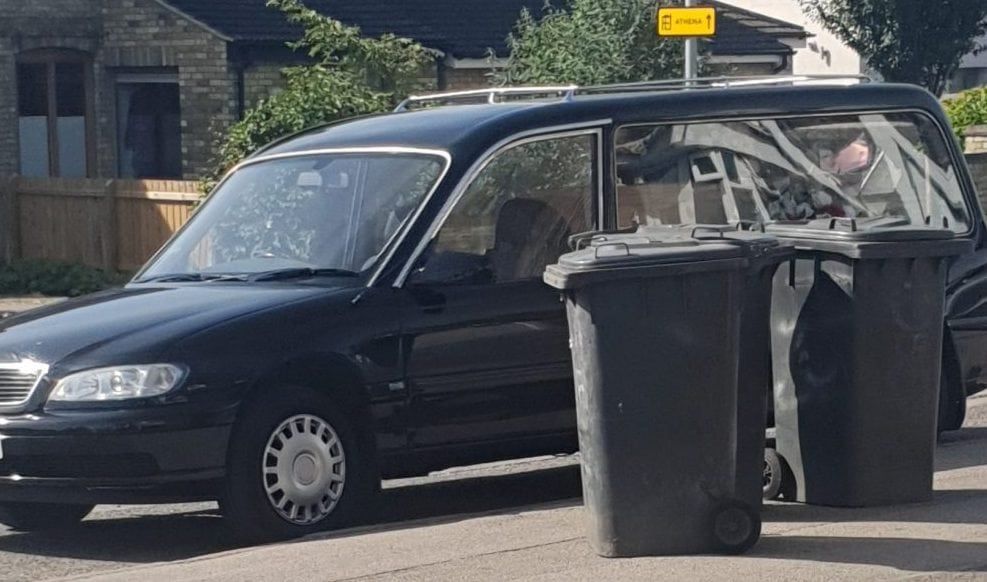 By Ben Gelblum and Yasmin Harisha