My hair looked its best on 16 April 2015 and I have the photographic evidence to prove it.
The embarrassing selfie shall live forever on my Instagram. I rest with my head on a pillow, showing off my locks in all their glory.
Those freshly dyed tresses tumble across the pillow case, a rusty, ruddy, mahogany colour touched with gold and oh so glossy.
Quite simply, my hair has never looked better. I've rung the changes since – short, long; blonde, brunette; highlights, lowlights – but I've never matched that 2015 snap.
And so, when I headed to Karine Hair and Beauty Salon in Soho, I knew exactly what I wanted.
The salon is a cosy, comfortable space tucked away from the madness of central London on Litchfield Street.
A welcoming receptionist fetched me a cappuccino and loaded a pile of the latest magazines into my outstretched arms.
My stylist Alasdair waited patiently as I scrolled through my Instagram and showed him the holy grail selfie.
"That looks achievable," he said, flicking a lock of my hair between his fingers and inspecting the straggly ends.
He fetched the salon's vast selection of colours and flipped through the book, explaining the hues and undertones, pointing out which combination was most likely to match the hair colour in the picture.
He also talked me through the salon's hugely popular Organic Colour Systems, a range of permanent colours made from the maximum amount of certified organic ingredients and the minimum amount of chemicals.
This unique hair colour system is not only completely vegan but it is also gentler on the hair than the usual dyes in salons.
It locks in colour, moisture and goodness and would, Alasdair told me, leave my hair looking healthy with vibrant, long-lasting colour.
That all sounded great and we finally settled on a mix of brunette and copper tones.
Alasdair went to work on my shapeless hair, cutting the dead ends and adding light layering around my jawline.
When he had finished, my locks felt weightless and bouncy with a lovely lift around my face.
Then came the time for patience: Alasdair painstakingly painted the dye onto my hair in sections, folding the foils until I resembled a silver porcupine.
When the big reveal came, I was nervous.
With my hair wet, I couldn't help thinking that it looked… a little bit… orange.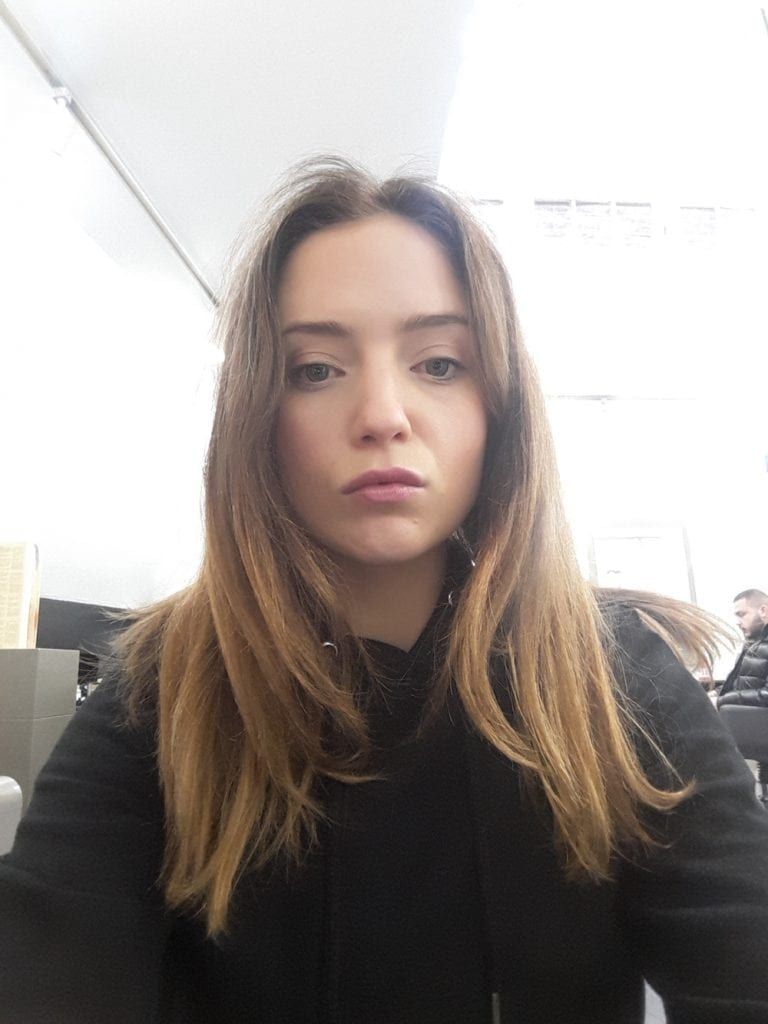 "Don't worry," Alasdair soothed, seeing the anxiety on my face, "just you wait until I've given you a blow dry."
True to his word, once he had dried my hair into a voluminous style, my colour was a soft coppery, golden brunette.
I cannot in all honesty tell you that it was a dead-ringer for my holy grail Instagram snap, but it was pretty damn close, with the same gloss and depth. As a bonus, my hair felt impossibly soft and smooth.
When I left the salon, Alasdair presented me with Power Build shampoo and conditioner – a completely organic formula with natural sunflower seed extract, extracts of lemon, apple and green tea to add strength and volume to hair.
I have used the shampoo and conditioner for several weeks and can attest that it leaves my hair bouncy, supple and with fewer split ends.
If you fancy the Karine Jackson Salon treatment, book your appointment here.
Words Isolde Walters