A groom who is set to tie the knot at the weekend has decided to cater his wedding — cooking for more than 100 people.
Gordon Craig, 33, has been one of Edinburgh's finest chefs for 15 years, so finding someone to cater for his own wedding was going to be a difficult task.
But after a lot of consideration, Gordon finally decided to take on the task himself.
The chef has spent the last week cooking up a storm in his kitchen ahead of his nuptials on Saturday.
Mezze plates are on the menu for the more than 100 guests who will gather to watch Gordon, and his soon-to-be wife Lucy Theaker, 27, tie the knot at Kirknewton House Stables, West Lothian.
He said: "We looked into hiring a catering company but we couldn't get what we wanted so we decided we didn't want to pay someone when we could do the jobs better ourselves.
"I spoke to so many chefs and most of them wanted to do the same things as other people.
"So I just thought since I'm a chef with 15 years of experience, I'm better to just do it myself.
"It's something that my parents and I had discussed and we wanted something where everyone could get involved.
"I think it's a big wedding as people are coming from all over the world."
Michelin-trained Gordon opened Field with partner Richard Conway and best man and head chef Byron Kennedy on West Nicolson Street in 2013.
Byron has been on hand in the run-up to the wedding to help the groom prepare the sharing dishes.
Gordon says all the food for their big day has been inspired by dishes Gordon and Lucy have enjoyed on their travels across the globe.
Tables at the venue will be named after places the couple has holidayed together including Bangkok, Beijing and Berlin.
Guests will tuck into the six sharing platters on each table, all prepared ahead of time by the groom, with help from the bride and best man.
The food will be cooked and plated on the big day by a team of sous chefs from his kitchen.
Gordon, who opened Taisteal in 2017, proposed to his girlfriend of nearly five years at home with the help of her favourite sweeties.
He said: "I hid the engagement ring in a bag of Haribo rings which Lucy loves. Usually, she demolishes them but this time she wanted to save some for the next day.
"Eventually, I managed to persuade her to keep going and she found the ring."
Lucy, a business and communications executive, was delighted with the platinum and diamond band and soon they were planning the wedding.
It's a family affair, with the mother of the bride making one cake and best man Byron surprising the couple with another three-tiered affair fashioned by his fair hand.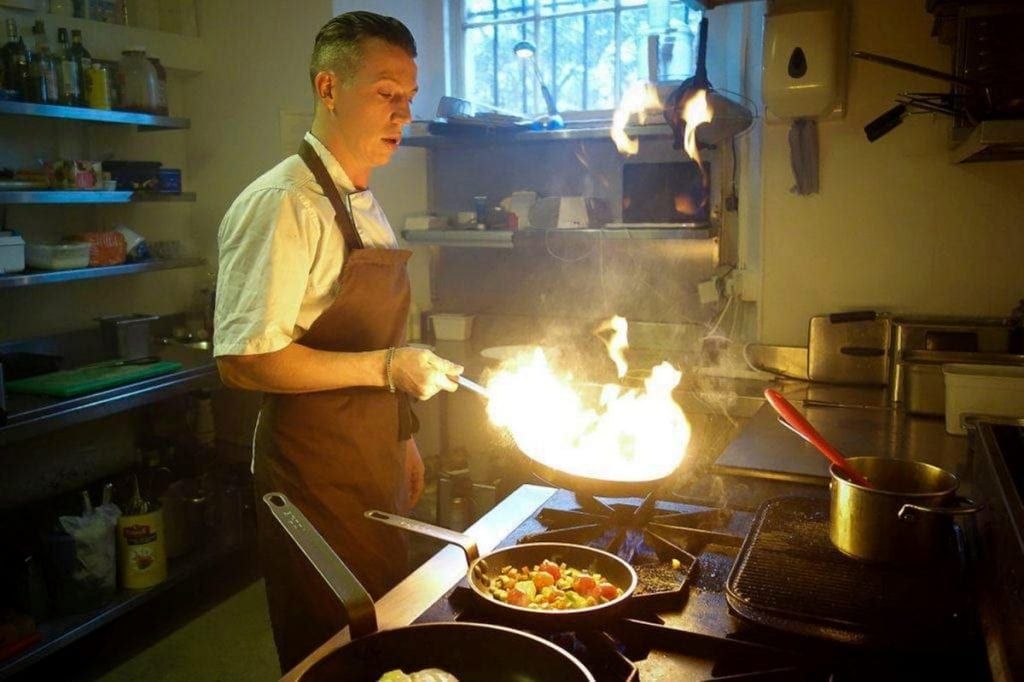 It was important to the pair that the wedding was about everyone in attendance and not just the happy couple.
Gordon is nervous about his friend's speech, even more so than his own, which he plans to deliver off the cuff.
The couple, who met at work when Lucy worked front of house at Field, will be honeymooning in Puglia, Italy, where they are looking forward to discovering new dishes they can recreate at home.
Gordon said: "Lucy and I both love to cook and we make versions of what we've had in other countries."
He isn't worried about switching off work mode on the big day.
Gordon added: "After a few beers, I'll be fine".
https://www.thelondoneconomic.com/food-drink/monks-in-leicestershire-first-in-uk-to-brew-an-officially-recognised-trappist-beer/27/06/