A high street bank has helped a loved-up couple get engaged this week in what is thought to be Britain's first virtual reality proposal.
Footage has been released of the tear-jerking moment when Robin King produced a diamond ring whilst his girlfriend was immersed in a VR simulation with Dame Jessica Ennis-Hill and Jenson Button.
The video, dubbed 'Love Virtually', was recorded in Ennis-Hill's home town of Sheffield, Yorks, after Santander UK undertook a national search seeking someone ready to pop the question.
Robin, 37, responded to the call out. He'd been trying to think up an original way to propose, and the mysterious advert spurred him into action.
"It's still sinking in, to be honest," says Robin.
"I saw the call out from Santander while procrastinating on social media and thought 'what a daft idea', which is exactly why I wanted to do it.
"I knew I wanted to pop the question, but I was racking my brains to think of something really memorable and fun.
"I told Kate just enough of the truth to get her in the car and up to Sheffield; I said we were off to test a VR experience for Santander in return for £250.
"Obviously, there was a massive twist at the end, and she had absolutely no idea it was coming.
"We're both thrilled with the result, and big thanks to everyone who helped arrange it.
"Now we just need to agree on a date."
Robin and Kate (33), who live in Brighton, have been together for seven years.
Robin is a part-time electrician, a full-time father to their one-year-old son and a member of a British beard growing club.
Kate works for a charity and went along with Robin's nuptial subterfuge thinking she was in Sheffield for a customer research exercise involving virtual reality.
But virtual became Actual Reality when she took off her goggles to find Robin on bended knee and an Olympic gold medal winner as a preemptive Maid of Honour.
Not only that, Jessica bore a £5,000 cheque as a gift from Santander UK to help kick-start Robin and Kate's future together.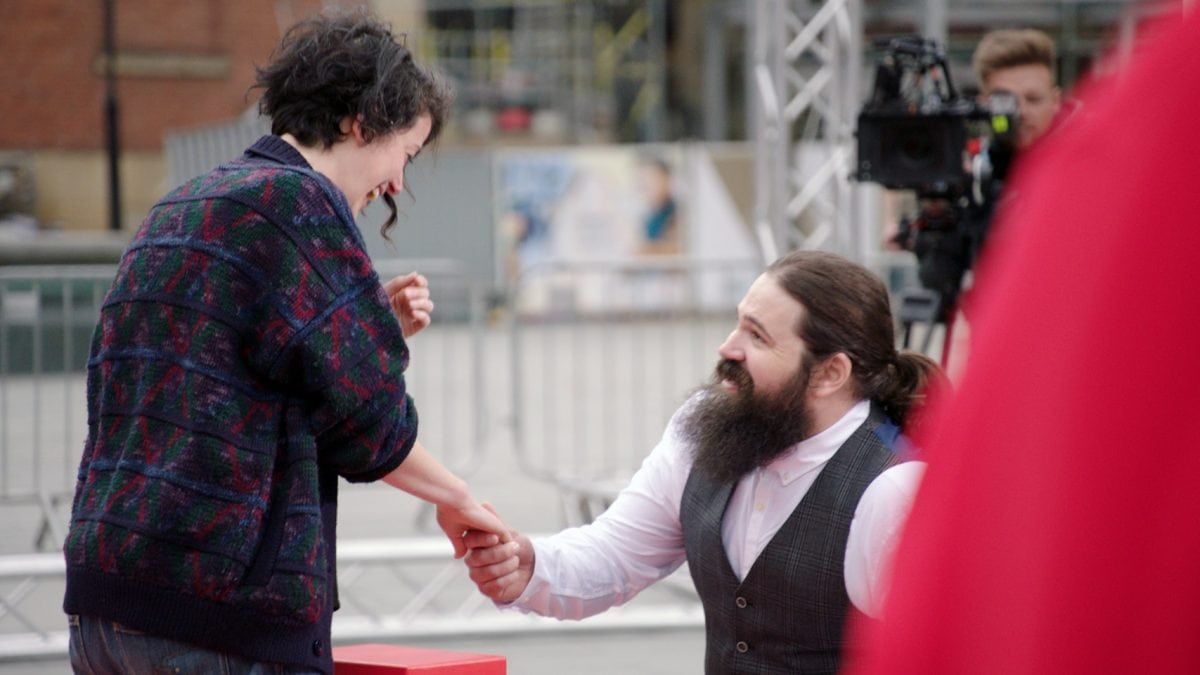 Santander ambassador Jessica was thrilled to toast Robin and Kate's engagement.
"I was just as nervous about it as Robin," she said.
"Thank goodness Kate said yes! It was such a special and moving moment, and there were a few tears shed in Sheffield's town centre!
"Kate's reaction was absolutely brilliant. It was amazing to be there as part of Robin's unique proposal!"
Kate, who said she went along with Robin's VR ploy because they needed to buy a new oven, certainly got a lot more than she bargained for.
"I couldn't believe it when I took the headset off and there was Robin with a ring, and the real Jessica Ennis-Hill!
"It was a surreal and amazing experience, I couldn't be happier.
"And thanks to Santander we can plan an incredible honeymoon and buy that much-needed oven!"
The 1I2I3 Current Account, which has 4.7 million UK customers, offers 1.5 per cent interest on balances of up to £20k and up to 3 per cent cashback on their household bills, allowing everyone to spend on the things they really want; such as a long overdue wedding.
That's the real, not virtual, reality of the 1I2I3 Current Account.