In 2015, two former Paralympians launched Access Adventures – a charity created to improve the quality of life for people with physical disabilities by introducing them to adventure sports.   The charity has grown considerably since launch and continues to improve their service provision.
Jane Sowerby and Tim Farr, both on the British Disabled Ski Team representing Great Britain at the Winter Paralympics in Vancouver 2010, know what a positive effect sport can have on people with disabilities. Teaming up with their long-standing friend Clare Williams – a physiotherapist, currently working with injured military at Headley Court – the three established a charity which organises residential adaptive adventure camps.
Jane explains: "When the doctor delicately told me I'd never walk again, it felt like my life was over. I was completely paralysed from the waist down and thought I'd never be able to partake in extreme sports; I was desperate to find some kind of adrenaline rush again. Then, just over a year after my injury, I went on an adaptive ski camp; it was my saviour. There's an incredible sense of freedom that comes from disabled skiing. The feeling of leaving your wheelchair behind and hitting the slopes is indescribable."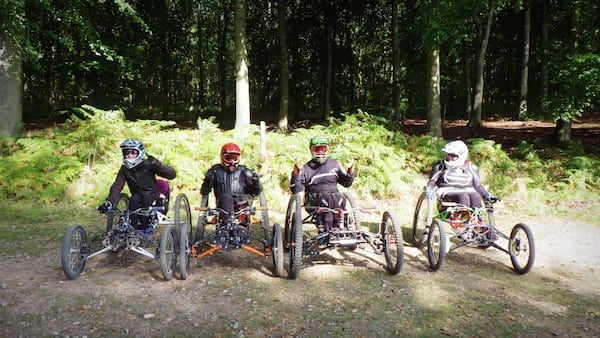 Jane, Tim and Clare could all see that there was a gap in the market for adaptive adventure camps, and more importantly, a real need to provide and expand the kind of adaptive sports available for disabled people. So, Access Adventures was born.
They began with several waterski and wakeboard camps, but have since expanded the number of adaptive sports on offer to include kayaking, canoeing, land-yachting, downhill biking, hand-biking, skiing, kite-buggying and kitesurfing. May 2017 will also see their first camp catering specifically for under-18s.
Tim comments:"Not everyone wants to do the adaptive sports, like basketball and athletics, that are readily available. Quite often people are searching for something fun, to challenge themselves and push boundaries. Often these kinds of activities are not easily accessible for people with disabilities"
The Charity Commission awarded Access Adventures charitable status in August 2015 after recognising the significant service the organisation can provide to those with a recent or long-standing physical disability.
Jane continues: "Tim and I have first-hand experience of the huge benefit our camps have to people with physical disabilities and Clare's extensive experience working in disability rehab provides a fantastic asset to the charity."
She adds:"I know personally how being involved in adaptive adventure sports can turn your life around and it's been incredible to witness the same effect on others at our camps.
"Life with a disability can be very daunting and the psychological benefit following involvement in sports cannot be underestimated. It improves confidence and helps everyday challenges seem more manageable."
They also recognise that the strong social element of the camps is often just as beneficial. Having a disability is not only about the physical limitations it may result in, some people struggle with low self-esteem. Being around people who understand your situation can really help improve this.
Unfortunately, adaptive sports are far more expensive than their able-bodied equivalent, due to the extra equipment and more tailored instruction required. This means that some people with disabilities just can't afford to access them, and the fantastic benefits they bring. The Access Adventures team has been investigating various fundraising initiatives which will enable them to subsidise these costs and provide bursaries, with the ultimate goal to make the camps accessible for all.
For further information about Access Adventures visit:
http://www.accessadventures.co.uk/
@axSadventures
www.facebook.com/accessadventures