There are certain situations in which we feel confident, and others that we feel less confident, more vulnerable and nervous.
A new survey from public speaking experts Speakers Corner has revealed that more men feel nervous about public speaking than women (32% of men as opposed to 28% of women).
However, more women exhibited more symptoms of nervousness than men:
Butterflies – Men 26% / Women 41%
Sweating – Men 26% / Women 38%
Fidgeting – Men 24% / Women 31%
Stuttering – Men 20% / Women 25%
Nervous Laughter – Men 13% / Women 21%
Nausea – Men 9% / Women 22%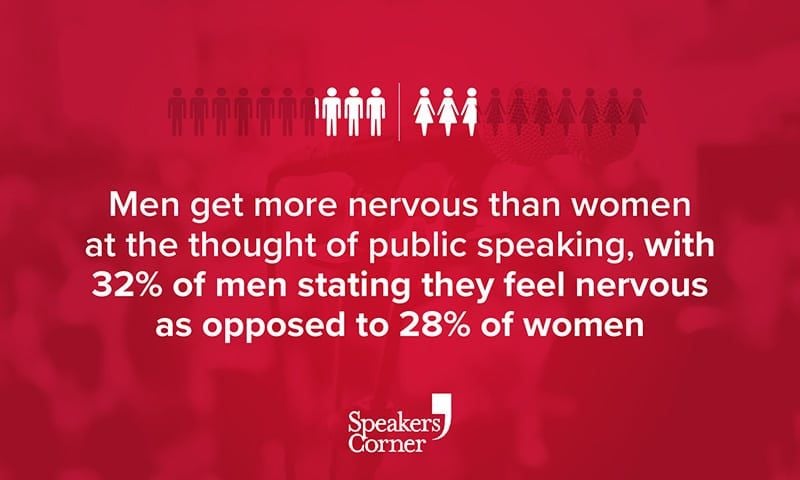 These statistics come for a survey which asked people across the UK how they feel about public speaking and how confident they feel generally and in certain situations.
If you are looking for a lot of confidence, Manchester is the place to head to! The North Western city finished top when rating their confidence, with Belfast coming in last stating they feel they have low or no confidence:
Top 4 Most Confident Cities in the UK:
Manchester
Cardiff
Brighton
Sheffield
Top 4 Least Confident Cities in the UK:
Belfast
Liverpool
Bristol
Newcastle
One key attribute to having low confidence is having a nervous disposition. And the survey has revealed some interesting results around nervousness.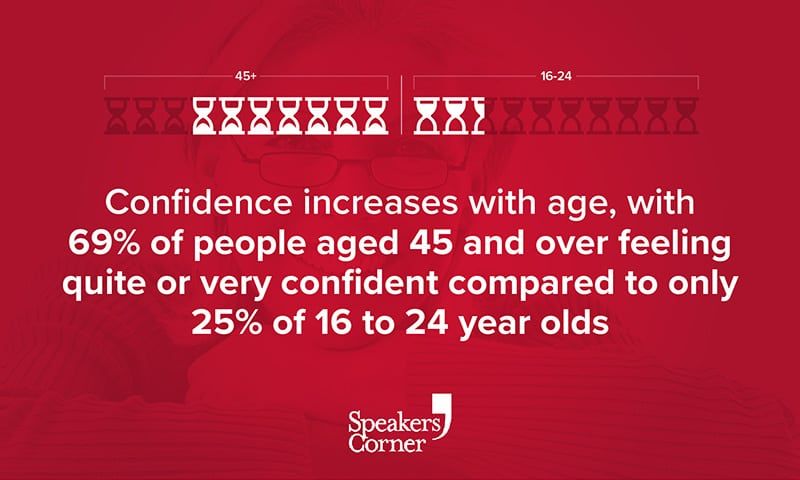 Top 5 Most Nervous Cities in the UK:
Bristol
Edinburgh
Glasgow
Plymouth
Sheffield
Top 5 Least Nervous Cities in the UK:
Leeds
Brighton
Norwich
Newcastle
Cardiff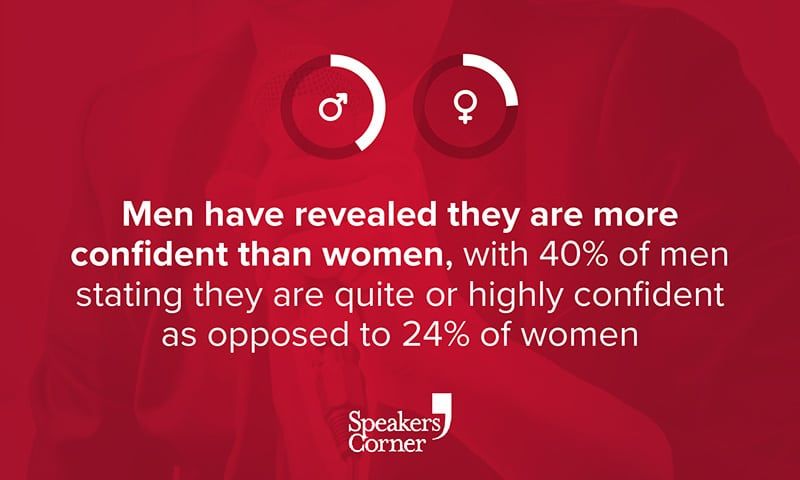 Women find themselves feeling more nervous in certain situations than men:
External event or conference – Men 30% / Female 32%
Internal work presentation – Men 13% / Female 18%
Client meetings to unknown parties – Men 10% / Female 17%
However, more men are nervous to speak at family events (e.g. weddings) than women:
19% of men as opposed to 12% of women
The survey also revealed…
Men (40%) rank themselves more confident than women (24%)
Men (11%) feel more confident in the bedroom than women do (8%)
More men (28%) than women (17%) would feel confident enough to speak in front of 100 people last minute
London is the region most confident in the bedroom (14%)
Belfast is the city most confident after a few drinks (23%)
Sheffield ranks top for being most confident on their own (25%) and when they are with family and friends (61%)
Speakers Corner have created a great guide to public speaking, offering tips and advice from the experts and professionals as well as some personal stories of people overcoming their confidence, nerves and fears. You can view the piece here: https://www.speakerscorner.co.uk/blog/the-ultimate-guide-to-public-speaking