A Yorkshire pudding wrap that includes all the best bits of a Sunday lunch in a burrito-style meal has gone viral after the company shared its mouth-watering pics on social media.
The York Roast Co has five outlets across the north of England and has been serving roasted carved sandwiches since 2004.
But the company become a viral hit on social media this week after videos of its Yorkshire pudding wrap were leaked.
The wrap looks just like a burrito, but uses batter instead of a tortilla to enclose classic Sunday lunch ingredients such as roasted meat, stuffing, veg and gravy.
We've made it to LADbible! ? The Yorky Pud Wrap is available in York, Chester, Shrewsbury and Salisbury! #YorkyPud #TheYorkRoastCo pic.twitter.com/8pOeOpOrKS

— The York Roast Co. (@TheYorkRoastCo) September 21, 2017
The company's unique offering has now gone viral thanks to shares from the likes of LadBible, BBC Food and Capital Yorkshire, who couldn't get enough of the tasty treat.
Managing director Wayne Chadwick said: "The attention has overwhelmed us. We are a really small family business whose heart is in York.
"We were born here and traditionally we are known for our pork sandwiches and wraps.
"We came up with the idea two years ago but didn't start selling it until March of this year.
"It took a while to evolve the process because we are a street food vendor on the high street and we have to produce an excellent product in a timely manner.
"When we launched it in March it immediately took up 20 per cent of the business.
"Now I just want to meet customer demand, but we are a bit shocked.
"I don't know why it has gone so huge on social media, but I think it just captures the imagination."
Wayne said he had requests from Middlesbrough and London to cater for weddings with the Yorkypud and people from as far as Perth, Australia, demanding new franchises to open in their towns.
Chaan Radley, manager of the Low Petergate shop, said: "It has been really busy all day.
"The wrap has always been a popular and we are used to doing them in large volumes, but this is crazy."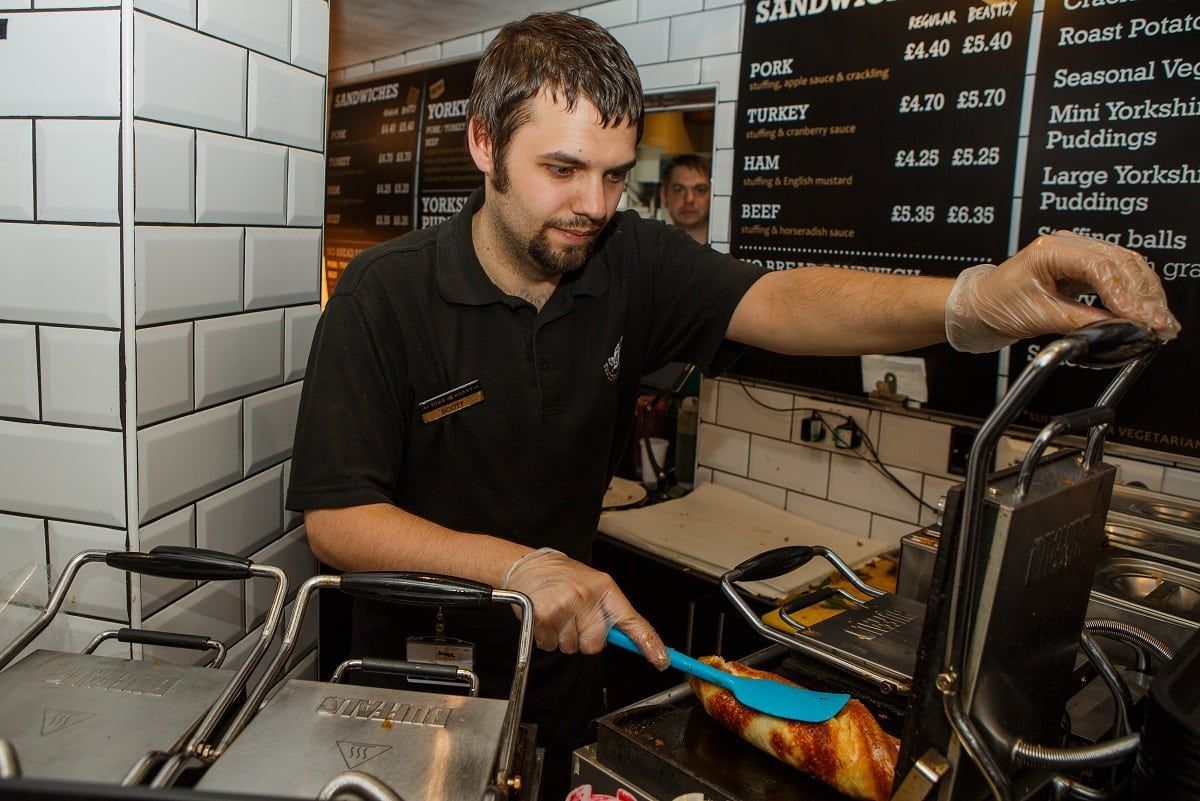 It has proved especially popular with students who have moved to the city this week to begin their autumn term.
"I saw it on the internet and it looks really nice," said Cydney Kempston, 19, who was waiting in line to get a wrap.
James Holmes, 28, added: "I've just moved to York and my friends tagged me in the video, so I had to come down and try one."
RELATED
https://www.thelondoneconomic.com/food-drink/northern-restaurant-creates-yorkshire-pudding-pizza/05/09/
https://www.thelondoneconomic.com/food-drink/five-yorkshire-pudding-dishes-that-will-make-you-drool/14/09/