It's a warm evening in Battersea as our taxi pulls into an old housing estate just south of the river. My experience of supper clubs to date – a five course meal on an old Victoria Line train and a three course banquet in a cellar – have been nothing short of intriguing, and so it was with a sense of anticipation that we descended upon The London Cooking Project to see what was in store tonight.
Supper clubs have enjoyed somewhat of a revival in the UK over the past few years, running underground set ups in roving premises which offer themed set menus and a chance to fraternise with other guests with a similar love of good food and wine. London has, of course, been at the very forefront of the revival, staging a variety of events every week which provide something a little different to the usual restaurant experience without compromising on the quality of food or drink on offer.
Battersea's London Cooking Project is no stranger to such events. The private social enterprise works to provide opportunities to develop and nurture young talent in the the local culinary field, with a beautifully unique kitchen space in an old ice factory that is home to some of the country's top chefs. It runs a variety of events including cookery classes, pop ups and of course supper clubs, such as the one Southbound was running this weekend.
Founded by self-taught French-Sicilian chef Camille Tardieu Southbound is a private catering company offering a fantastic array of food and wine inspired by Camille's childhood in the gastronomic haven of the Mediterranean. Claiming to take diners on journeys of discovery through food we had popped along for their Journey Through Summer menu, with a food and wine pairing menu that started in La Rochelle before travelling through Provence, the Camargue, Rome, Sicily and finally reaching Tunis.
We were greeted with a fruity prosecco cocktail on arrival, providing a light and fresh intro to the evening. And with nine courses to digest it was with some relief that the "light and fresh" theme continued through the first course, Mussels with samphire, smoked salt and smoked garlic, which was paired with a pale, aromatic and mineral Cotes du Roussillon white to neutralise the smokey palate, and the second course of Soupe au pistou, which was paired with a gold medallist Chateau de Segries Tavel rosé.
Sticking with the French south coast we enjoyed Hand cut buffalo tartare with Camargue salt and wholegrain mustard, before heading to the Italian capital for a stunning dish of Cacio e pepe – tempura fried courgette flowers served with buffalo mozzarella, olive oil, pine nuts, herbs and Italian cheeses.
From Rome we jumped on a boat to Messina in Sicily where we enjoyed Stuffed sardines with pecorino and saffron arancini. The main event was reserved for the Parisian suburb of La Casa Della Mamma and Camille's grandmother's house for a secret family recipe of Breaded veal, caponata and ricotta ravioli . The tender and juicy veal was served with homemade ravioli stuffed with creamy ricotta, and an aubergine and caper stew – a show-stealing main course.
Those with a sweet tooth were catered for well over desert, where we enjoyed three courses from southern France and Italy. We started in Mount Etna with a Pistachio tart served with apricot and almond milk, before moving back to the Garigue for strawberries, lavender honey and cream served on a light hazelnut dacquoise, a strawberry and mint infused coulis, and honeycomb. Tunis offered the final touch on the evening, with a refreshing Makroud and mint tea – a typical Tunisian date and semolina treat, soaked in honey syrup, with refreshing fresh mint tea.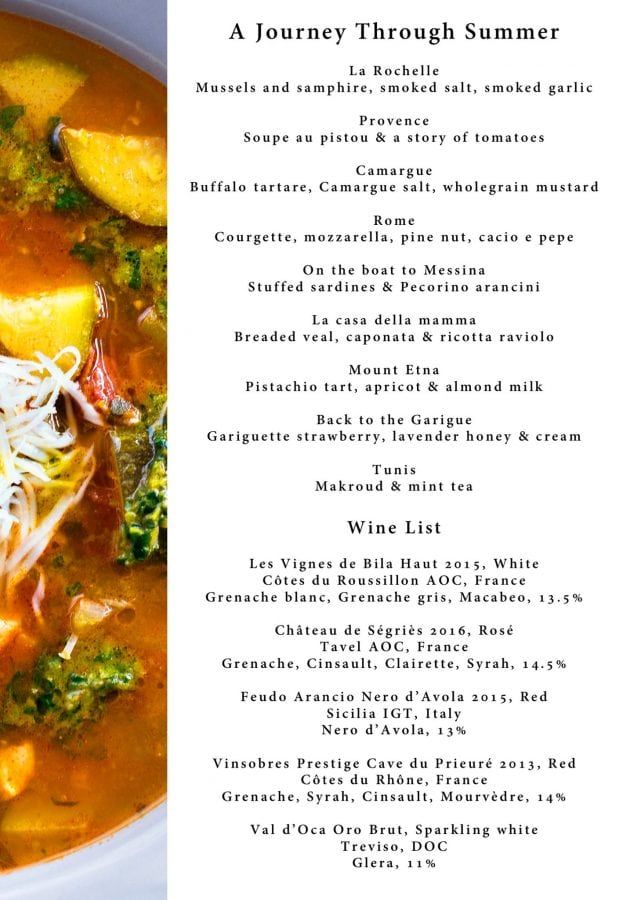 Southbound founder, Camille Tardieu, commented: "Through this supper club, we would like to convey the feeling of freedom and simplicity that a child experiences in the summer months. We hope that our nine-course menu will transport guests to the places that are so precious to Southbound's identity.
"As always, we will choose the best produce, and ingredients of fantastic quality. We also pride ourselves in selecting wines that we believe are outstanding and in pairing them with care and subtlety.
"Diners will be our guests as if they were our friends or family gathered around a glorious Provencal Pistou. Like in Provence or Italy we hope they'll enjoy discovering, sharing and chatting with guests they haven't met before."
Supper was £53 per head including wine pairing, or £38 BYOB
Follow Southbound on Instagram at @southboundfood or on Twitter at @southboundldn