With the launch of Gazelle in Mayfair, Rob Roy Cameron's food at Tony Conigliaro's Untitled has been somewhat overlooked.
With a captivating approach to 'molecular mixology', it's perhaps unsurprising that Conigliaro's elaborate drinks have become a significant talking point here. In addition to the food menu filled with Japanese flourishes, Untitled bar and restaurant also serves a monthly tasting menu. On the second Sunday of each month, executive chef Rob Roy Cameron (formerly of El Bulli in Roses, Catalonia) curates a five-course tasting menu, utilising the best in seasonal produce. Moreover, Untitled also hosts Yakitori Weekends, with meat and vegetable skewers (plus a vegan alternative) available for dinner every Saturday and Sunday – served in the new Asahi Moon Garden.
A stone's throw from Dalston Junction, Untitled's ground-floor bar is awash with natural light that cascades through the floor-to-ceiling windows, illuminating the foil-plastered walls; shimmering like shooting stars in a moonless sky. The tin-foil is, of course, a playful nod to the Silver Factory – Andy Warhol's New York studio and late '60s hangout for the likes of David Bowie, Jean-Michel Basquait, Lou Reed and Keith Haring, famous for the raucous parties held within. Warhol's original space was festooned with with tin foil, silver paint and fractured mirrors – basic decorating materials preferred amongst early amphetamine users of the 1960s. In place of a flashy bar, the space has a long concrete counter at its core, placated with bar seats.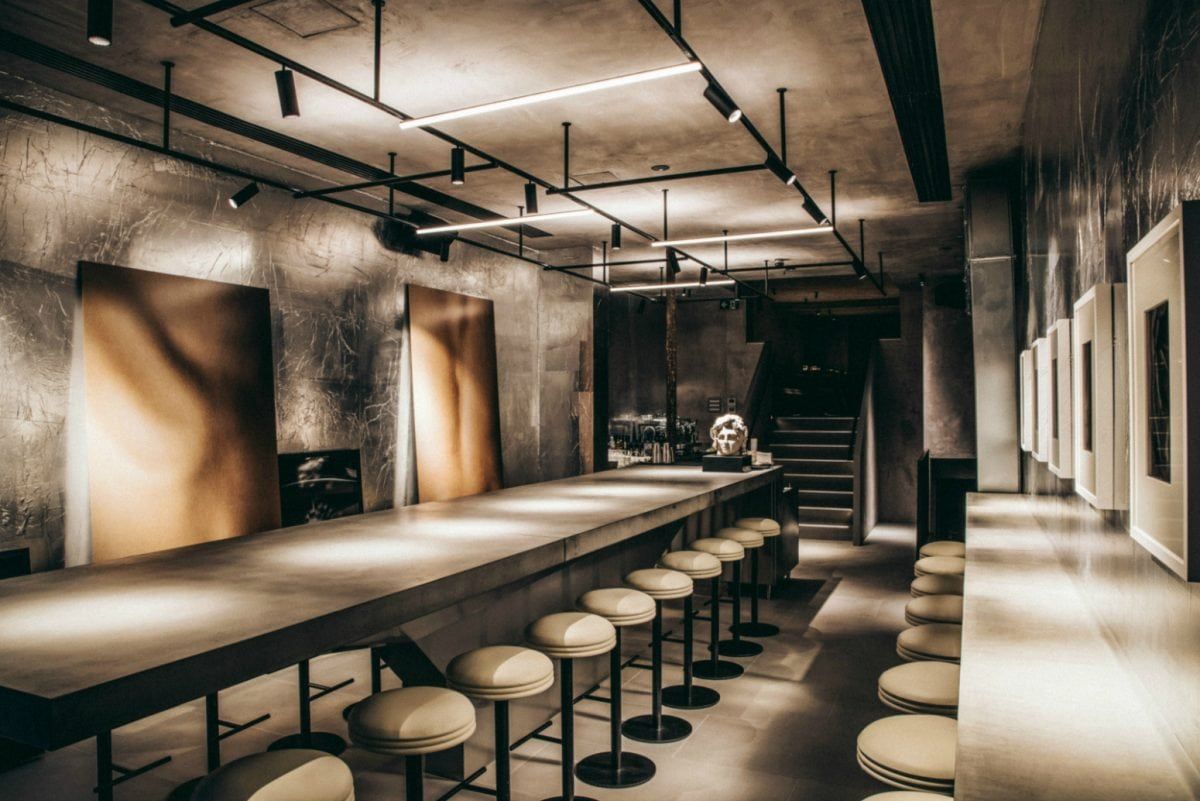 Through the bar and restaurant space, the Asahi Moon Garden is a 20-cover area, inspired by historic Japanese temple gardens. Designed by London-based SoHo+Co., the garden is bedecked with concrete stools and tables (evoking mushrooms), illuminated by an artificial moon when the sun sets. A collaboration between Tony Conigliaro and Asahi Super Dry, the Moon Garden is also complete with an Asahi Super Dry bar, serving the Japanese lager on tap, as well as a sake list. Tony Conigliaro's unique cocktails are also served. All cocktails are designed by Conigliaro and his team in a working laboratory in Bethnal Green.
Accompanying the weekend yakitori menu, guests are presented with a welcome drink that's served in a yonic vessel, escorted by a paper fig leaf and a strategically placed sugar 'pearl'. The drink – 'Ninfeo'- imparts a curiously familiar taste of yoghurt bolstered with zinc, clean peach and a whisper of truffle. Another drink, 'Red', features Italian bitters and undisclosed 'citrus': not unlike Bar Termini's famous Negroni, albeit spiked with tart raspberry. 'Waif' is a Champagne-charged cocktail, also combining intense flavours of rhubarb and rose-infused vodka; while 'Eden' is a sprightly melange of gin, fig leaf syrup and soda – served in a highball glass playfully embellished with a perpendicular penis.
We order a selection of all six yakitori skewers, plus a bowl of pickled cucumbers embellished with some kimchi and a generous smattering of sesame seeds. A skewer of cauliflower chunks arrives dressed with kimchi-infused cheese but tastes of little more than smoke. The menu's other vegetarian skewer is far more exciting, with shiitake mushrooms bathed in sweet, briny pickling liquor then lashed with balsamic vinegar to counteract some more of the mushrooms' earthiness.
Hunks of lamb neck have naturally profound depth of flavour, additionally slathered with spicy miso. The flavour is sublime, yet the lamb is overcooked and leathery. Untitled's nod to classic chicken yakitori (literally meaning 'grilled chicken' in Japanese) is an assured highlight. Strips of thigh are superlatively cooked, cloaked with sweet-sticky tare – an intense sauce of sake, soy and mirin – and finished with a blizzard of chopped spring onion and sesame seeds. Squid yakitori wrapped with brackish pancetta is fine, but the smoked eel is borderline revelatory. Harbouring concentrated smokiness, the eel is expertly paired with impossibly rich unagi sauce, constantly demanding to be re-ordered.
In an area that's become so beleaguered by often tiresome creativity (controversy for controversy's sake), Untitled is a breath of fresh air: serving boundary-pushing cocktails and suitably adventurous food in a comfortable setting.
Untitled can be found at 538 Kingsland Road, London, E8 4AH. 
RELATED