Lewisham, in South London, has seen significant change in recent years. Long gone are the days of the Battle of Lewisham (celebrating its 40th anniversary this month). The area has become somewhat unrecognisable, even compared to my student years at nearby Goldsmith's College, not so long ago (relatively speaking: I started my BA 12 years ago).
The Lewisham of 2017 is under significant reconstruction, with new high-rise flats popping up every few months, or so it would seem. The area has also welcomed Sparrow, a restaurant opened within a long-abandoned retail premises earlier this year. Co-owned by Terry Blake and Yohini Nandakumar, previously of St John, BAO and Pollen Street Social, Sparrow promises to deliver not just traditional British dishes but also a taste of Sri Lanka. The exterior is understated, developing the original all black shop façade and a simple typographical sign, while the interior is industrial (copper light fittings, wooden worktops, open plan kitchen) yet elegant.
Between eleven and five o'clock on weekends, Sparrow also serves a brand-new brunch menu which focuses on utilising fresh British produce in its food and drink offerings, mixed with what I'm told is a staple of Sri Lankan cuisine – Appam (a pancake made with fermented rice batter and coconut milk). We arrive at one on a Saturday afternoon and we're immediately pleased we booked. Although the tables are only half-full, there is already a line of punters waiting.
In addition to the regular menu, today's specials board provides details of the day's fresh juice (watermelon, orange and strawberry: £3.30), smoothie (apricot and blueberry slushie: £4), cocktails (mimosa or bloody Mary) and the weekend pie (pig's head and potato: £7.50). To our dismay, the bar has 'run out' of bloody Marys, so we opt for a juice and a smoothie instead. Both are completely fresh and made to order. The slushie's blueberries do disappointingly drown out the apricot, but both drinks taste great nonetheless.
For brunch, we order the treacle cured bacon sandwich with homemade ketchup (£7) and egg appam with chilli aubergine (£4.80), both of which are delivered to the table before we've even put our menus down. The bacon sandwich is enormous, especially compared to the appam, and would make a pleasant sharing dish. The bacon is cured perfectly, and unlike other restaurants I've visited, the bacon's smoky flavour is present on the palate, though the rashers could be a little crispier. The ketchup is, on its own, a little on the acidic but balances with the smoky bacon particularly well.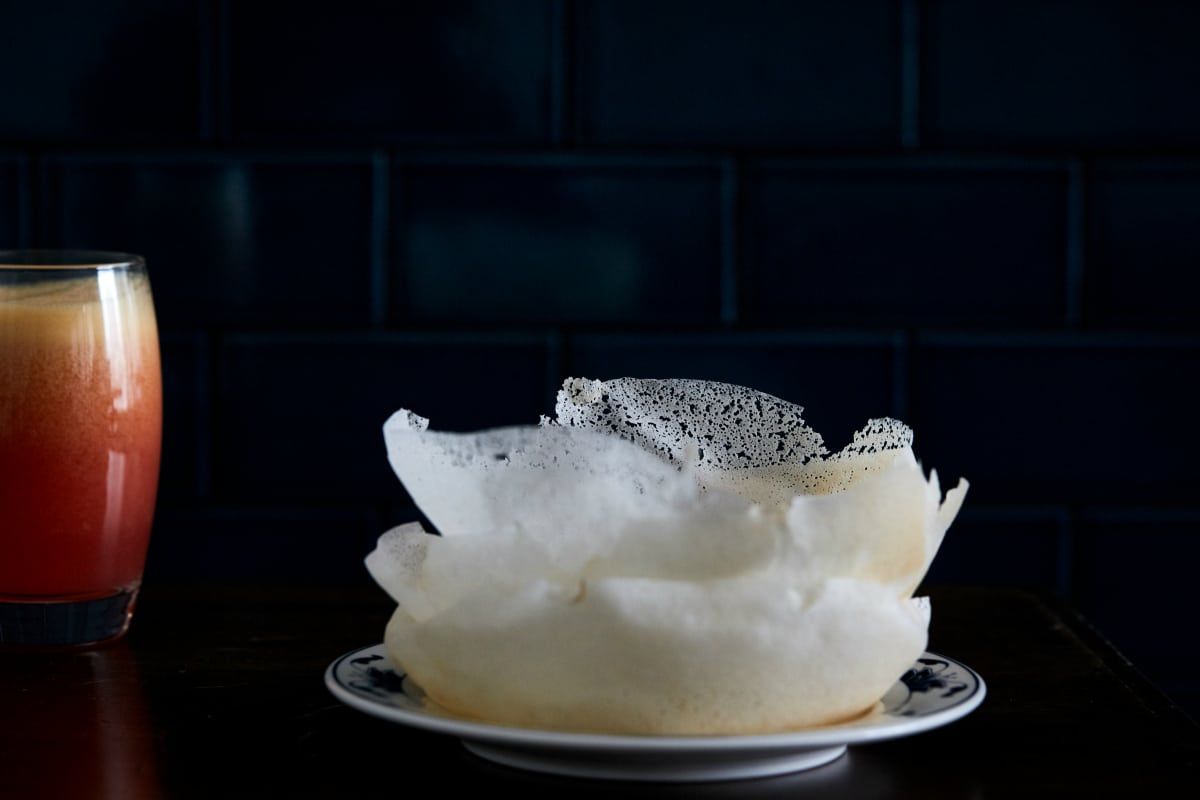 Furthermore, the appam is served in the shape of a bowl, with a fried egg in the middle and small bowls of chilli aubergine and coconut on the side. Initially, we're unsure how to tackle the dish. Do we mix everything together? Or do we simply dip in between the individual bowls? In the absence of any explanation nor much collective knowledge of Sri Lankan breakfast dishes, we're left to fend for ourselves. With the appam, I'm reminded of an Indian dosa, which also sits under its fillings, so we tear parts of the appam and use these sections as vessels for their accompaniments. The fried egg's yolk is remarkably dippy and our technique seems to work, overall. The aubergine is well cooked, earthy and smoky, though the promised chilli is practically absent. The coconut, however, adds a refreshing tropical flavour to the dish.
As we finish, I feel we've underestimated the food order, but our waiter spontaneously brings over a portion of the weekend pie. The individual pie portion screams for a side of greens (tender stem broccoli would be welcome) but the pie is delicious. The pastry is buttery and flakes at the most delicate touch, which is fortunate given our cutlery has been mostly cleared and we're left only with spoons. The filling is cooked through, with especially well-cooked potatoes. Alas, the chef has been somewhat heavy handed with the salt. As we finish the pie, Sparrow's tables are well and truly full and with a nervous 'one in one out' atmosphere lingering around us, we decide to take flight – without ordering a much-needed coffee.
Overall, the food and fresh juices are, for the most part, very good despite brusque service. The chance to sample the appam in this new addition to my local area is also a delight. Nevertheless, the general atmosphere at Sparrow seems to be of invisible upcoming disaster, during our visit: which is, regrettably, unconducive to the anticipated laid-back weekend brunch.
Photo: clairemenary.com
Sparrow can be found at 2 Rennell Street, London, SE13 7HD.
–

RELATED
https://www.thelondoneconomic.com/food-drink/restaurant-review-lahpet/28/07/
https://www.thelondoneconomic.com/food-drink/review-bottomless-brunch-frog-e1/31/07/