With the bao trend showing no signs of slowing down, and with a new Mr Bao branch having opened in Tooting just last month, I can already hear you groaning; just reading the title. Fear not, however, as Bun House is a little different. Nestled behind the Palace Theatre on Soho's Greek Street, the buns served are the fluffy, closed, Cantonese variety.
The upstairs is less of a restaurant, more a small room with a takeaway counter and huge steaming baskets that occupy the majority of the space, while a sprinkling  of tiny tables make up the rest. During a sunny Saturday lunchtime service, the place is completely full. We're welcomed with a cloud of steam, the busy bustle of the kitchen staff and the relaxed chatter of patrons.
We make a beeline for a small doorway and dark flight of stairs under a neon sign and are instantly transported elsewhere. We leave behind the light and airy Bun House in favour of the Tea Room, a 1960s-inspired Cantonese cocktail den below. The atmosphere, with its dim lights, mismatched furniture, large bar and neon lights is a vivid contrast to the light – but crowded – Bun House upstairs. Though, I suspect, a little better suited to a relaxed Saturday brunch.
Founders (husband and wife) Alex Peffly and Z He have devised their all-day weekend brunch menu, which launched just a few weeks ago, around the flavours of Z's Hong Kong childhood, taking cues from its indulgent weekend brunches. We're shown to a corner table and left with a pencil to mark our order on the menu in dim sum restaurant style. The menu itself (containing each dish in English and Cantonese) is not extensive and without explanations of the dishes, making the whole experience a little mysterious. This is something I enjoy.
I believe no weekend brunch is complete without a Bloody Mary, so I'm glad to see that the Tea Room menu has not one, but three re-imaginings of the classic cocktail: red, green and white. The (red) Bloody Ma Li (£9.80) is the closest to the original in taste – sweet red pepper, pickled garlic and chilli – though served not with a celery stalk but a skewer of chicken hearts. It packs a nice punch, but despite the excellent addition of the hearts (which are cooked perfectly) I'd have enjoyed something classic. The White Ma Li (£9.80) is an interesting blend of the sweetness of guava and the heat of pickled chilli. At first its taste is a little jarring, but within a few sips I could see myself returning to the cocktail. Though, admittedly, I still favour a traditional Bloody Mary.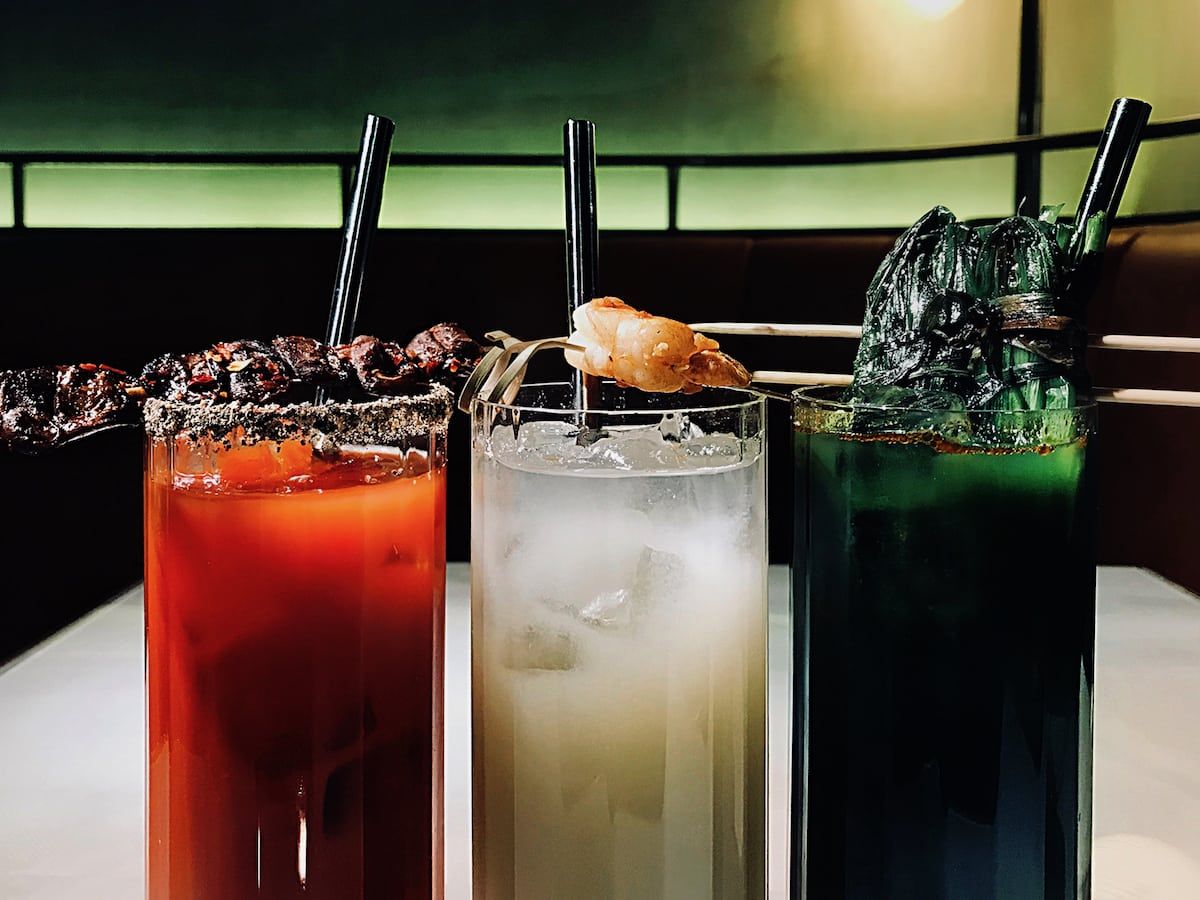 From the coffee-based 'Eye Opener' section of the menu, our waitress recommends Yuen Yeung (£4). Served cold, this Hong Kong staple is part coffee and part milk tea. On a crisp Saturday in London, it makes for a pleasing beverage, but I can also see its merits on a hot, sticky summer's day. At this stage, I should mention that while the drinks are enjoyable enough, they do take just a fraction too long to be delivered to our table. But, it's the the food interests me most. .
We decide on cumin potato hash with egg and mince (£8.80) and wok-fried soy cheung fun noodles (also with egg and mince – £9.80) for mains and sides of thick cut char siu bacon (£3.80) and braised pork guts with yau cha guai (£4.80). Though, I must admit HK French toast with peanut butter and cheese (yes, you read that right) very nearly made the cut too. Next time, perhaps.
Unlike the drinks, the food arrives on our table fairly quickly, as it is ready. The cheung fun noodles are delicious, soft and glazed with salty soy sauce and excellently seasoned. The beef mince, spring onion and chilli elevate the dish beyond a humble stir fry and the fried egg, served proudly on top, brings everything together. The still runny yolk is a deeply golden colour that one doesn't see every day. The whole dish is remarkable. The hash, made up of slightly crushed baby new potatoes, fluffy but a little heavy with the spice, is a similar dish. Though the heavy handed amount of chilli is somewhat unnecessary, the fried egg is equally wonderful.
The two thick cuts of barbecued bacon, arriving  at the table while we are immersed in our mains, are charred and smoky on the outside, still slightly chewy on the inside. The char siu spicing is incredible. Then, like a full stop after a wonderful sentence, the thing we've been waiting for: braised pork guts (a mixture of intestine, kidney and liver – as far as I can tell), come in a small bowl in their braising juices, along with yau cha guai ( Chinese fried dough).
The offal is finely sliced, and it's cooked perfectly – still firm, but full of flavour. The essence is, I must admit, quite strong (I would suggest you order this at your own risk, should you not be a lover of all things offal, as I am) but the dish is truly marvellous. The yau cha guai is made fresh and is the loveliest thing to dip into that pork braising sauce. Soaked with the juices, it's a wonder.
Overall, the experience built as we progressed. Starting with acceptable drinks, continuing with established mains and peaking at the most spectacular side dishes. Uncharacteristically, I left without a second thought towards the peanut butter French toast.
Tea Room at Bun House can be found at 23 Greek Street, London, W1D 4DZ.
RELATED