With dinner at Bob Bob Ricard, three things are almost guaranteed: a ubiquitous sense of occasion, an uncontrollable wave of excitement over the "Press for Champagne" button and all its photogenic glory, plus a cumbersome bill to finish.
Just two weeks into 2018, however, it's already proving to be a tough year for restaurants – with many having already closed or announced imminent closure. Earlier this month Galvin Bistrot De Luxe and Victor Garvey's Encant announced their closure. The Jamie Oliver Restaurant Group has also confirmed it is proposing to close 12 UK branches of Jamie's Italian, following " a strategic review to ensure the business is in good shape for the future". Some blame soaring rates, some Brexit, others even accuse Luke warm restaurant reviews of having particularly negative effects on business. Something needs to be done. And quickly.
One particularly quirky incentive, Bob Bob Ricard has introduced an 'off-peak' pricing system – serving their usual a la carte menu, but with reduced prices during quiet periods. This applies to lunch service from Monday to Thursday, and Monday evening dinners. Weekend lunches, Tuesday and Sunday dinner services are considered 'mid-peak', with up to 15 per cent reductions, juxtaposed to 'off-peak' discounts of up to 25 per cent. On the introduction of off-peak pricing, owner Leonid Shutov has said: "Off peak pricing is standard practice across much of society; we pay less for a luxury resort if we visit off season, we get a better deal on a business class seat if we fly off-peak. Yet restaurants charge the same on a Monday lunch as they do on a Friday dinner."
Experiencing the new 'off-peak' pricing menu, Bob Bob Ricard's mid-week lunch service is every bit as glamorous as a Saturday night dinner. Intentionally designed to be evocative of early 20th century travel, the art-deco dining room (with its booth seating, more marble than the Vatican and 'Push for Champagne' buttons at every table) is also equipped with heavily groomed waiting staff who wear powder pink waistcoats. On the menu overseen by Eric Chavot, a fusion of typical high-end Russian and British dishes feature – including a prominent focus on keenly priced caviar. Off-peak, 20 grams of Russian Oscietra sturgeon caviar costs £36, juxtaposed to the usual £49. Here, one of the best Beef Wellingtons in London is also available, and at £69 for two people; it's now one of the city's most accessibly priced.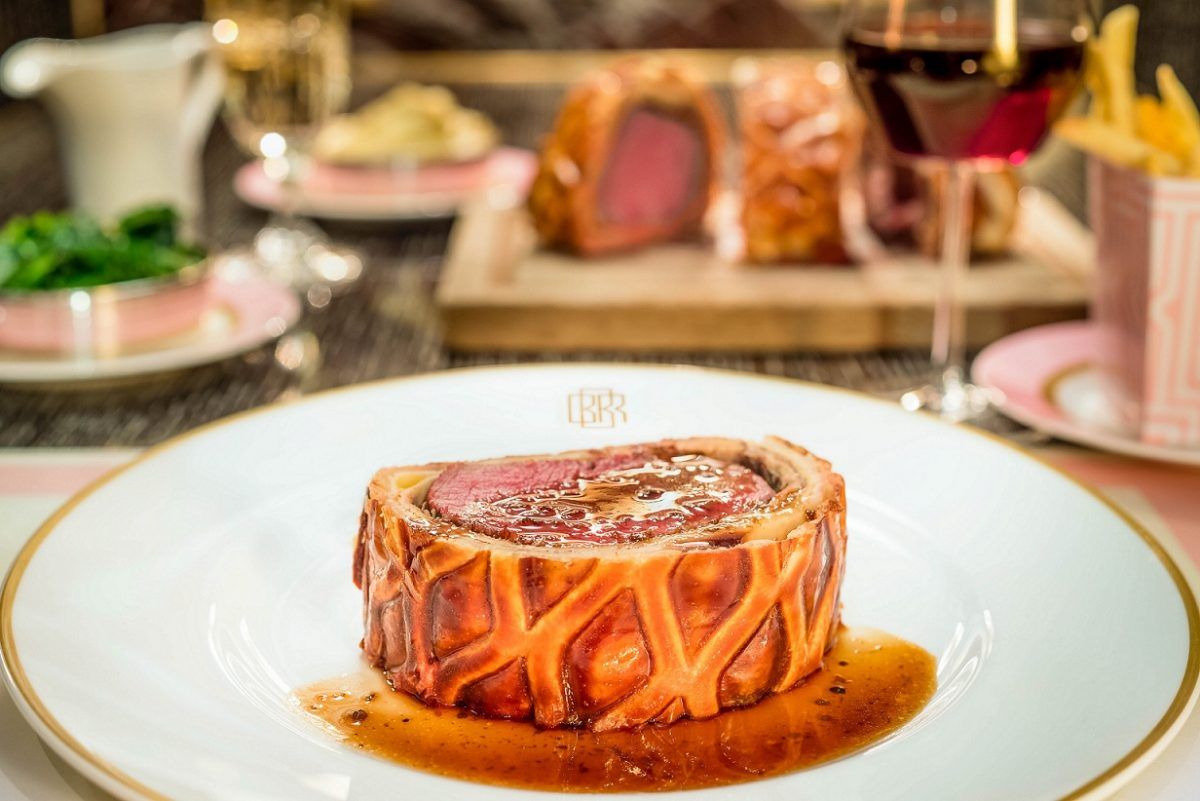 Appealing as the Beef Wellington may seem – we're slightly pushed for time. Instead, we eat crab salad (£11.50) towered elegantly with horizontal stripes of block colour from ingredients such as avocado, tomato and white crab meat, garnished with a lawn of fresh basil plus tomato and basil consommé; and steak tartare (£8.75). Another elegant dish, the steak tartare comprises raw Black Angus beef that's diced and lightly manipulated into a hockey puck with gherkin, capers, parsley and mayonnaise, topped with a soft-boiled quail's egg and paper-thin shard of rye crisp bread. The tartare is fine, though woefully under seasoned, lacking typical punch of Tabasco, but a cruet set is provided. For an extra £10, the same dish is available with a supplementary 10 grams of caviar.
To follow, a ballotine of sole is gently poached, stuffed with lobster and served in a pool of Champagne sauce (£22.50). As the ingredients suggest, the dish is expectedly decadent, but executed with deft touch and expert technique each component is near perfect and thus devoid of being overwhelming. Classic Dover sole (£29.75), on the other hand, is presented with the option of being prepared tableside. Demonstrating faultless fish cookery, the simplicity of the traditionally rustic dish leaves chefs with absolutely nowhere to hide – sautéed then finished with a Meunière sauce of brown butter, parsley and lemon juice -delightful with a "by the glass" offering of Sancerre. The dish is simple, but aren't all of life's greatest pleasures? We finish with an unpredictably light dessert of Vareniki dumplings (£8) filled with apple and sat in a pool of warm crème fraiche sauce spiked with tart blackberry.
Since launching, Bob Bob Ricard's 'off-peak' pricing system hasn't been without criticism. At first, the concept does seem gimmicky, but – after visiting – the new business model seems a sensible incentive with so many restaurants struggling to fill seats in 2018. Here, the level of food and service during 'off-peak' times is exactly the same as regular time slots, but at a lower cost. After all, we pay less for off-peak airline, train and cinema tickets, and don't complain nearly enough about Uber's often ludicrous 'surge' prices. So why should restaurants be forced to avoid following suit?
RELATED
https://www.thelondoneconomic.com/food-drink/restaurant-review-45-jermyn-st/27/11/
https://www.thelondoneconomic.com/food-drink/restaurants/review-holborn-dining-room/29/08/
https://www.thelondoneconomic.com/food-drink/restaurant-review-serge-et-le-phoque/20/12/