By Maggie Majstrova, @Foodstrova
Despite British food historically having a stereotypically negative image (think overcooked vegetables and a repertoire of bland dishes), the last few years have seen a complete revival, with so many traditional dishes being re-worked into something more contemporary and, ultimately, flavoursome. Still, when a restaurant is described as 'Modern British', it's impossible to be 100 per-cent sure of what to expect. Just consider, Despite British food historically having a stereotypically negative image.
On the other hand, British food has such strong potential to be truly amazing. Just think of the remarkable local produce that chefs have at their disposal. Even before visiting, I knew that The Laughing Gravy in Southwark is at the forefront of restaurants working hard to reinvent British cuisine. Owned by former TV critic and Journalist Jon Wise, who acquired his local restaurant after he saw it permanently close its doors, the restaurant has gone from strength to strength since its re-launch in 2010. Committed to bringing the restaurant back to its former glory, the owner has brought in Head Chef Michael Facey. Originally from North London, Michael Facey has worked in several high-profile restaurants, including The Ivy and Skylon, and with a number of chefs, like John Torode and Mark Hix.
A stone's throw away from Southwark station, but not immediately obvious, the Laughing Gravy has recently been called "Southwark's best kept dining secret". Although the restaurant has space for 55, with space for 16 more at the bar, the immediate atmosphere is cosy (but not cramped). Even on a Tuesday evening in February, the restaurant was delightfully busy. And although diners are constantly in close proximity to others, it never feels as though we're in each other's pockets.
The décor is modern, with stripped wooden flooring and exposed brickwork, and I'd imagine the large skylight adds a great wave of sunshine to lunch time visits. On a late winter evening, though, the lighting is intimate. We take our seats next to a Spencer piano at the back of the room and set about exploring the menu. Although it is only Tuesday, we begin with a couple of cocktails, while we decide on our food orders.
An Old Fashioned (£9) is a true classic, with just the right twist of orange, but the Sublime Elder Fizz (£10.50), is what really catches my attention. Served in a tall glass with a sugar rim, the drink teams chase elderflower liqueur with Ketel One vodka, fresh lime and prosecco, and is reminiscent of both a margarita and a mojito. This is completely indicative of the whole evening's experience: something that reminds you of something completely different.
The staff are extremely helpful, recommending dishes based on personal tastes and preferences, but not hovering during our meal. The entire experience has the air of being friendly, but sophisticated and never overly crowded. The bread basket offers white and garlic-flavoured bread pieces, both warm and crispy. What's more, unlike many other restaurants I've experienced, the butter is soft and fluffy, gliding onto your bread with little effort. It's these little details that take this restaurant (and others) to the next level.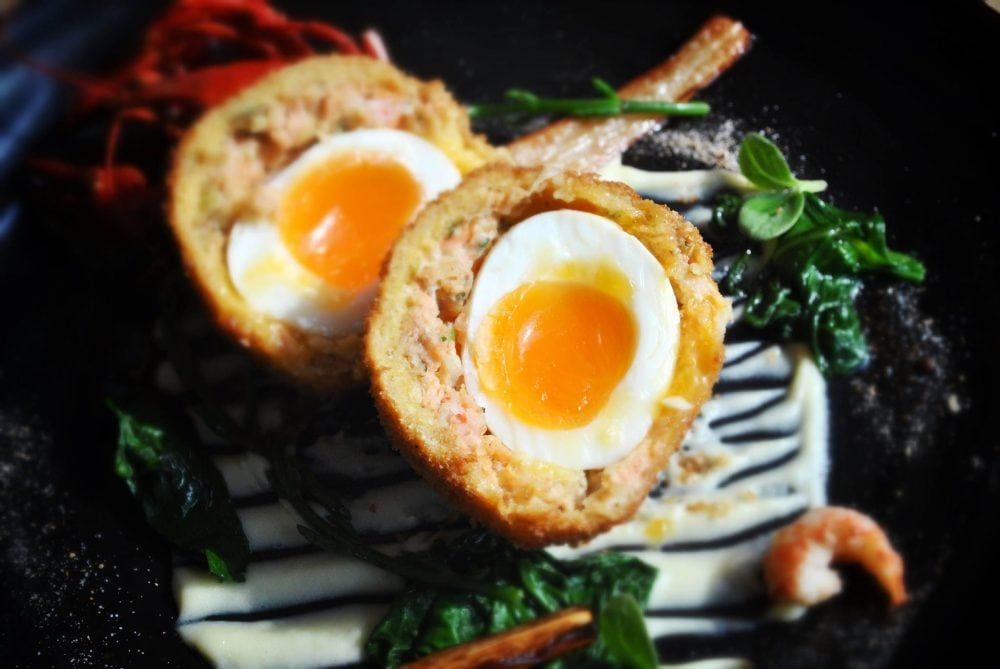 For starters, we decide on braised lamb shank and garlic-infused dumplings, kidney bean puree and lamb broth (£9.50); and smoked scallop and West Country crayfish Scotch egg with roast cauliflower mousseline, pickled cauliflower and crispy seaweed (£8.75). Head Chef Michael Facey has become renowned for his passion for "working with classic ingredients, but creating his own interpretation". And that, is exactly what he has done with the menu, from start to finish. My scallop starter, when eaten without the seaweed, is a brilliant Scotch egg with added crunch from the cauliflower, but the addition of the seaweed transforms each mouthful into something truly magnificent – it tastes like the sea.
The lamb shank dumplings, on the other hand, if you close your eyes, are reminiscent of family Sunday dinners. All of the elements are here, but wrapped up neatly in a handful of tiny dim sum-like dumplings. Already excited, we eagerly await our mains: Pan-fried halibut with Devonshire crab and red pepper dumplings with cavolo nero, red pepper ketchup and crab bisque (£22.50); and Wild mushroom and salted deer stuffed venison fillet Wellington with tender stem broccoli with potato and black truffle mousseline and flaked toasted almonds (£24).
The halibut is fresh and cooked perfectly – it flakes on the fork and the whole dish comes together very nicely with the addition of the crab bisque. The whole thing is well balanced, reminding us of an afternoon at the seaside. The Wellington, on the other hand, is reminiscent of the woods. The fillet is cooked to medium-rare, the tender stem broccoli is al dente and the pastry is perfect (no soggy bottoms in sight!). The toasted almonds add crunch and the accompanying sauce is almost chocolatey. Again, individually, the elements are great, but together, the dish really sings.
At this stage, we're totally full. I promise myself that I'll only order desert if the menu offers a crème brûlée or a panna cotta. But there's no such luck, so I consider myself safe from a final course. But then I spot something I'm equally incapable of resisting: popcorn and peanut butter. I can't help but order milk jam ice cream with banana sponge cake, candied nuts, peanut butter cream and white chocolate popcorn mousse (£8.50). Seeking the Assistant Manager's help, once more, my fiancé decides on a fig and damson Bakewell tart with vanilla ice cream (£8.50). Again, the Bakewell tart is a classic: two slices are a warm, comforting end to the menu. On the other side of the table, I am in heaven.
Yet again, my dish evokes memories I hadn't expected. It tastes like a fairground, with popcorn, chocolate, peanuts and pecans all cut through with a few squares of succulent banana cake. Not usually one for dessert, I could eat this dish over and over, regardless. Overall, The Laughing Gravy's new menu is exceptional. But how would I really describe the evening? It's 'an experience' – a completely unexpected culinary journey, taking us on a trip around the British Isles, all within the space of three courses.
The Laughing Gravy can be found at 154 Blackfriars Rd, London, SE1 8EN.
–