As part of the Morelands Building's ongoing regeneration, Michael Sager and Marcis Dzelzainis – the team behind Sager + Wilde – opened Fare Bar + Canteen at the Clerkenwell end of Old Street last year.
Set over two floors of a 1930s light-industrial complex, the restaurant occupies a gorgeous former warehouse space. Upstairs, a marble-topped horseshoe bar dominates the space with high wooden tables and stools. Downstairs, the main dining room is whitewashed and festooned with plants, vintage pendant lighting and tea lights on each table. During the day, a huge cement and glass skylight allows natural light to flood the otherwise windowless basement with natural light.
Serving simple Modern European dishes, with the kitchen headed up by Thomas Raymond – formerly of Michelin-starred Ellory – Fare also has an unsurprisingly prominent focus on drinks. On the ground-floor, a grab and go coffee area is overseen by Brixton-based Assembly, having created a bespoke roast for Fare. Elsewhere, over 250 bottles of wine from Sager + Wilde's roster of lesser-known, independent growers are available alongside almost a dozen cocktails on tap, featuring a Nitro Vodka Espresso Martini (which pours like Guinness), and a play on a Piña Colada boosted with lemon hydrosol. In a similar vein to Tony Conigliaro and Ryan Chetiyawardana, Fare's most popular cocktails are prepped in a high-tech industrial micro-unit near Bethnal green, in eco-friendly collapsible barrels. Moreover, a bespoke Fare tonic water has also been created to showcase the spirits used – lighter in taste and lower in sugar than traditional tonic.
Downstairs, the cocktail menu features a range of innovative cocktails which utilise uncommon ingredients. A recent dinner began with the bar's play on a negroni, while waiting for a friend to arrive. Based with petit grain-infused Beefeater gin, the essential oil lent a herbaceous edge to complement both the Campari and Beefeater's bold citrus notes. "Two of those?" A waiter asked; to which I declined, knowing better than to order a drink on somebody else's behalf. The inspired celeriac martini, on the other hand, teamed Beefeater gin with celeriac-infused vermouth, sherry and celeriac brine to add a dirty martini nuance to the earthy, deeply savoury drink.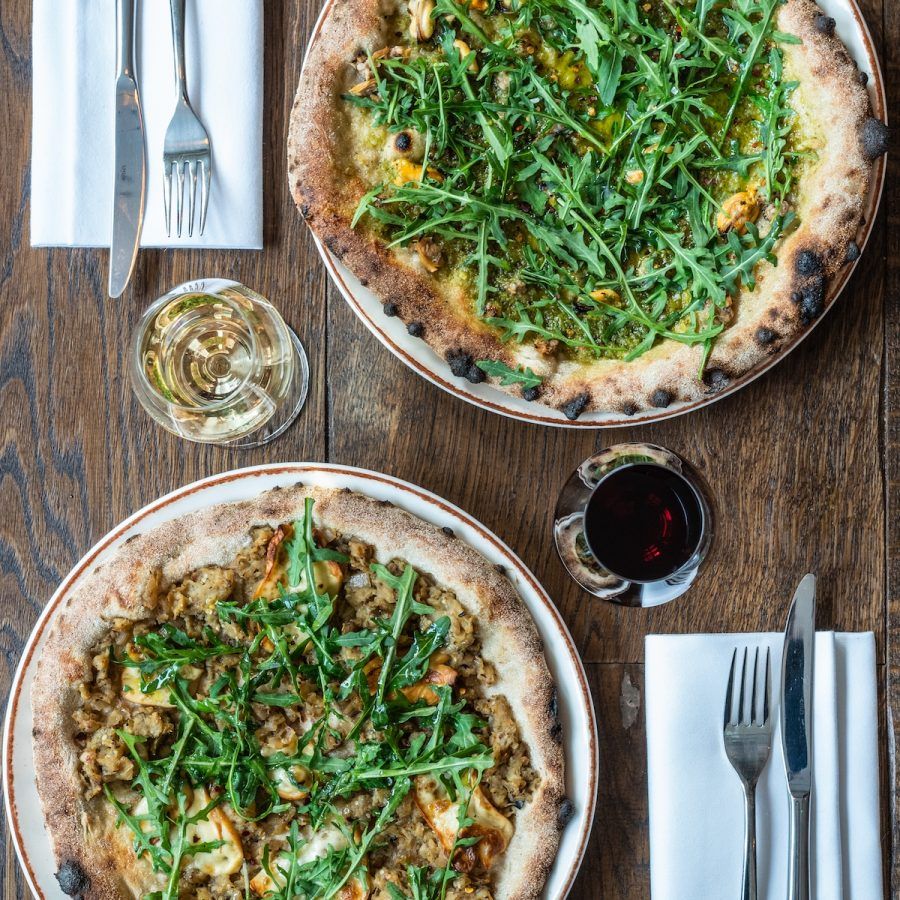 As for the food, a small, sharing plate harboured gloriously plump Cornish mussels escabeche – marinated in an acidic vinaigrette – served on a doorstep of sourdough toast spread with aioli. Additionally, an entire smoked mackerel was simply served alongside a tangle of lightly pickled fennel ribbons and a salad rife with mint and red onion: another simple, well-balanced dish without wanton wankifery, allowing the core ingredients to shine.
For mains, Fare has recently launched an all-day pizza menu. Sourdough bases are topped with a melange of improbable toppings. Without tomato, a pizza boasting truffle was an unexpected triumph (having previously suffered uncountable pizzas garnished with truffle or oil), also crowned with French Cantal cheese, honey vinegar and a generous pinch of black pepper. Aubergine with black garlic, Scamorza and chilli comprised another fair balance of flavours, with spicing not too dissimilar to that of Turkish lahmacun – a good thing, of course. To finish, a scoop of miso-flavoured Hackney gelato was challenging, yet a classic custard tart was reassuring, featuring a generous ratio of filling to thin, elegant pastry. While the food at Fare Bar + Canteen isn't necessarily revolutionary, it's a significant step-up from perfunctory wine bar fare: generally well-executed, seasonal produce led and, ultimately, simply sating.
Header photograph: Charlie Mckay
Fare Bar + Canteen can be found at 11 Old Street, London, EC1V 9HL.
RELATED
https://www.thelondoneconomic.com/food-drink/restaurant-review-st-john/08/05/
https://www.thelondoneconomic.com/food-drink/restaurant-review-burger-beyond/15/02/
https://www.thelondoneconomic.com/food-drink/restaurant-review-brasserie-of-light/21/01/