I suspect it's safe to say few, if any, Londoners consider themselves novices when it comes to dim sum. With an extensive number of Chinatown restaurants including it on the menu, we like to think there's nothing that could possibly surprise us.
Enter Courtesan. This restaurant, tea room, cocktail bar and events space in Brixton relaunched in September after an extensive refurbishment, promising not only a food menu designed and executed by an all-female chef team – under the leadership of Feng Juan Xue – but also an all-female produced drinks menu. The wine and spirits list features beverages produced or grown exclusively by women.
This dedication to showing off female talent, however, is not the only aspect that the Courtesan and its staff are proud of. The menu is updated regularly with dim sum, bao, noodle and rice dishes based on China's ancient techniques, but updated with modern ingredients from around the globe. The restaurant's manager, our host for the evening, explains his Italian and Gujarati heritage and  the menu suddenly takes on a whole new light.
We arrive on an October Wednesday evening and the entire space is decorated with cobwebs for Halloween, but I wouldn't have been surprised if they were a permanent fixture. The venue is a well-lit beacon from the outside, but once through the doors we're enveloped by a moody atmosphere with silk lanterns, candles, dark wood panelling and velvet booths.
We take our seats in one of the booths by the bar, rather than the main restaurant or the downstairs event space and almost without hesitation order a round of  cocktails. While pondering our food order, the manager explains not only the history of dim sum, but also his plans to set up a weekly Sunday Opera night downstairs, to update the menu with his family friend's most expensive gelato (currently sold in Selfridges) and which of the items on the menu are based on his family recipes. The enthusiasm for the Courtesan and its plans seem second to none.
Soon after ordering, our tiny table is heaving with generous food portions. The Housemaid's Noodles (£6.90) quickly steal the show. Rolls of cheung fun noodles, handmade and hand-cut daily on the premises, are topped with Lotus flowers, fresh cucumber and carrot strips, duck egg and spicy black beans. The fresh cucumber and carrot suggests crispy aromatic duck and pancakes, but this vegetarian dish is above and beyond any Chinese takeaway I've tasted. Coupled with soft spiciness of the black beans and the creaminess of duck egg, this dish is something special.
Steamed wasabi king prawn dumplings (£6.70) are fresh, down to the wasabi itself, and surprisingly light. 'Granny Baskets' (£4.90) – chicken meatballs in deep fried vermicelli noodles – are served with an interesting dipping sauce, the ingredients of which are a deeply guarded secret. I do, however, taste chilli and perhaps rice wine vinegar. Together, the two elements of the dish balance incredibly well.
Curious Pumpkin Bao (£4.90) – turmeric-spiced buns filled with Gujarati-spiced pumpkin filling –  are our host's recommended substitution for my original choice of Naughty Sausage Buns (Chinese sausage, Napolitan salami and mature cheddar bao) and I must concede. The filling, again entirely vegetarian, reminds me of  creamy chicken korma. The sweetness of the pumpkin filling is balanced by the saltiness of soy sauce and the soft heat of Courtesan's homemade chilli oil.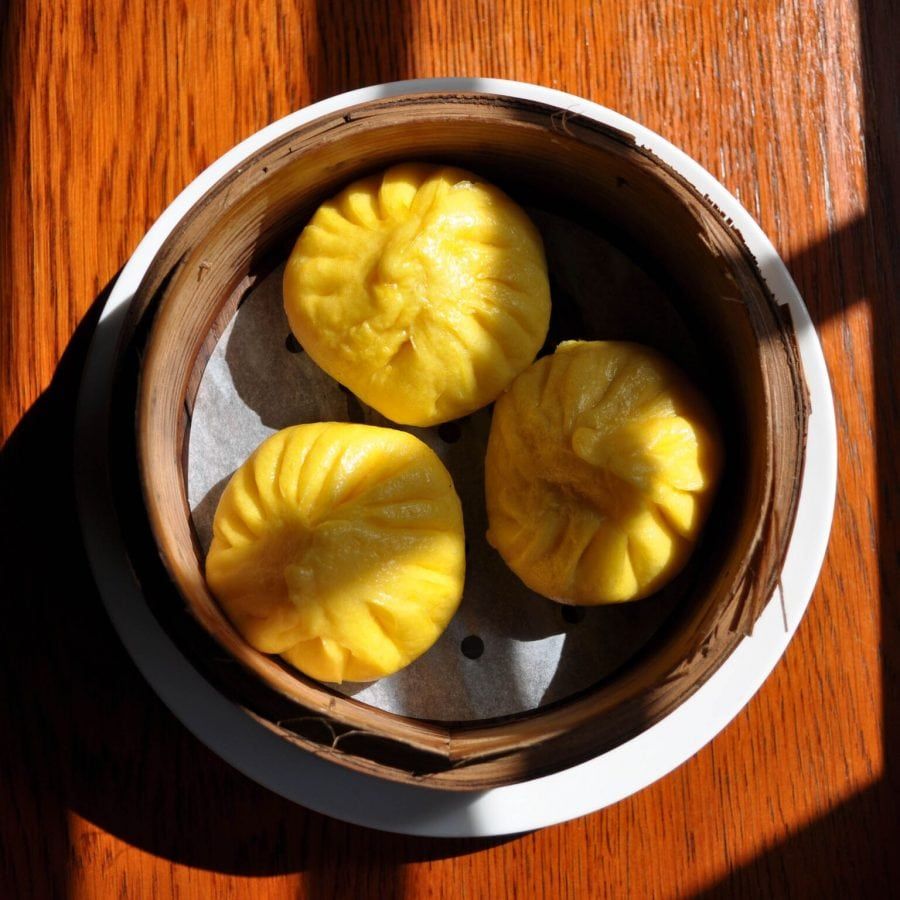 To my dismay, the steamed pork and prawn dumplings are a slight letdown. On the menu purely because expected from a dim sum restaurant, Courtesan's reluctance towards this dish is evident in its execution. The flavour is dominated by the pork and the whole dish is fine, but comparatively underwhelming.
I rarely order tiramisu because I seldom enjoy the inclusion of alcohol in desserts or soggy biscuits (neither of which are traditional in tiramisu, our host assures me), but am talked into ordering Courtesan's ginger tiramisu (£4.90). Luckily , Courtesan's tiramisu is based on our host's mother's recipe and as such includes neither of these. The dish is like a ginger nut biscuit topped with cream and coffee, the heat of the ginger completely cutting through the richness of the cream.
Black Sesame Balls (£4.70) are a twist on a mochi ball, with black sesame paste encased within a soft rice ball, the whole affair covered with coconut. When it arrives, the dish smells exactly like Ferrero's Raffaello and, in fact, I wouldn't have been averse to the addition of an almond in the middle. Even without, however, the individual parcels are silky, sweet, rich and moreish.
Interested in discussing the world's strangest flavours, or indeed the history of Dim Sum? I'd recommend setting  a few hours aside for dinner at Courtesan. But even if you decide  to avoid involving Courtesan's staff at your table, the flavours conjured by these female chefs will keep you talking long into the night.
Courtesan can be found at 69-73 Atlantic Road, London, SW9 8PU.
RELATED
https://www.thelondoneconomic.com/food-drink/restaurant-review-dumplings-legend/26/10/
https://www.thelondoneconomic.com/food-drink/restaurant-review-madame-d/14/09/
https://www.thelondoneconomic.com/food-drink/restaurant-review-duck-duck-goose/17/07/