As we approach the middle of 2017, the list of objects attainable with change from just one polymer fiver is slimmer than ever. A bottle of supermarket brand Prosecco, or a day's bus pass might return a mere handful of shrapnel. That same note will be enough to pay for an average of just 4.27 litres of petrol. If you're very lucky, that same plastic portrait of Sir Winton Churchill might even stretch to cover a pint of Continental lager in a Central London chain pub.
Amazingly, £5 will cover a cocktail at Blacklock – a chop restaurant with a shiny new venue having just opened within the city, off Fenchurch Street. The list includes the likes of an Old Fashioned, 'Pink Lady', or 'Grandma's Spiked Lemonade', all for less than a pint of Guinness in my local pub. It seems very much as though the bar plays an important role at Blacklock, yet alcohol isn't a necessary aid to enjoy the food served.
In the shadow of the 'Walkie Talkie' building that looms over us, threatening to melt cars, Blacklock is dimly lit with décor that's simple, yet suitably stylish. Beginning with a drink at the bar, a 'Beefy Mary' is a contemporary take on the hangover-curing classic, using beef jus as a means of exciting the palate and inspiring a strong appetite. Teamed with the tomato juice and a powerful blend of spices, the drink somehow tastes of an adulterated smoothie of roast beef Monster Munch. The 'Spring Negroni', on the other hand, isn't too far from the classic bitter aperitif. Here, however, Campari is substituted for a dash of Italian bitters which, if anything, bring sweetness to the drink.
At the table, more drinks are available with wine on tap – all of which are available in measures from 125ml to one litre. On the menu, the main draw here is the chops (cooked over charcoal, aided by hot antique irons) though a few other cuts are available, namely lamb rump and beef rump cap. Perhaps unsurprisingly, the menu doesn't prepossess one vegetarian dish – even the potato or vegetable-based side dishes have a peculiar whiff of death. In addition to the strong focus on meat, it's the value at Blacklock that's most extraordinary. An 'All In' option is available at £20 per-person. This includes a selection of 'skinny' chops, three 'pre chop bites', charred flatbread and one side each.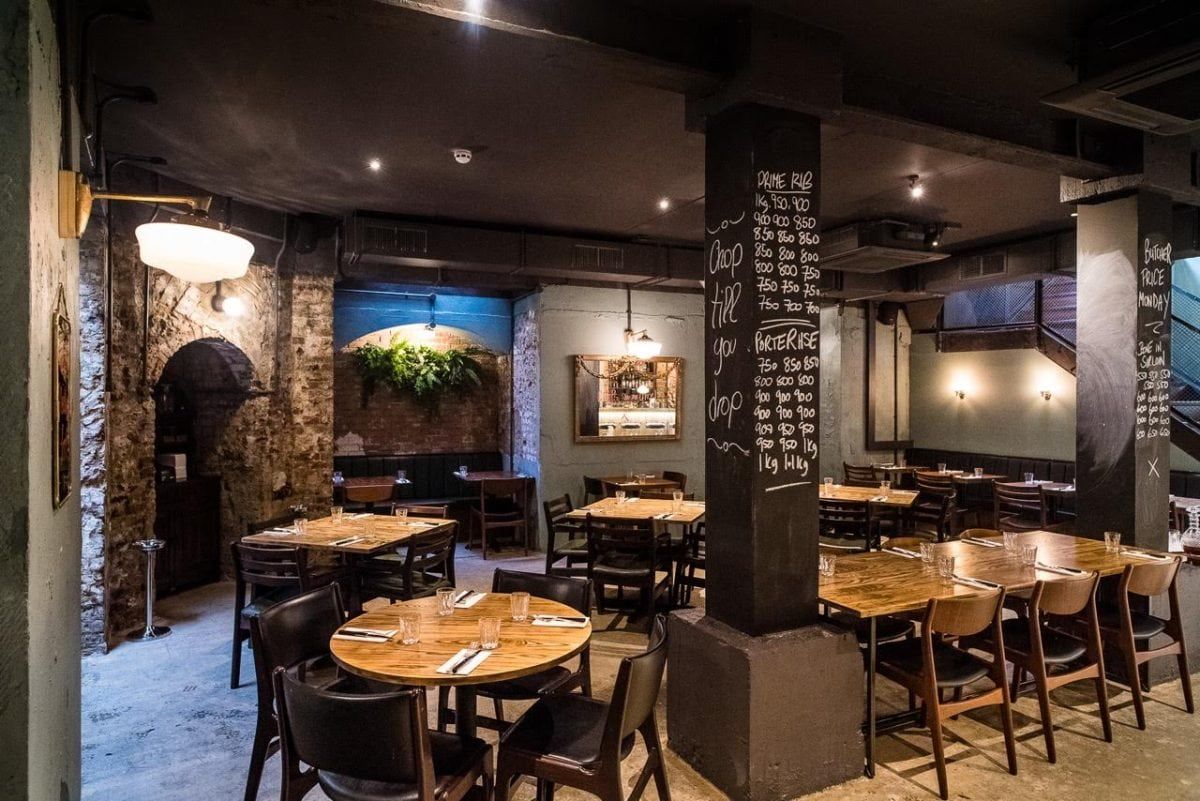 Feeling gluttonous, we opt go 'all in' and order an additional starter. Pig's head on toast vaunts an insalubrious heap of slow-cooked meat from the animal's head (ears, skin, cheeks, etc.) and is topped with fistfuls of fresh red chilli. While the chilli cuts through the richness of the meat, it's unwelcome alongside the gravy that we're given the chance to pour ourselves. Scraping as many chillies aside as possible, the gravy-drenched dish is like a deliciously hoggish French dip. What's more, the gravy is so rich with meat juice it's impossible to resist scratching the dregs from the bottom of the jug with the fork: Bisto, this is not.
As for the 'pre chop bites', they're fine yet discordantly dainty with the rest of the food served. A thin cracker of stilton and pickle has depth of flavour that compensates for what it lacks in size; chicken and horseradish has an overabundance of tarragon and the pore-clearing heat from horseradish is practically absent. The anchovy and egg mayonnaise cracker is less atrocious than it might sound, yet still tastes like something we're made to eat as children, against our better judgement.
Far better are the chops. The serving dish piled with meat demands for sleeves to be rolled and for the bones to be taken in hand to gnaw every last scrap of flesh. They're just that good. Skinny veal cutlets are black on the outside but virtually blue inside, as are the lamb T-bone chops. Two hefty pork chops look like tools that would be used to bring a large tree to the ground, but they're somewhat dry. Two belly strips, however, are perfectly crisp with layers of fat rendered just enough, without being compromised. The belly strips are so good, in fact, that I snarf both with the visceral enthusiasm of a man who's just discovered fire, before my friend even has a chance to taste. If you've saved space (unlikely), the ciabatta bread is by now soaked with meat juices and is inevitably delectable.
Sides of triple-cooked chips are adequate, yet easily overlooked by a bowl of ash-roasted beetroot, cut into chunks and served skin-on. The beets' sweet, earthy notes are joined by an almost overbearing smokiness yet a sprinkling of freshly-grated horseradish takes over and brings restores harmony. To finish, just two desserts are available. Bread and butter pudding delivers an abundance of childhood nostalgia, yet spikes the pudding with a glug of warming bourbon. The white chocolate cheesecake, however, is the most pleasing dessert by far. Served table-side with a spoon large enough to excavate dinosaurs, the cheesecake is light with bantam sweetness from the white chocolate, finished with poached rhubarb that's enough to improve just about every sweet dish on the menu across London at the moment. Very good examples of a classic Negroni or Old Fashioned are also available with dessert, served from a trolley and impossible to resist at £5 each.
Together with a list of playful, often innovative cocktails, casual service and meat that's unfussy and properly cooked – it's the astounding value that's most gratifying with dinner at Blacklock. Book a table now, while you can still get in, and if you end up leaving without feeling uncomfortably full – you're just not doing it right.
Blacklock City can be found at 13 Philpot Lane, London, EC3M 8AA.
–