Within his 1952 opus, The Old Man and the Sea – the final novel to be published during his lifetime – Ernest Hemingway wrote: "But thank God, they [fish] are not as intelligent as we who kill them; although they are more able and more noble."
Of all the pearls of wisdom imparted throughout the writer's collective novels, short stories and journalism, this still stands tall as one of the most valuable in terms of food. Because, let's be honest, the ocean's stocks are quickly diminishing. It's estimated that the globe's entire supply of seafood will become exhausted by 2048. So what's the answer? Though some, sensibly, choose to abstain from fish entirely, it's unrealistic to expect the rest of humanity to follow suit, until all of the fish has depleted. Instead, alongside fishing and buying responsibly, it's important that seafood, as an ingredient, is treated with respect both at home and in restaurants. With stocks declining so rapidly, each portion of fish that we consume deserves, at the very least, to have been prepared exceptionally well.
Though central London's closest coast lies more than 25 away, the city is home to some of the country's greatest restaurants specialising in fish and seafood. Bentley's Oyster Bar & Grill, for instance, has been operating from a narrow side-street between Piccadilly and Regent Street for over 100 years. In 2005, the two-floored restaurant was taken over by Irish chef Richard Corrigan. Unlike Corrigan's Mayfair, no less, the downstairs dining space at Bentley's – with it's bar stool-lined counter and closely placed tables ensuring a convivial atmosphere – is less formal than the menu might suggest. Classic such as lobster bisque, fish pie and Dover Sole sit alongside more contemporary dishes including 'eel, bacon & horseradish' or oyster Croque Monsieur, for instance.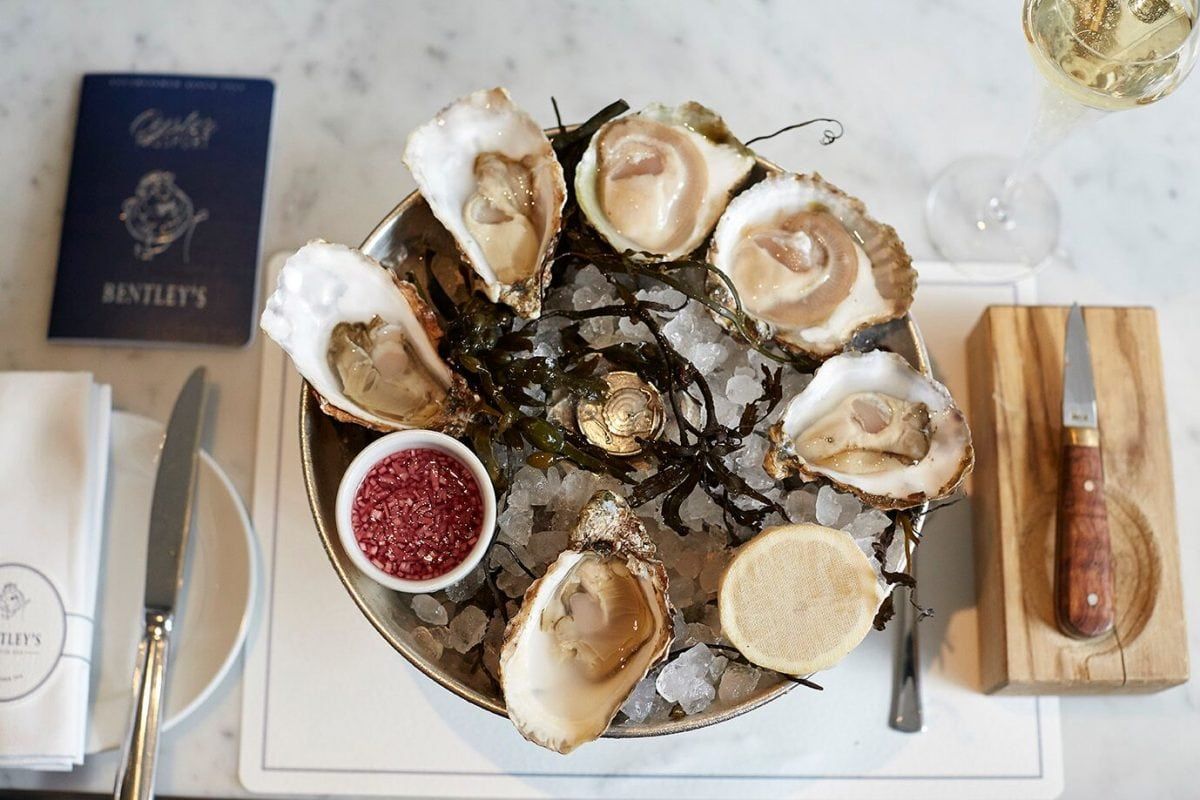 Following a round of classic cocktails (I'm inept to resist a noble Negroni), we're lead past the live pianist to the downstairs space and given the choice to sit at the marble-topped bar counter or at a table. Spotting the oysters, we inevitably perch at the bar, close to the action. The upstairs space, on the other, is a grander, fancier affair more similar to that of Corrigan's Mayfair. An initial tray of oysters, served simply over ice with lemon, tabasco and vinaigrette on the side is, perhaps needless to say, one of the restaurant's main draws – and quite rightly so. Otherwise, oyster Croque Monsieur sounds like a heinous crime against food, and the poor creatures involved. Against all odds it actually works tremendously well. Having firmed-up in the pan, the texture of the oysters contrast the molten hot cheese and golden bread fried in so much butter I can feel my arteries thickening with each bite. Nonetheless, this particular example of dressed-up comfort food is amongst the finest dishes I've tasted in2017, thus far.
A special of seared mackerel with rhubarb jam also reads like an absolute atrocity. Instead, the fish's slick potency is cleverly balanced by the tart rhubarb, though the overall dish's texture leaves a little to be desired. Better is a pasta dish of al dente spaghetti accompanied by a generous helping of lobster, with rich binding tomato that unites the dish, complementing the lobster's sweetness. While the lobster is somewhat overcooked, on this occasion, the overall dish boasts some of the restaurant's best value – especially when compared with similar meals from nearby competitors. Whole Dover Sole comes with the choice of being served on the bone, or filleted. Tired of watching my companions' mains turn cold while cack-handed wait staff flail around the floor butchering the fish, elsewhere, I'm almost as delighted as the waiter, given the chance to fillet the fish by myself. Perfectly cooked, the four fillets slip from the bone with the use of a fork and spoon, accompanied by a squeeze of lemon and almost as much butter as the Croque Monsieur.
To round off the meal, desserts are largely classic. Dark chocolate mousse, Irish apple tart, crème brûlée, plus steamed date and caramel pudding are joined by an often long forgotten bread and butter pudding that's sweet, dense and wonderfully sating. In addition to a vast menu that offers some of the City's most outstanding seafood, Bentley's encapsulates a terrific balance between understated glamour of yesteryear and refreshing informality. Frankly, there's no place, in London, I'd rather slurp an uncountable number of oysters, washed down with a cold glass of young Chablis.
Bentley's Oyster Bar & Grill can be found at 11-15 Swallow Street, London, W1B 4DG.
–