Mac & Wild has partnered with the Scotch Malt Whisky Society to create an underground bar that fuses the Scottish chain's revered food offering with SMWS's rare and exclusive whisky selection.
The Kaleidoscope bar opens its doors to punters today with some of the city's most exclusive and diverse collections of rare single malt whisky.
Launched by The Scotch Malt Whisky Society, the world's foremost whisky club, and located underneath Scottish restaurant Mac & Wild in the heart of the City, it is aimed at dedicated whisky fans, curious newcomers and spirits enthusiasts.
It is housed in a traditional warehouse with a bar that will be home to more than 200 of the Society's exclusive single cask whiskies, which are presented in 12 unique flavour profiles with names such as such as Old & Dignified and Deep Rich & Dried Fruits. It will also stock a range of the Society's other spirits such as rum, cognac and Bourbon.
As well as whisky, Kaleidoscope at Devonshire Square will offer a menu of whisky cocktails, specially created by mixologists Michael Cook and Jamie Meehan. There will also be fine wines, Champagnes, draught beer from Edinburgh and a selection of bottled craft beers. The bar will have a range of light snacks featuring food from Mac & Wild.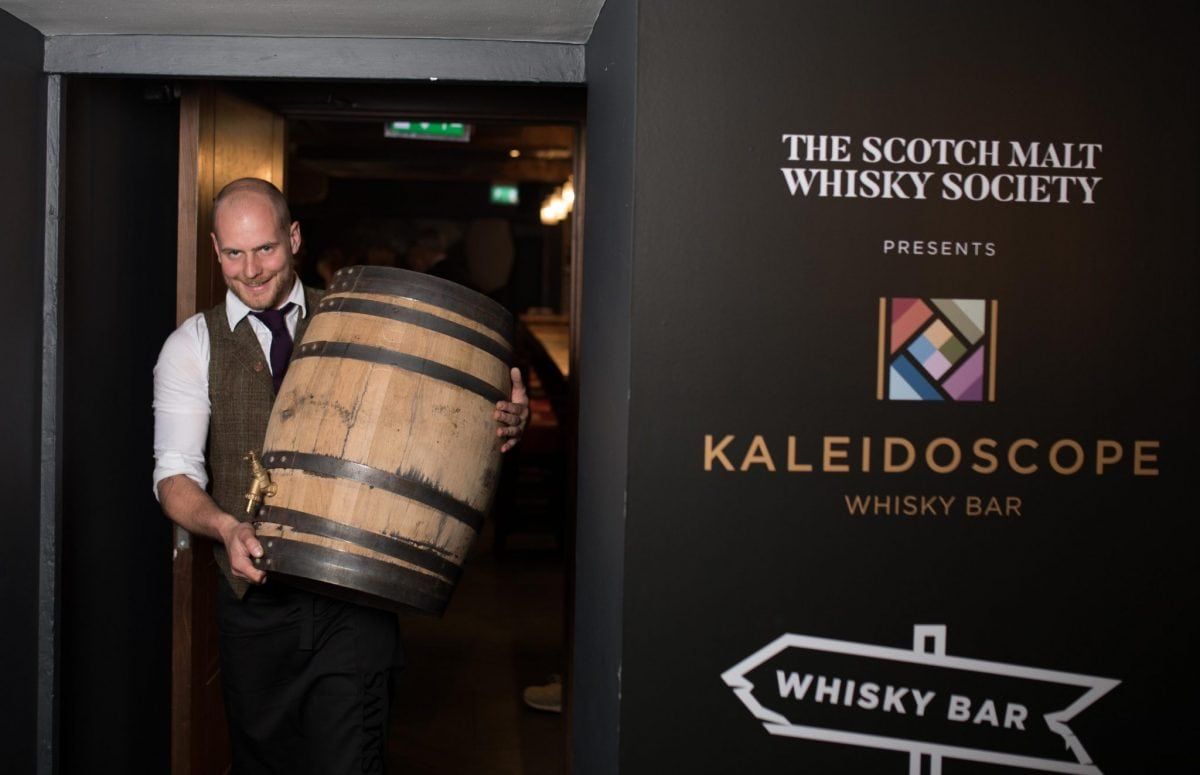 The Scotch Malt Whisky Society already has a members-only venue at 19 Greville Street in Farringdon, but this is the whisky club's first bar in London that will be open to non-members as well as members.
"We've been catering to our members for 20 years at 19 Greville Street, and it will remain an exclusive members-only venue," said Jan Damen, operations director UK from The Scotch Malt Whisky Society.
"With Kaleidoscope at Devonshire Square we want to open up our amazing selection of bottlings to a new audience of whisky fans and like-minded spirits enthusiasts, so that they can discover this fascinating world of single cask, single malts."
The new venue's manager, Michael Cook, brings a lifetime of experience in the drinks industry to Kaleidoscope at Devonshire Square, after working with Brian Silva at the exclusive members' club 5 Hertford Square in Mayfair, Claridge's and Rules Restaurant in Covent Garden, among others.
"In all my venues I have worked hard to produce lists showcasing the very best whiskies Scotland and the world has to offer, and I am very excited to be working directly with the world's most extensive collection of rare single cask spirits," said Michael. "I can't wait for the time my team and I get to share it with visitors to Kaleidoscope at Devonshire Square."