Finland has been crowned the champion of the 2018 World Steak Challenge in London, with a record number of steaks entered from 22 countries across the world.
The sirloin came from a grass-fed Ayrshire produced by JN Meat International and reared in Finland. It won Best Grass Fed and Best Sirloin medals in the annual challenge.
JN Meat International also picked up the Best Rib Eye award for its grass-fed Ayrshire.
Now in its fourth year, the World Steak Challenge 2018 was held at The Magic Roundabout in London where more than 33 expert judges convened to test and rate close to sirloin, fillet and rib eye steaks from 22 different countries and four continents.
They were judging the entries on aroma, colour, flavour and marbling.
Gold, Silver and Bronze awards were given for Best Rib Eye, Best Fillet and Best Sirloin, with other accreditations for Best Grain Fed and Best Grass Fed, as well as the ultimate battle for the right to be named World's Best Steak.
The 45 Gold medal winners included five category winners as well as the overall champion:
The Best Sirloin, won by JN Meat International
The Best Rib Eye won by JN Meat International
The Best Fillet won by ABP Poland for a Grain Fed Simmental Cross
The Best Grain Fed won by OSI International Holdings, Germany for a Rib Eye Angus
The Best Grass Fed won by JN Meat International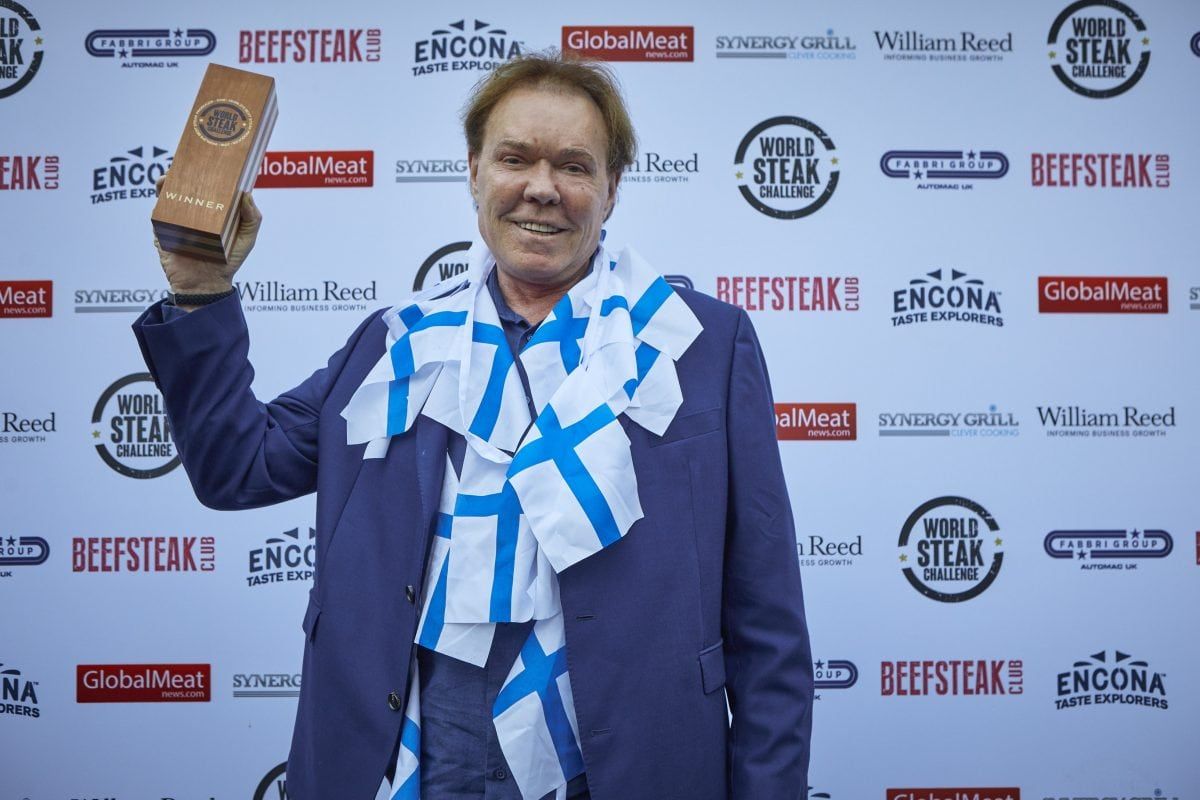 Winner John Sashi-Nielsen, director of JN Meat International, said: "I am so proud to have won this award. So proud of the farmers in Finlandia. Many times congratulations to them. This beef is about passion. It is about the farmers and passion when we select meat. We are meat lovers and we are coming to stay."
Chair of the judges, the South African master butcher Alan Franck who works for Haywards Butchers in Tonbridge, Kent, said it had been a tight call:
"Finland took the overall champion's title with a grass-fed sirloin that was generous in marbling, very tender with a good balance and with a very intense flavour.
"We've got a variety of things we look for in a steak, such as the marbling, the consistency and it shouldn't have too much fat. It needs to be really tender and succulent.
"A good steak is the way the animal has been brought up in terms of how it has been fed and the conditions before it has been killed.
"Winning the World Steak Challenge will boost the producer's sales and every aspect of the business," he added.
This year's competition saw 22 countries and 35 different breeds vying for the medals and champion's title.
There were 45 Gold Medal winners, 37 silver medal winners and 54 bronze medal winners.
Entries into the competition, which is organised by Global Meat News, were received from Argentina, Australia, Austria, Brazil, Canada, Denmark, England, Finland, Germany, Ireland, New Zealand, Northern Ireland, Poland, Portugal, Romania, Scotland, Sweden, Switzerland, Spain, the USA, Uruguay and Wales.
The Challenge is designed to benchmark the quality of international beef production.
Expert judge Richie Wilson, executive chef of Ireland's FIRE restaurant, said: "We've found some really great pieces of beef today. I really enjoy the fact that when you are judging, you don't what country the steaks have come from or whether its grass-fed or grain-fed."
Last year, the supreme world title went to ABP Poland, the Polish division of ABP Food Group. The previous years' two titles were taken by the Australian beef producer Jack's Creek, entered by Albers GMBH. All three winning steaks were grain-fed sirloins.
RELATED 
https://www.thelondoneconomic.com/food-drink/strazzanti-to-host-sicilian-supper-club-at-hackney-city-farm/28/06/
https://www.thelondoneconomic.com/food-drink/londons-best-new-restaurant-openings-july-2018/02/07/
https://www.thelondoneconomic.com/food-drink/uks-first-vegan-oktoberfest-comes-to-camden-town/28/06/