A technology company are revolutionising the dairy industry with a range of robotic 'maids' that milk cattle – whenever the cows feel like it.
The automatic cow milker allows the heifers to walk in whenever their udders are feeling uncomfortable – and automatically gives them a good milking.
Agri-tech giant Lely's newest automatic machine lets cows choose for themselves when they want to be milked and is set to change modern farming.
They built and designed to make dairy farms more efficient and to improve cow welfare.
Lely, based in The Netherlands, hopes their Astronaut A5 machine will provide a new "milestone for milking", and is already being trialled on British farms.
James Renwick is one farmer who has chosen to invest in the mechanical future of the dairy industry.
James has been a dairy farmer all his life and runs Buddington Farm in Easebourne, near Midhurst, West Sussex.
He said: "We're a family farm that decided to invest in robotic machinery.
"Our milking parlour was very old so we chose to get these two new machines.
"Robotic milking machines are becoming more popular with dairy farmers who need to update equipment as it gets old."
James – who has a herd of 140 Holstein Friesian cows – said his cows are enthusiastic to use the machine and seem happier now than when they had to wait to be milked in a big group.
He said: "With the old system the cows got milked twice a day but now they are going three times a day.
"When cows are herded together some can be bullying and some cows are timid, but they seem very relaxed using the new machines.
"The cows can go in when they feel like it."
The new Lely machine works by monitoring the cows' identification tags.
If the cow has been milked recently, then the machine will not attach to the udders.
If it is ready to be milked, the cow's udders are brushed and cleaned before a laser pinpoints where to connect to the machine, adjusting the grip to be as gentle as possible.
The cows on his farm get a food treat when they enter the milking machine, an incentive that made some of the herd keep coming back for more.
James said: "Some cows tried to go back in the milking cubical after they'd already been milked but there is a limit to how many times the machine will milk them in one day."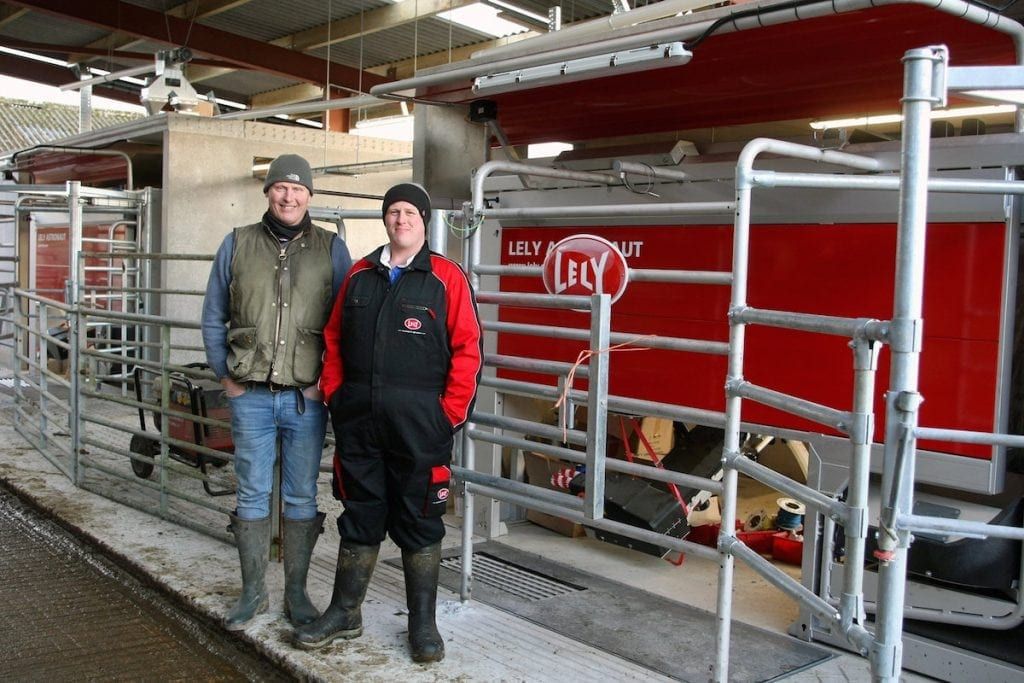 The technology's built-in computer is able to monitor a herd's general health and provide farmers with information, leading to an earlier diagnosis of potential health issues.
James said that the new machines focus on welfare is key to his farm – and he's delighted his cows are happier that they can milk them himself.
He said: "Welfare is very important.
"The cows go out to graze and we rear all our calves.
"We've been using the two new robotic machines since February and it's going very well, the cows seem happy and relaxed."
The new cow-friendly regime is expected to increase milk yield by 15 per cent.
Dairy farmers have faced difficult times with figures suggesting that the number of dairy herds in West Sussex being halved to around 60 since 2002.
The newest Lely machine was tested with over 30 farmers worldwide and more involved more than two million milkings.
The tech is so innovative that even the National Farmers Union are open to the idea.
James Osman, National Farmers Union county adviser for West Sussex, said: "It is really encouraging to be able to support innovative dairy farmers who are looking to increase efficiency and productivity."
https://www.thelondoneconomic.com/food-drink/chef-sacked-after-serving-customer-1-15-asda-own-brand-cheese-when-she-ordered-13-baked-camembert-at-a-restaurant/16/04/
https://www.thelondoneconomic.com/food-drink/londons-first-gluten-dairy-sugar-free-italian-restaurant-opens-next-month/12/04/