These never-before-seen sketches showing the earliest incarnations of Star Wars' most famous characters could fetch over a quarter of a MILLION pounds at auction.
Personal notebooks belonging to the Oscar-winning British costume designer behind the iconic sci-fi franchise have been revealed for the first time.
The fascinating pencil sketches by concept artist John Mollo show the instantly recognisable figures of Darth Vader, Han Solo, Princess Leia and Obi-Wan Kenobi.
Mollo is credited with "creating the Star Wars universe" and his concepts were later immortalised as some of the most famous characters in cinematic history.
Now two of his sketchbooks dating back to between 1975 and 1979 are set to fetch an astronomical price when they go under the hammer in December.
One of the books featuring the designs for the original 1977 film is estimated to sell for between £100,000 and £150,000 while another from 'The Empire Strikes Back' could go for between £80,000 to £120,000.
While most of the characters such as Stormtroopers are easily identifiable, some of the doodles feature striking differences to their eventual on-screen cult personas.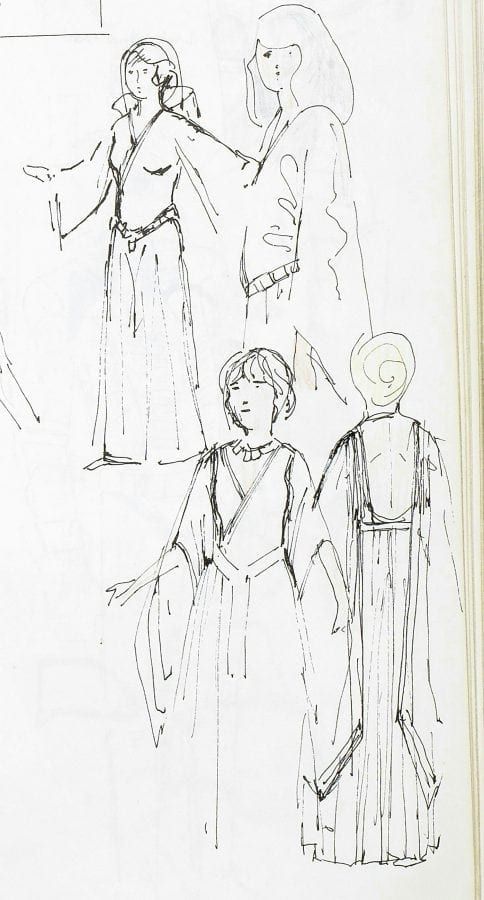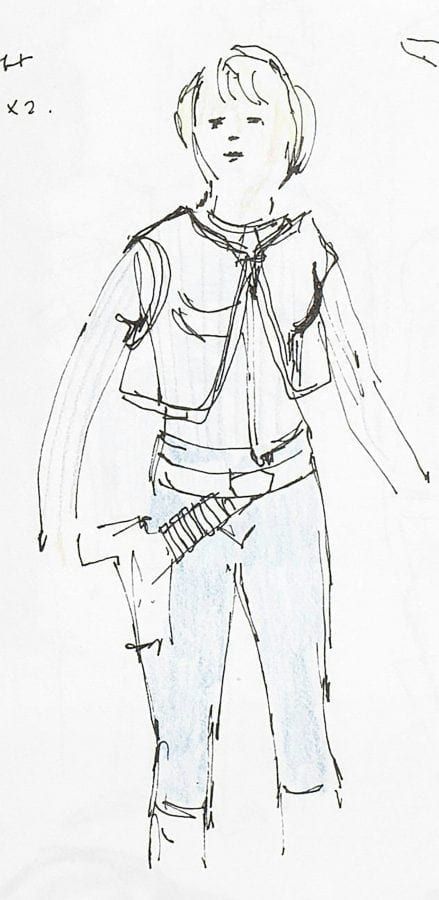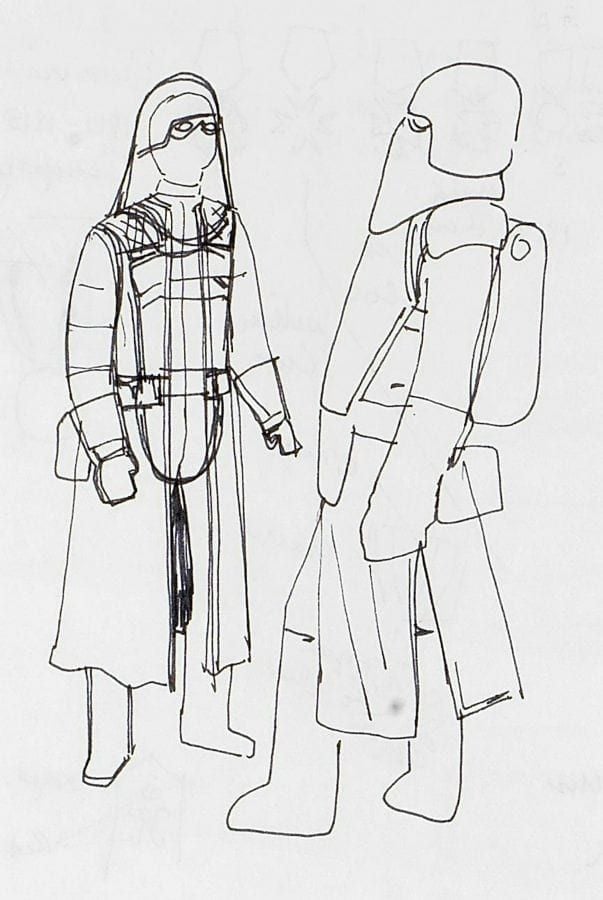 Darth Vader can be seen sporting what appears to be over-sized shoulder pads while Chewbacca's face seems to resembles that of an E-Wok.
The books have stayed with the family of Mollo since his death in October last year and this is the first time they have been revealed to the public.
His son, Tom Mollo said: "This collection is a very personal insight into my father's creative process.
"As these wonderful sketches demonstrate, he was a man of boundless imagination, but he never forgot the practical side of costume design – that actors had to be able to move and breathe and speak their lines.
"We can see him wrestling with these issues in his designs and, of course, producing the wonderful solutions that gave life to the characters and have made them recognised and loved the world over.
"My father once said with typical understatement, 'I think on the whole I did a good job." History has surely proved him right."
The ultra-rare books, which contain a wealth of drawings, notes and designs, will be sold at Bonham's Auctioneers in London on December 11.
Katherine Schofield, head of entertainment memorabilia, said: "John Mollo created costumes that elevated characters to cult cinematic status and this highly important archive of his notes and sketches demonstrates how brilliantly the designer merged fantasy and practicality.
"These sketchbooks are a unique part of cinema history – in my experience nothing like this has been seen before at auction – and will have immense appeal to collectors."
John Mollo was commissioned by director George Lucas to create the uniforms and ensembles for Star Wars after previously working on 'The Charge of the Light Brigade'
At the time, he was unfamiliar with the sci-fi genre and considered the film "a sort of space western" adding that "one of the heroes is a dustbin" referring to R2-D2.
Lucas urged Mollo to avoid the stereotypical space-age look of earlier sci-fi films and instead to focus his designs on the pivotal concept of "light versus darkness."
Mollo said previously: "For Darth Vader I had to go to three departments: the ecclesiastical department for a robe, the modern department for a motorcycle suit and the military department for a (Second World War) German helmet and gas mask.
"We cobbled it all together and there was Darth Vader."
Lucas also tasked Mollo with convincing the reluctant Sir Alex Guinness to play the part of Obi-Wan Kenobi.
He recalled it wasn't until he showed him the monastic brown cloak and cowl design that he believed Guinness was truly convinced.
The books also served as Mollo's personal production diary and contain pages of costume budgets, production notes and meeting notes with Lucas.
A section also holds costume sketches from Stanley Kubrick's renowned 1975 film 'Barry Lyndon'.
His other notebook contains sections showing work for Ridley Scott's 'Alien' and Douglas Hickox's 'Zulu Dawn'.
By Ben Gelblum and Ed Chatterton