By Linda Marric
Kelly Reichardt Is fast becoming one of the most iconic director of her generation, her features have been hailed as some of most beautifully crafted and understated pieces of filmmaking of the last decade. In Certain Women, which was adapted from three different short stories by Maile Meloy, Reichardt delves into the lives of three different women living in Livingston, Montana and brings us a unique look at rural America from a fresh perspective. Earlier this week, I met with Reichardt for an interview and asked her about her new film and her experiences as an indie filmmaker making her way into the mainstream.
LM: Were you ever tempted, to just pick one of the three stories and expand on it, and if so which one?
KR: I could have, and I certainly shot enough film to make a feature of Lily (Gladstone) out there feeding the horses, but people would eventually get tired of watching horse-feeding after a while. I mean…I wouldn't, but every time I was showing rough cuts, people were saying "less horses please". And it's true, there is a point a which the beauty of a place overwhelms the roughness of the chores so it kinda cancels it anyway. So you have to hold back, otherwise, what is it about? It's a balance between not letting the majesty of Montana take over. It's brutal, it's cold and taking care of twenty horses alone in that weather can be back-breaking and very isolating. So there wasn't really a story to expand on. There were different things I wanted to do with each one and I liked the idea of trying to figure out if I could make it work as a whole… as a sort of idea of the West with contemporary times….with little bits of threads of old Westerns, and I understand that the last story (the rancher's story) is the heart warming one, but I didn't want to just do that. I wanted to have these women work off each other.
LM: There have been some comparisons made between your films and those of Altman and Jarmush and all those films with interconnecting characters. Firstly, how do you feel about that. Secondly, who were your own influences growing up?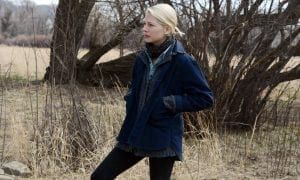 KR: Well, I grew up in Miami which was a complete cultural void, so I didn't really see movies until I left and moved to Boston. I love Altman, funny enough I don't really like Shortcuts (Robert Altman, 1993),but I do love Altman and to have Rene (Auberjonois) [Auberjonois stared in Altman's Brewster McCloud in 1970] play Albert in the movie was a huge kick for me. As for Jarmush, Stranger Than Paradise (1984) came out when I first got to Boston and was watching films and shooting Super 8 and I think at that time, Stranger Than Paradise was like a licence to make a movie. I think that's the effect that film has on a lot of people. But as far as for the combining of stories together those aren't the connections I would go to for this.
LM: You had a very long Hiatus between River Of Grass (1994) and Old Joy (2006), can you explain what exactly happened and why you stopped making film for over a decade.
KR: It wasn't for lack of trying, I just couldn't get another film made.
LM: This is your third film with Michelle Williams, how did your working relationship with her develop?
KR: What can I say about Michelle that have never said before…. It's just a pleasure working with Michelle, we shot that part with her after the ranch, so there was a little bit of a let up in the weather, it wasn't as freezing, and it was quite mild so we were so happy to be inside at that stage. She's just really easy to work with because I have a sort of a short cut to her, we don't have to dance around anything and not try to hurt each other, like you do when you're just starting to work with someone and you're trying to find your way around, you can just cut to the chase with her.
Certain Women is in cinemas from Friday March 3rd. Read our review
Written, Directed, and Edited by Kelly Reichardt
Produced by
Neil Kopp, Vincent Savino, Anish Savjani
Executive Producers
Todd Haynes, Larry Fessenden, Christopher Carroll, Nathan Kelly
Cast: LAURA DERN, JAMES Le GROS, JARED HARRIS, JOHN GETZ, MICHELLE WILLIAMS SARA RODIER, RENE AUBERJONOIS, LILY GLADSTONE, KRISTEN STEWART