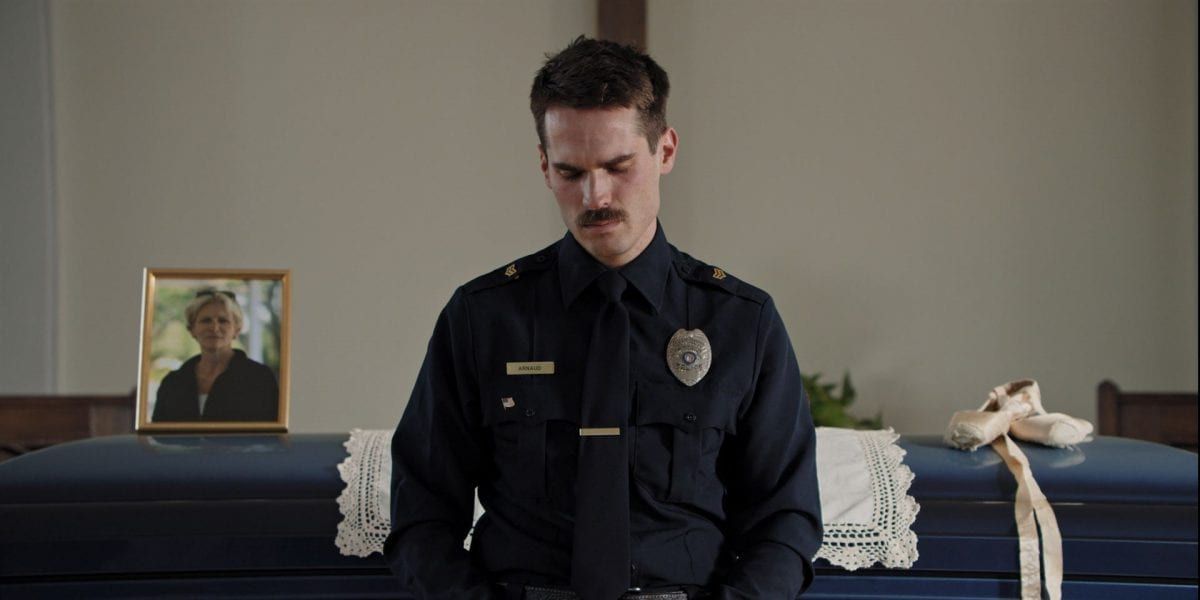 Expanding his short film, writer, director and actor Jim Cummings plays Jim, a cop who has a meltdown while trying to give a eulogy at his mother's funeral. From there, he struggles to hold things together in his job and in his personal life, as he tries to bond with his daughter and fight his ex-wife's request for sole custody.
Right from the start, Thunder Road throws you with its tone. We first find a clearly distraught Jim stumbling through his Mother's eulogy, trying to pay an affectionate and sincere tribute, but repeatedly getting sidetracked by his emotions, by apologising for them and for his digressions and finally by the fact that he can't get his daughter's boom box to play his mom's favourite Springsteen song: Thunder Road. For me, this sequence is discomforting comedy at its best. We don't want to be laughing at Jim; it's inappropriate for the setting and for the emotion that he's trying so hard to hold in check, but we can't help it. Cummings' writing, his face as Jim grits his teeth, or forces a smile and his movement as he does a dance to Thunder Road despite not having the music, are equal parts wrenching and funny. This is a combination that Cummings expertly nails throughout the film.
The short version of Thunder Road, shot in a single take, was simply that opening scene, but Cummings does a great job in expanding the film. He opens up several themes that hit home, while maintaining the tone he establishes from the first frames. There are two major things that the film strikes me as being about: the fragility of masculinity and the reasons behind that, and a father trying to connect with his daughter (Kendall Farr). Jim is clearly fragile, not in a "why isn't there an international men's day?" way, but at a level that is deeper and more profound, in a profession and a culture that has made him feel that, as he says at one point "talking about things doesn't help anyone". We can see the effect of this in everything from the way Jim deals with a call after returning to work straight after the funeral, to the very funny sequence in which he has a conference with his daughter's teacher "I'm gonna have to hold on to this desk for a while", he says, ending up carrying it around the room. It probably comes home hardest after a court hearing, when Jim berates his (soon to be former) colleagues, including his partner (Nican Robinson), in another moment that perfectly straddles the line between tragic in implication but darkly funny in execution.
Much of the best work here is striking in its simplicity, this is particularly true of Cummings' direction, from the long single take that plunges us into Jim's experience at the funeral to the lovely detail of a brief shot that he allows to do the work of what could have been a longer sequence showing the work Jim has put into learning one thing because it matters to Crystal. The fractious relationship between father and daughter is established organically, more in the lack of dialogue than by being explained. The film, and Cummings' performance, has enough nuance that we can worry about him as a parent and root for him in the same moment.
A late turn in the plot also adds a new wrinkle to Jim's character, giving a slightly new context to the way he responds when his lawyer asks him why he's not seeking sole custody of Crystal, because while it felt like an unexpected moment to me it clearly doesn't come as a surprise to him. This level of nuance is something that recurs throughout the film, in details both dramatic (Jim picking up his bag from the bushes, after deciding he's not going to stay at his sister's house, despite the long drive home) and comic (Crystal's teacher taking a pair of children's scissors off the table and pocketing them while he talks to an irate Jim). It's these little things that give the characters dimension.
Black comedy is a tonal tightrope walk, but Cummings pulls it off brilliantly, positioning us in that place between laughing, cringing and crying for almost the entire 90 minutes. This is one of my highlights of LFF so far and it doesn't have UK distribution in place, so make sure you take the chance to see it with an audience.
Thunder Road plays in LFF's Dare programme on Wednesday 10th, Thursday 11th, Friday 12th and Saturday 20th of October.