Last time TLE Music caught up with Hackney Polo Club AKA East London DJ Jawa, Shoreditch's happiest partygoers were queueing around the corner of The Book Club for sweaty vibes and party tunes at the Daliees Jukebox Champion Sounds Party he was hosting.
But the East Ham raised DJ, now largely based in Marseilles is taking a break from spinning records following a horrific scrape along a reef off the shore of Porthcawl in Wales.
One arm still out of action following a lengthy operation to relocate his left shoulder and its muscle, 36 stitches later and DJ Jawa can still have a giggle about a painful encounter with the rocks of the South Wales coast.
"It's a wave locals know about, and I call it The Bone Yard," he giggles. "Everybody who surfs or bodyboards there has had stitches or broken bones. It's a gnarly left or right depending on the swell. But the left wave breaks in two foot of water and it's five foot in height and bigger some days.

"It was a small day so I was bodyboarding but the tide was retreating, I went too shallow, did a big barrel roll to face plant hard on the reef.
"I threw my bodyboard but should have held onto it as I landed onto the reef in a few inches of water. My left shoulder popped my bone out by two inches, tearing my muscle away, I brought my arm up to protect my eyes – luckily as I chipped my eye socket and scraped my arm where my wetsuit ripped."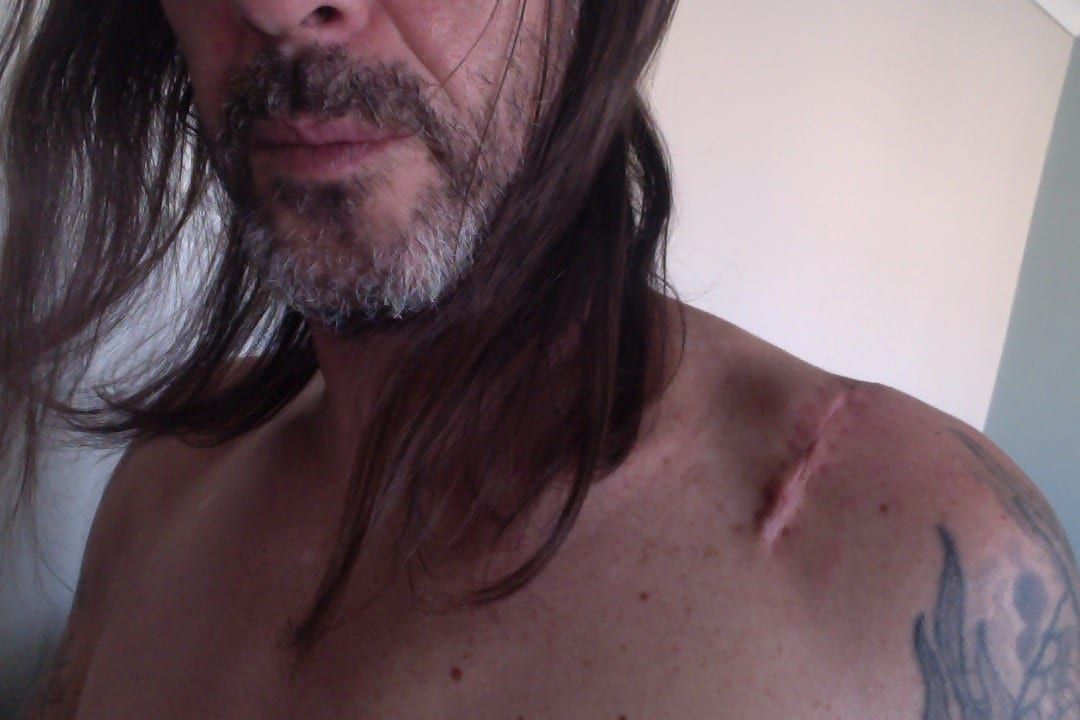 But following an operation four weeks ago, despites months of physio ahead, DJ Jawa promises to be back surfing as soon as he is physically able.
"I'Il be back. Whatever won't kill yah makes yah stronger," he insists. "I love that wave – it's the bomb."
Asked about other surf-related scrapes, DJ Jawa has a long list spanning the globe: Bali, Australia, Spain's Basque country, Hossegor in France – "that's way more scary – on big days 10 to 15 foot – getting drilled ain't no picnic, but that's the name of the game – go in hard or go home."
The DJ known for his lack of sense of danger as well as his party bangers has several favourite surf spots around the world: "The Bone Yard, Porthcaw, Uluwatu in Bali; Mundaka in the Basque country; Phillip Island, Australia; Boilers in Taghazout, Morocco; Santa Teresa in Costa Rica and Piha in New Zealand."
"Surfing is my medicine," insists DJ Jawa, and he's needed plenty of that following his gruelling procedure to shave his shoulder bone, screw and pin it back into place and pull his muscles back over it.
"It could have been worse, no doubt I am very lucky – if I had landed on my melon … who knows … I'm lucky I guess. And luckily I am right handed."
As well as "the joys of washing with one arm," "not being able to tie back my hippy hair" and other activities DJ Jawa lists that are too filthy to be repeated, the DJ behind Hackney Polo Club is having to suffer a long break from spinning party bangers with one arm out of action.
Though when we caught up with him he was delighted to have just been given eight slots at Glastonbury this summer.
DJ Jawa has been enjoying "the clean life" and taking time out of mixing with two hands to make music in the studio under his Hackney Polo Club alter ego – "which is much safer" he jokes.
After UK House EPs on This Ain't Bristol and Simma Black Records, Hackney Polo Club has just released Big Bad Bassline Sound the first EP on a French label – Carton-Pâte Records. Collaborating with French brothers and co-producers Ian O Dorner and DJ Juby, the three-track bass house EP is guaranteed to get any party started and has been championed by house legend Laurent Garnier much to their delight.
Another EP in a more tech house vein is due out on Canada's Purple Tea Records, and Hackney Polo Club will be touring in France in March by which time DJ Jawa intends to be fighting fit and back behind the decks again.