From crazy golf in a junkyard to urban axe throwing, five star bowling and flight clubs for darts enthusiasts London certainly has it all when it comes to entertaining evening activities.
With the premise that drink + food + games = a good night out seemingly ringing true to many city dwellers old pastimes are starting to make a return in the capital.
And now we have something else we can add to the list – shuffleboarding.
London Shuffle Club is celebrating one of the most exciting new nightlife trends of recent years after setting up a new permanent home in Shoreditch with a huge opening party on 4th July.
The large, tastefully designed and colourful space features the UK's first ever open-air shuffleboard terrace and will focus on the classic floor shuffleboard version of the game.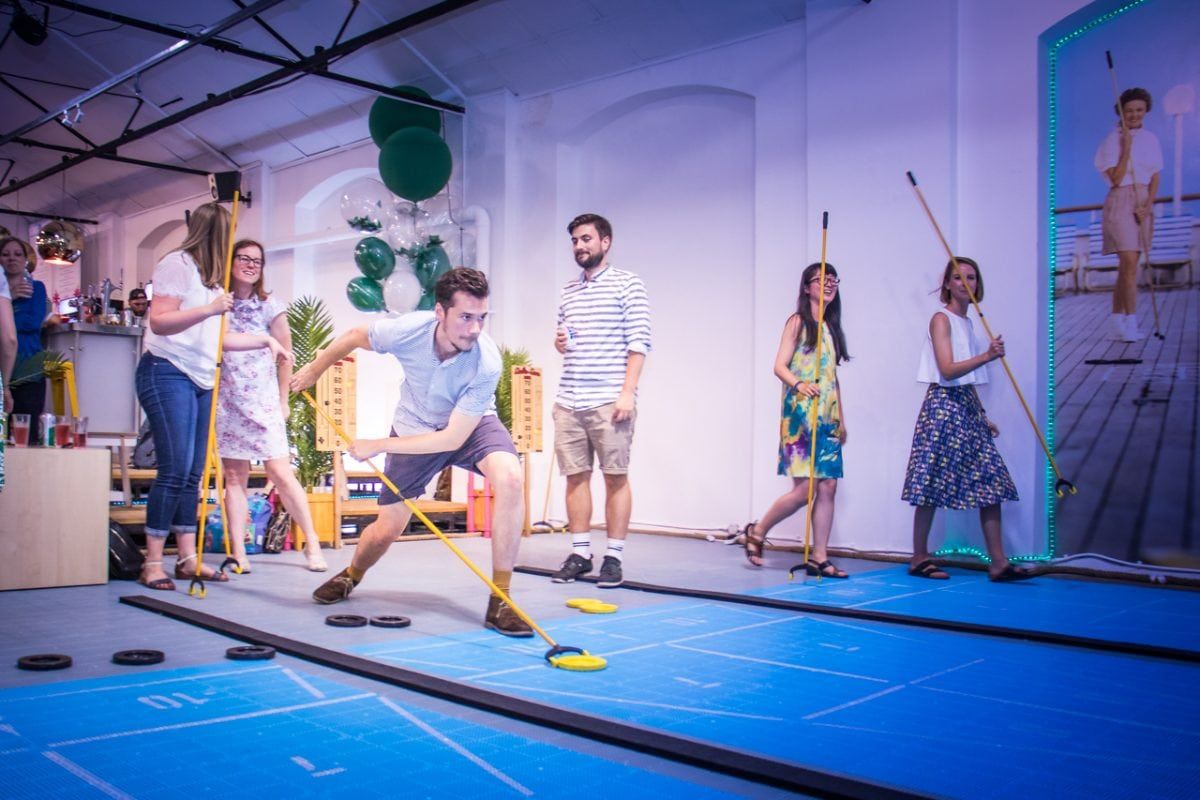 Mouthwatering guest ales and cocktails on rotation and live music complement the most fun, addictive and socially competitive way to spend your days and nights.
For the last three years, under various previous guises and in numerous locations, the London Shuffle brand has already turned those who know on to this great new game.
Now investing in a permanent location three times the size of the adjacent, table shuffle focused, London Shuffle Bar — located in a fully transformed and welcoming warehouse in Shoreditch on Ebor Street, opposite Shoreditch Boxpark and last used as an industrial printers.
These industry leaders are here to stay and free to develop the whole experience into something even more immersive, authentic and exciting with fun, bold, contemporary and original themes.
It will be open Tuesday to Saturday each week, from midday to 11pm, so expect a vibrant space with lots of colour, sharp design and a warming atmosphere that will make you want to stay to play on any of the eight floor shuffleboard lanes.
London Shuffle features alley-style lanes with an all new look that is effortlessly fresh and modern.
This new 7000 sq ft venue also offers the first ever open-air shuffleboard lanes on the outside terrace.
These lanes are reserved for walk-ins and this area is a real sun-trap, making it the perfect place to while away magical summer afternoons.
Outside, you will also find a stylish Airstream offering a carefully curated selection of craft ales, while inside, an easy-to-drink selection of beers will keep you well watered.
For those who want to treat themselves; delicious long, short and slushy cocktails will all be on offer to add to the experience (and challenge of the game!) while tasty pizzas featuring a range of adventurous toppings will also be available to keep you well fuelled for the fun.
There will also be areas reserved for big groups with guest DJs playing laid-back funk, soul and rare groove, and street food vendors also adding to the occasion.
Shuffleboard is already taking off and with the arrival of the all encompassing, authentic and fully realised offerings of London Shuffle, it is set to become the most talked about new trend of summer.
London Shuffle will launch its new permanent London Shuffle Club venue on 4 Ebor Street, Shoreditch on 4th July. There's a range of Independence Day themed cocktails to mark the occasion.
RELATED