There is something masochistic to be said about wanting to surround yourself with Hooray-Henrys and throw yourself down an avalanche-prone mountain on two fibreglass sticks. But, like S&M, there's also an undeniable allure to it.
As a man who grew up among the rolling hills of Yorkshire I've seen my fair share of snow, but one element that's alluded me has been to ski down it.
Just the thought of skiing has a kryptonite effect on my working class sensibilities. Will they ask me to say 'chips 'n gravy from't shop' on repeat? Will they know what chips and gravy are? Will they chortle at me for mispronouncing salopettes? "Say-hello-pet."
Against all my inhibitions I was heading to St. Lambrecht in Austria to answer the call of the piste.
The location
Tucked away in the south of Austria is St. Lambrecht – a charming ski town in the middle of a protected national park, Zirbitzkogel-Grebenzen. The town is an hour's drive from Klagenfurt airport and about two and half hours' from both Vienna and Salzburg.
This idyllic setting is overlooked by St. Lambrecht's Abbey. A sweeping Benedictine monastery, which despite its sprawling size only homes six monks. Providing some serious floor space for your blessed buck.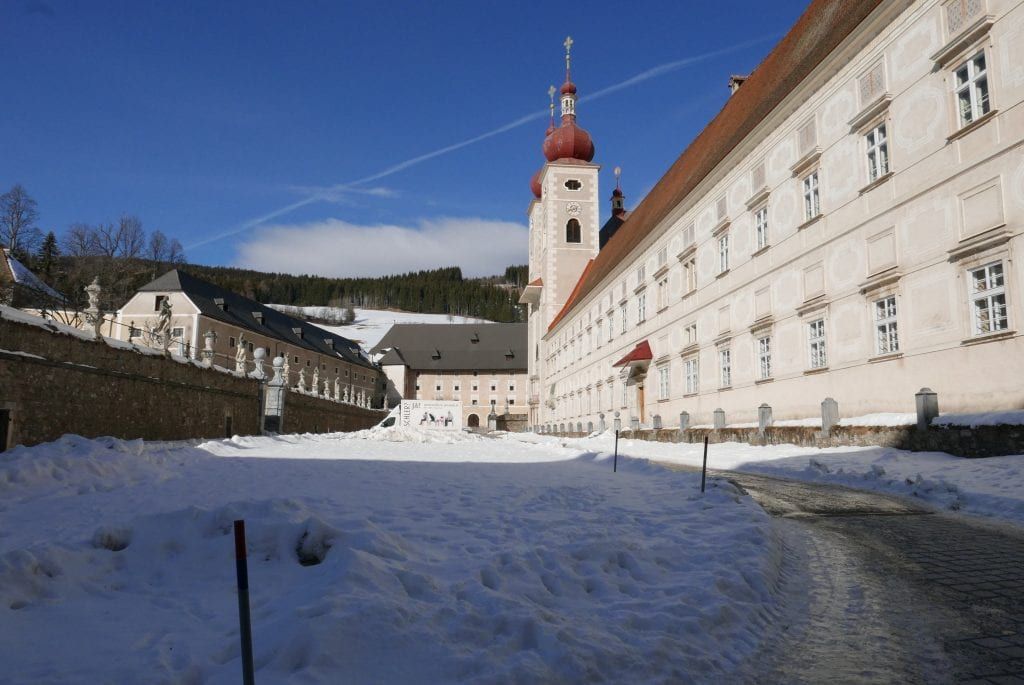 Undeterred by the limited number of monks, the monastery instils a calming but dominant presence over every element of this Austrian fairy-tale town. From the commanding church bells that echo through its quaint streets to the countless Catholic gifts that litter the shops. While apparently you'll often find the monk's enjoying a pint down the town's local boozer.
Where to stay
The hotel
I was staying at Naturparkhotel Lambrechterhof, a high-end four star on the doorstep of Grebenzen-St Lambrecht's 13km of ski slopes. The slopes are a 15-minute walk away, but there's also a free shuttle bus between 9am and 11.30am and 2pm and 4pm each day.
The hotel entrance offers a traditional façade in-keeping with the surrounding buildings, while inside is decidedly modern. A contemporary glass fireplace burns in the middle of the foyer, which looks out on to a snow-covered atrium.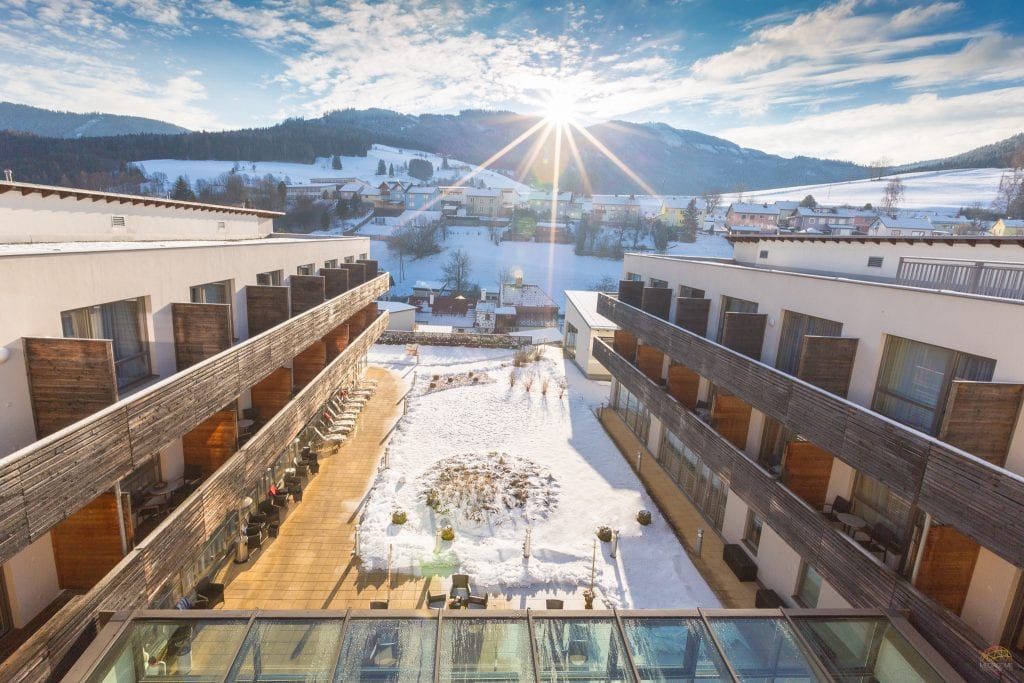 This is accompanied by a well-stocked bar full of local tipples, creating an appealing post-slopes watering hole. There's beer from the Murauer brewery (refreshing and light) and schnapps distilled just up the road (deliciously medicinal and apparently a good cure for aching muscles after a day spent falling on hard snow).
Rooms are large and airy with panoramic views of the surrounding mountains. Most come with a healthily sized balcony.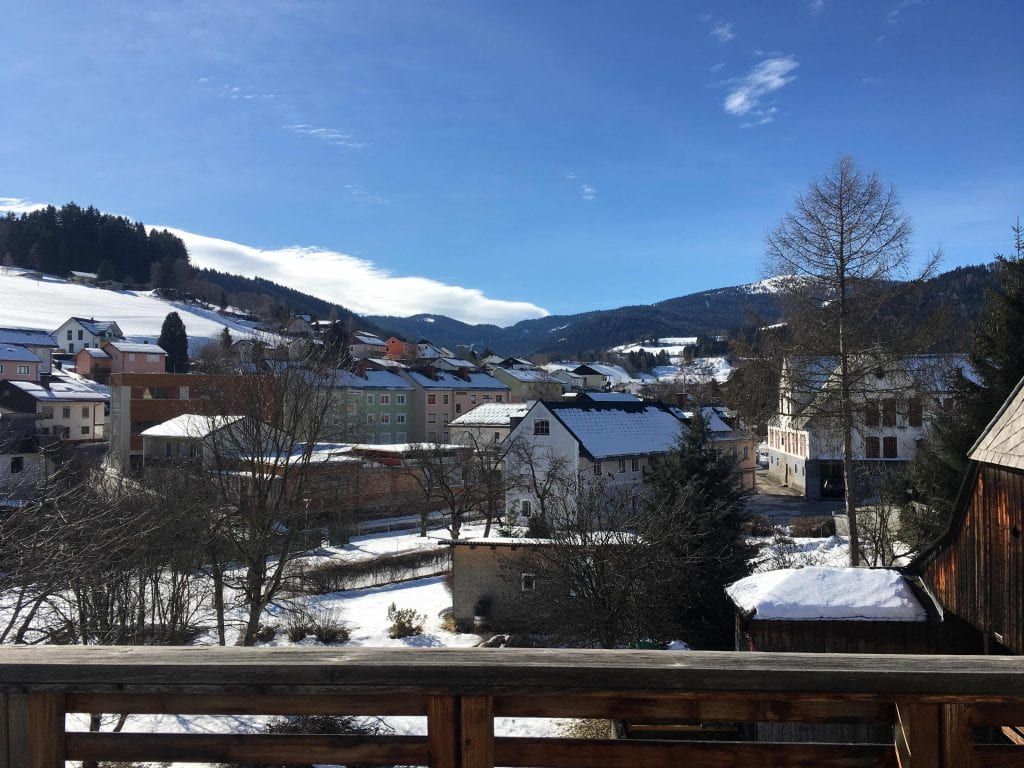 The hotel's food offering is headed up by executive chef Erich Pucher, who holds two hats –the Austrian answer to the Michelin Star. The food was surprisingly elegant. Less plates of meat, cheese and bread and more graceful risottos and delicate vegetable dishes. Their specialty pumpkin soup was unbelievably moreish.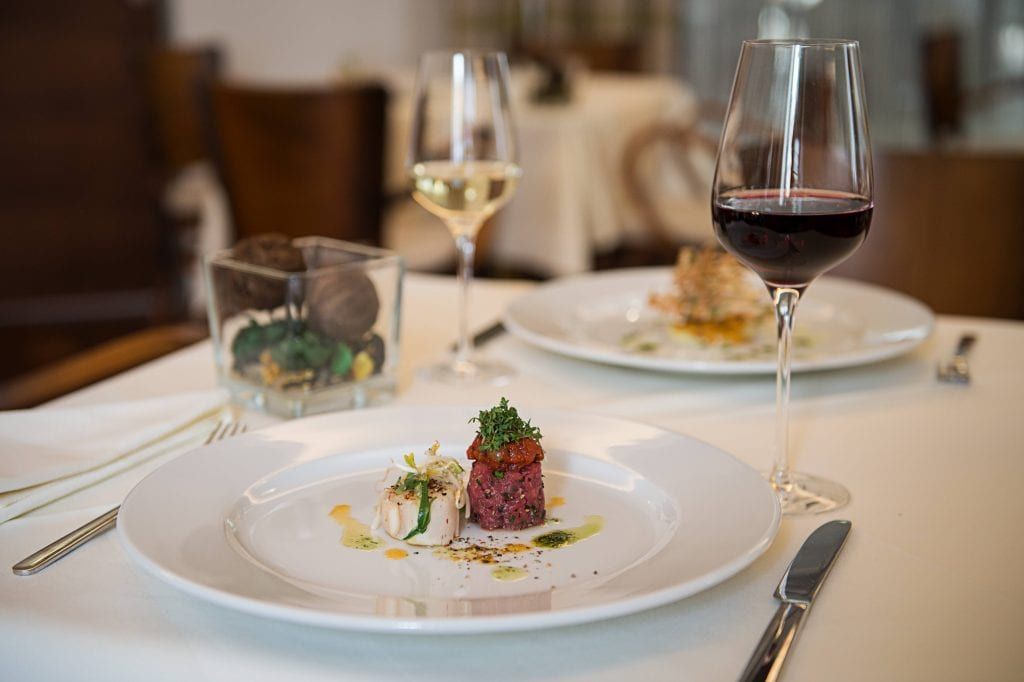 The hotel also delivers health and wellness facilities worthy of a five star. This includes a hot-stone sauna, steam room and an indoor pool with a breath-taking 360-degree view of snow-covered mountains. As well as plenty of treatments, including something called a balancer: an Inspector Gadget-like bodysuit that massages your legs and core. It's supposed to help with lymphatic drainage to carry waste products away from your tissues back toward the heart. Whatever it does, it makes for an entrancing 30-minute doze.
The NatureparkHotel Lambrechterhof offers 2 nights from £190 per person. Includes overnight stay, breakfast and 1.5 days' ski pass including free use of ski bus.
The chalets
For those that want their own space, the hotel also offers three-bedroom chalets to both rent and purchase. Literally located on the ski slope (I nearly hit one during my lesson) these offer an unrivalled position on the mountains.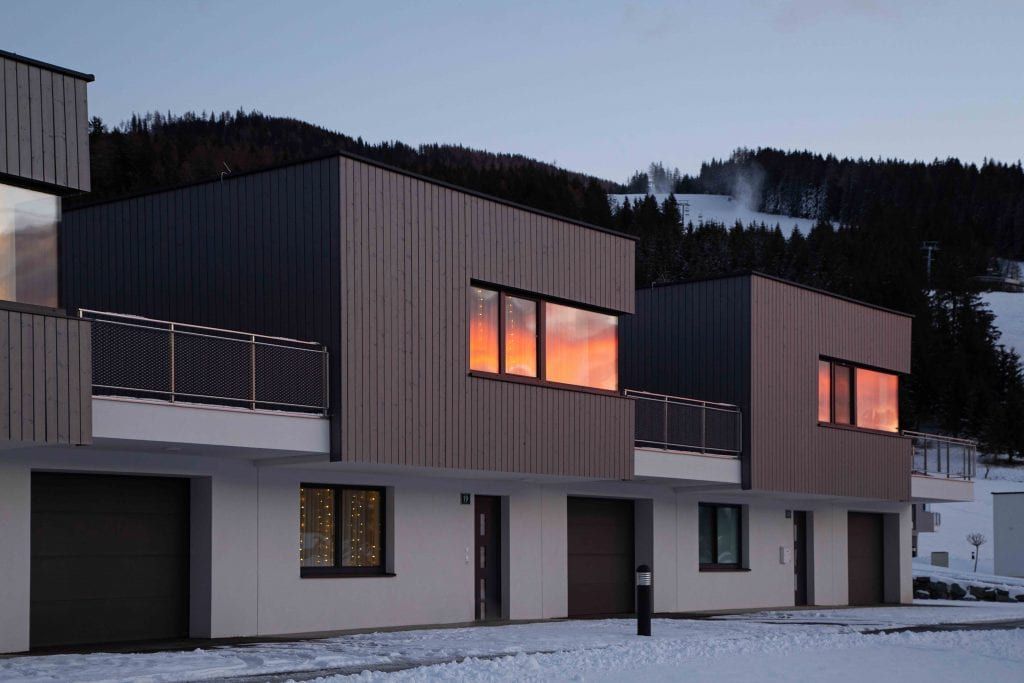 With a contemporary, Scandi-inspired exterior, the inside melds tradition with the new. Wood panelling is offset by modern fittings and fixtures. The open-plan living and kitchen area manages to feel simultaneously spacious and cosy. While you can imagine losing long, lazy mornings in any of the three bedrooms – hypnotised by the spectacular view.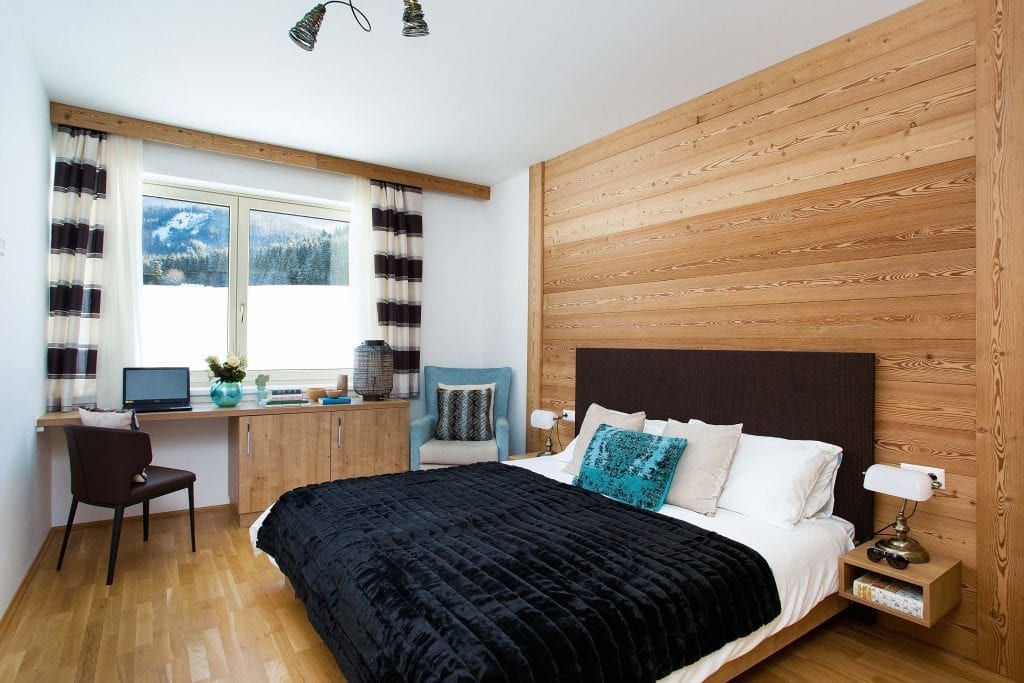 You can go solo in the chalets or the hotel also offer maintenance and housekeeping services. Chalet residents also get up to 50% off spa usage and up to 20% off meals in the hotel restaurant.
Mountain Residences St Lambrecht – Rental rates start at £175 per night for a 3-bedroom chalet, sleeping 6. Prices to purchase a 2/3 bedroom home start at €388,000.00 (£350,600) through Allea Group.
The skiing
The mountains of Grebenzen-St Lambrecht are as picture-perfect as any I've seen. They tear down from high-pine forests with wooden chalets sprouting out of the compacted snow.
Different slopes are flagged with various colours to signify their difficulty. Blue (for beginners) didn't look so bad. The red gave me palpitations and the blacks were ominously beyond view. It was then I spotted the area I'd be learning in. A swathe of toddlers were clinging on to a knee-high rope and were being pulled up a hill so gentle your arthritic gran would struggle to fall down it. This was the green slope.
"90% of the local children learn to ski at 3 to 5 years old," Andy, my instructor for the day tells me, as one shoots past, dropping off a red slope. "A-haha," he laughs like an Austrian version of Shaggy from Scooby Doo, "they're so brave."
Brave is one word for it. Insane might be a more suitable one.
With your ski clobber on, you can't help but feel like an SAS commando on a winter mission. That is until you clamp your boots to the skis. I feel like my feet have been secured with a hadron-sized collider to the earth's core.
I start off walking with baby steps, one painfully slow ski after the other. While kids only slightly older than baby age overtake me.
"The most important part of skiing is turning and stopping," Andy tells me. "You're going to start in a snowplough position." And I follow him to make a V shape with my skis. "That's it, you're a natural," he says.
A natural eh? Maybe I've finally found my calling. Stood proudly on the flat with my skis pointed I mentally pat myself on the back. Then I fall. From stationary. While a 4-year-old girl glides past with all the confidence of Lindsey Vonn.
With the weight of the world on my trotters, I curse at the mountain – how will I ever leave this pathetic mound, let alone make the dizzying heights of the blues?
Andy removes his goggles and looks at me with enthusiastic, puppy dog eyes. "A-haha, don't worry man we all fall at first. Just pick yourself back up."
In his gaze of unwavering faith, I know I can't let this man down.
We spend the next hour working on turning and stopping. Which really is the most difficult part of this process. Repeatedly we head to the top of the "hill" and I move down it in something sluggishly beginning to resemble what a short-sighted person might call skiing.
"A-haha, you're getting it man," Andy says with untiring positivity as his gloved hand reaches out to pick me up off the ground again. Getting what, Andy? The art of falling?
But again I am back up and soon something strange happens. As if from a hand of God, but without a Maradona in sight, I make a clean run. And then another. And then another. It's like seeing Jesus walk.
"You've got it dude," Andy says as he fist bumps me, nearly knocking me to the floor. "I think you're ready to hit the blues."
Making our way across the slopes, I feel like I've suddenly become part of something I never knew existed. A secret club of snow aficionados.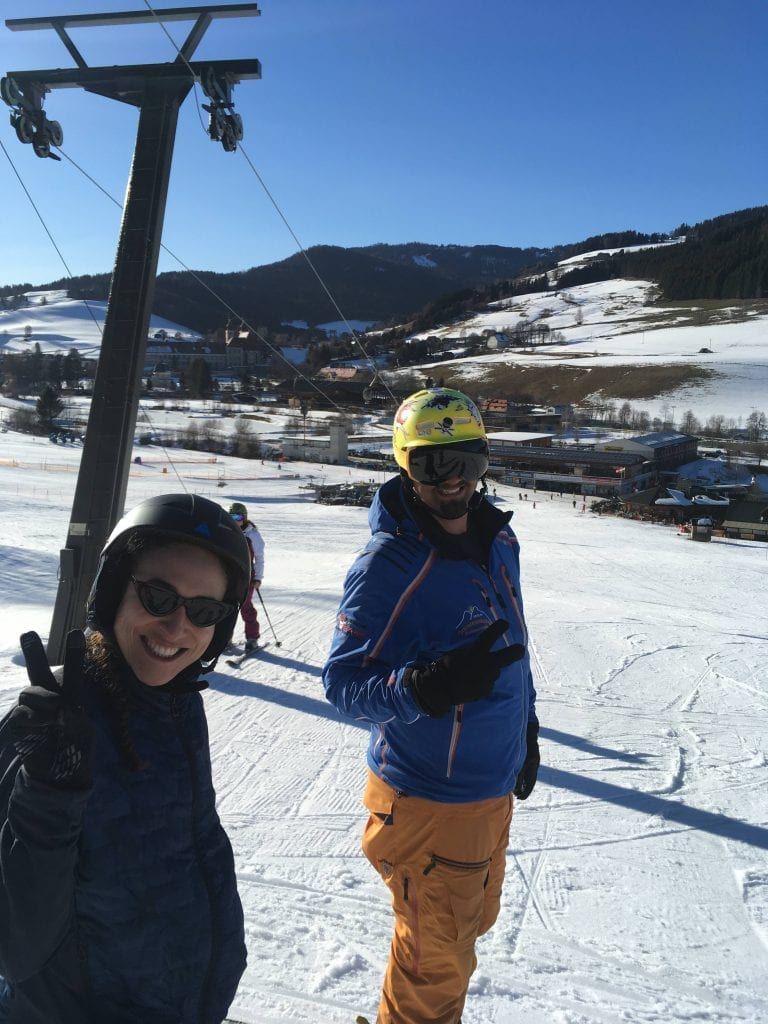 "Okay, now we have a real ski lift to take us higher on the blue," Andy says. "You need to grab it and place it in-between your legs," pointing to a series of poles with button-like seats that are carrying people up the mountain. "But be careful, whatever you do, don't sit down."
As I'm waiting for the lift, I see a French-looking man further up the mountain leaning against a lodge; beer in hand, goggles and helmet on the floor, skis propped next to him; he has a thick beard iced with snow. He looks like one of those 70s Action Men figures. He looks exactly like the sort of man that would run a secret club of snow aficionados.
I watch Andy place the pole between his legs and follow his lead. As I climb parallel to the French-looking man, I nod at him knowingly – one aficionado to another – and sit back to enjoy the view. The pole pulls back, flips out from under me and sends me tumbling down the mountain.
As I am placed unwillingly on my arse, I look out to the rolling hills, the calm beyond the pines and I see Andy skiing towards me.
"A-haha man you must really love the snow," he shouts as he flies past.
You know what, Andy, I don't think you're far wrong.
Grebenzen-St Lambrecht Ski Resort one-day ski pass: adult €36/ teen €29/ child €21 https://www.bergfex.com/grebenzen/preise/
A six-day pass for the Mur-Murz ski area which includes nine other neighbouring resorts is: adult €246/ teen €196.50/ child €128 http://www.skiberge.at/test/
Out and about St. Lambrecht
St. Lambrecht's Abbey tour
Uncover the history of this colossal monastery, including its Nazi past. During the Second World War, the National Socialists used it as an external storage facility for the Mauthausen-Gusen concentration camp. The monks returned in 1946, when in a twist of fate, it was used to house Nazi prisoners of war.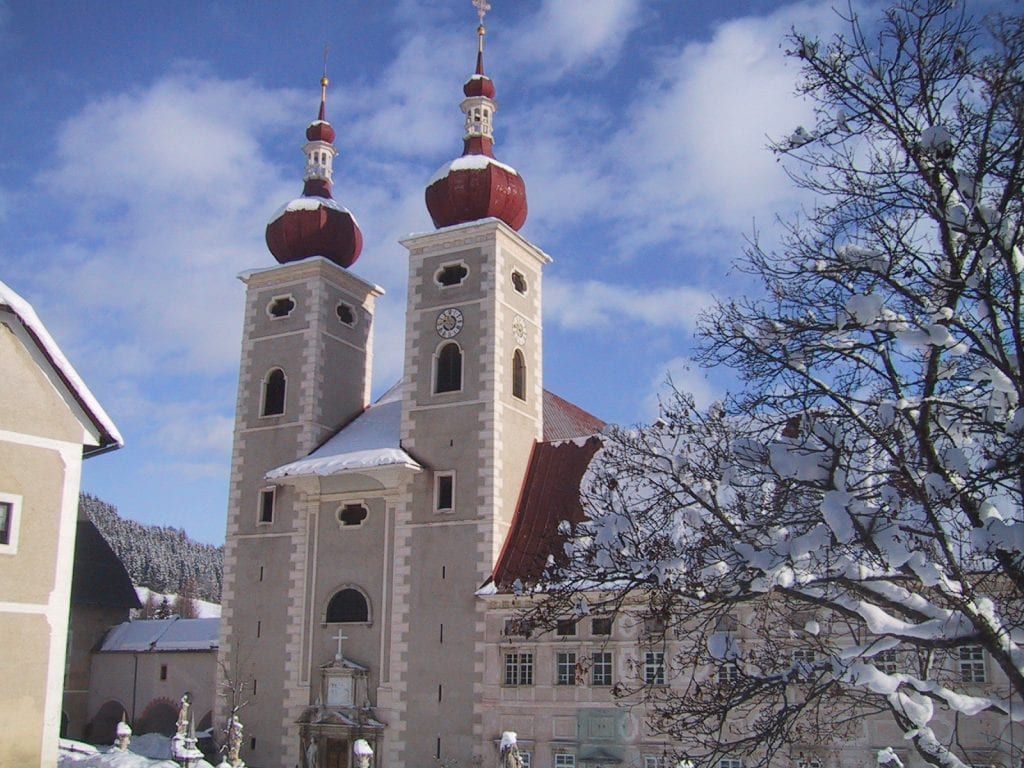 Visit a thermal spa
Grab a beer and rejuvenate in the naturally heated outdoor pool at AQUALUX thermal spa. The water has proven healing properties and provides striking views of the national park.
Dine in a traditional wooden lodge
Eating in a hüttenabend is like something out of a Brothers Grimm fairy tale. Hidden among the woods, this traditional Austrian hut serves up the food you associate with Austria – schnitzels the size of a Yeti footprint and copious amounts of strudel.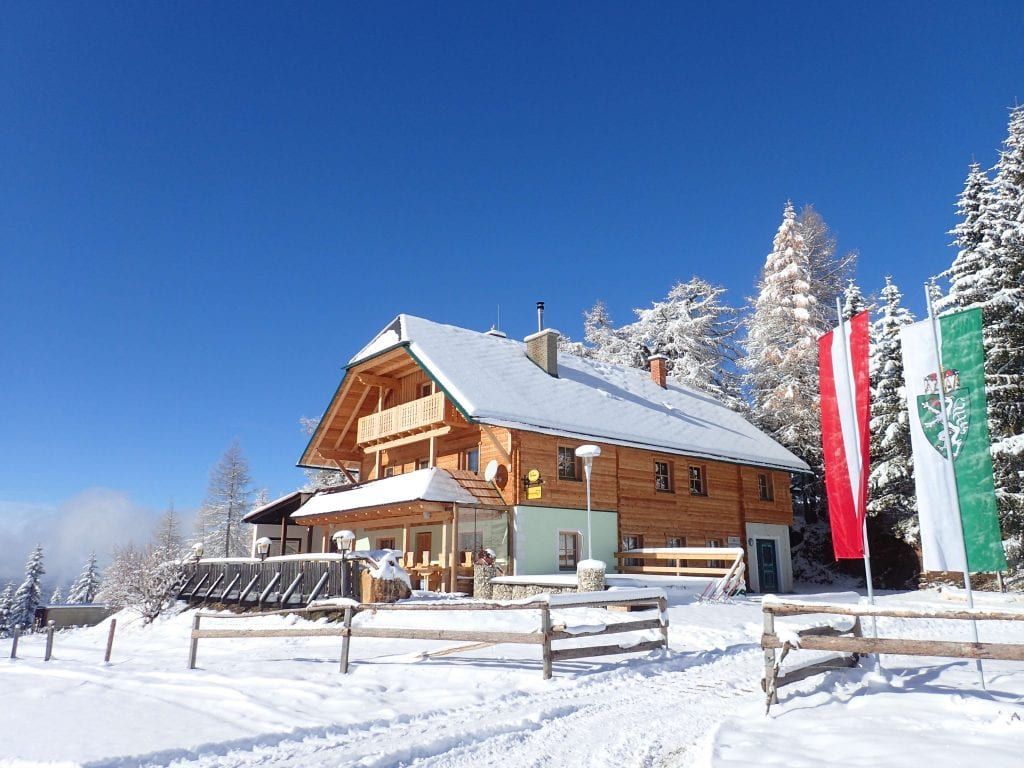 F1 experience
Spielberg Red Bull Ring is only a 50-minute drive from St. Lambrecht. Strap yourself in and have a go at racing round the track yourself or jump in with a professional driver.
Flights from London Gatwick to Klagenfurt with easyJet start at £51 return.