This is the perfectly-timed snap of a typhoon jet flying through a cloud of its own water vapour at a celebration of the RAF's centenary.
Photographer Andrew Lewis captured the Euro Fighter Typhoon jet soaring upwards into the Gloucestershire sky at the Royal International Air Tattoo 2018 (RIAT) at RAF Fairford.
As the plane ascends sharply with its engines burning red hot, a white cloud can be seen gathering behind the cockpit.
Andrew, 41, from Stourbridge, West Midlands, took the extraordinary photo while stood on the airfield below the fighter jet on Sunday.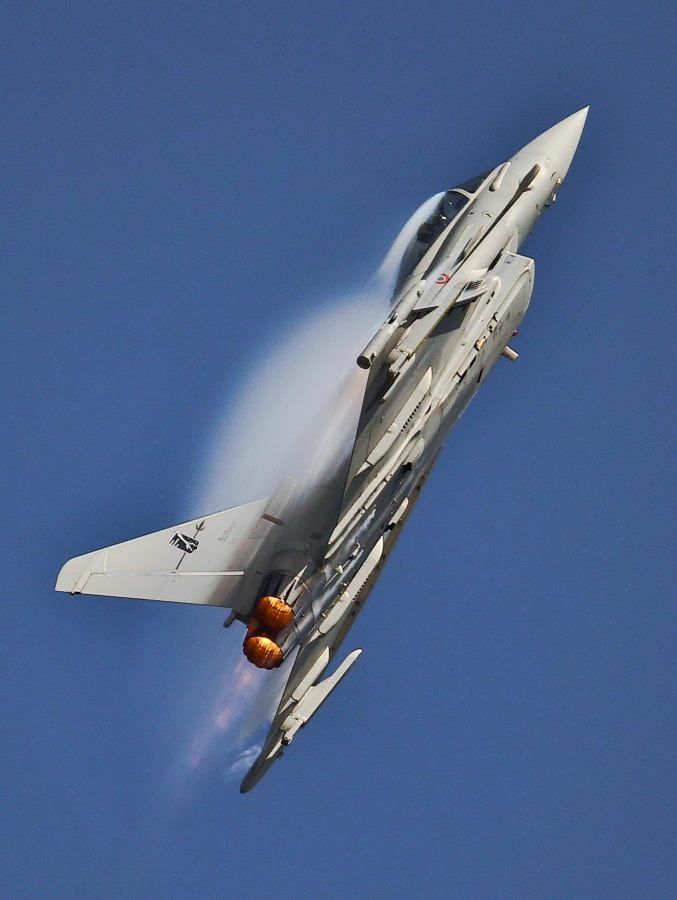 He said: "To get this photo at this time of year is particularly uncommon because the vapour usually forms when the air is denser.
"I think this was just a particularly nice photo because it's so difficult to take in this weather."
The vapour trail forms when the plane's hot exhaust mixes with air particles in the atmosphere.
The Euro Fighter jet has a max speed of 2,500 mph, more than three times the speed of sound.
Held every year at RAF Fairford, the RIAT is one of the world's biggest air shows.
RAF Typhoons regularly feature at the event, with special appearances from the Lancaster Bomber 'Dambusters' – whose bouncing bombs destroyed German dams in WW2.
The typhoon is billed as the most advanced fighter jet in the world, and is able to avoid detection by enemy radar due to the fact that is made out of only 15% metal.
RELATED 
https://www.thelondoneconomic.com/news/satellite-image-reveals-how-lack-of-rain-has-has-changed-the-way-britain-looks/19/07/