The final frontier for electric vehicle (EV) manufacturers to conquer, in tandem with government support, is fast charging and the proliferation of its availability. If you live in a flat, or have on-street parking, it's undoubtedly a deterrent to EV ownership. People are also put off by the available range, as if we all regularly do 100+ mile journeys, since charging can be cumbersome, turning a long drive into an even longer drive. No thanks.
The car
Tesla, in this regard, is a step ahead of the competition. The model tested here, the Tesla Model 3 long range, easily packs 300 miles of real-world driving and there are several fast charging points strategically located on the UK's highways.
I'll start with charging as that's the thorniest issue for EVs. The nearest Tesla super charger to my house is by Heathrow Terminal 5, in a hotel car park. So, I headed up there on the Friday evening I had with the Tesla Model 3. Rock and roll.
Upon arrival at the dimly lit car park, there were a few others parked up in the gloom and you'd be forgiven for expecting to see Stan Collymore. Don't flash your lights, turn around, all will be okay.
The process of charging, however, is incredibly straightforward – set your account up, plug the charger in and sit back. Of course, if you can fit a charging point at home, that's still the way to go. You don't want to spend your evenings in car parks.
To alleviate the boredom, the Tesla Model 3 comes with a range of entertaining features such as games and a music mixing suite so you can record your next hit single. There's karaoke, too.
Routes taken
It's out on the open that we intended to judge the Tesla Model 3. Picking the car up from Tesla at Park Royal at the end of the working day, I was immediately thrust out into West London's rush hour. Thankfully, this is an incredibly accessible and easy to drive car. It's supremely unfussy. Set the sat nav, select D and away you go.
On the M4 and M25 it just wafted along. I was expecting more road noise, without an engine to help drown it out, but it's perfectly amenable. Even when you floor it to make a gap, there's a slight wheesh from the dual motors to accompany the instant power delivery, but that's it.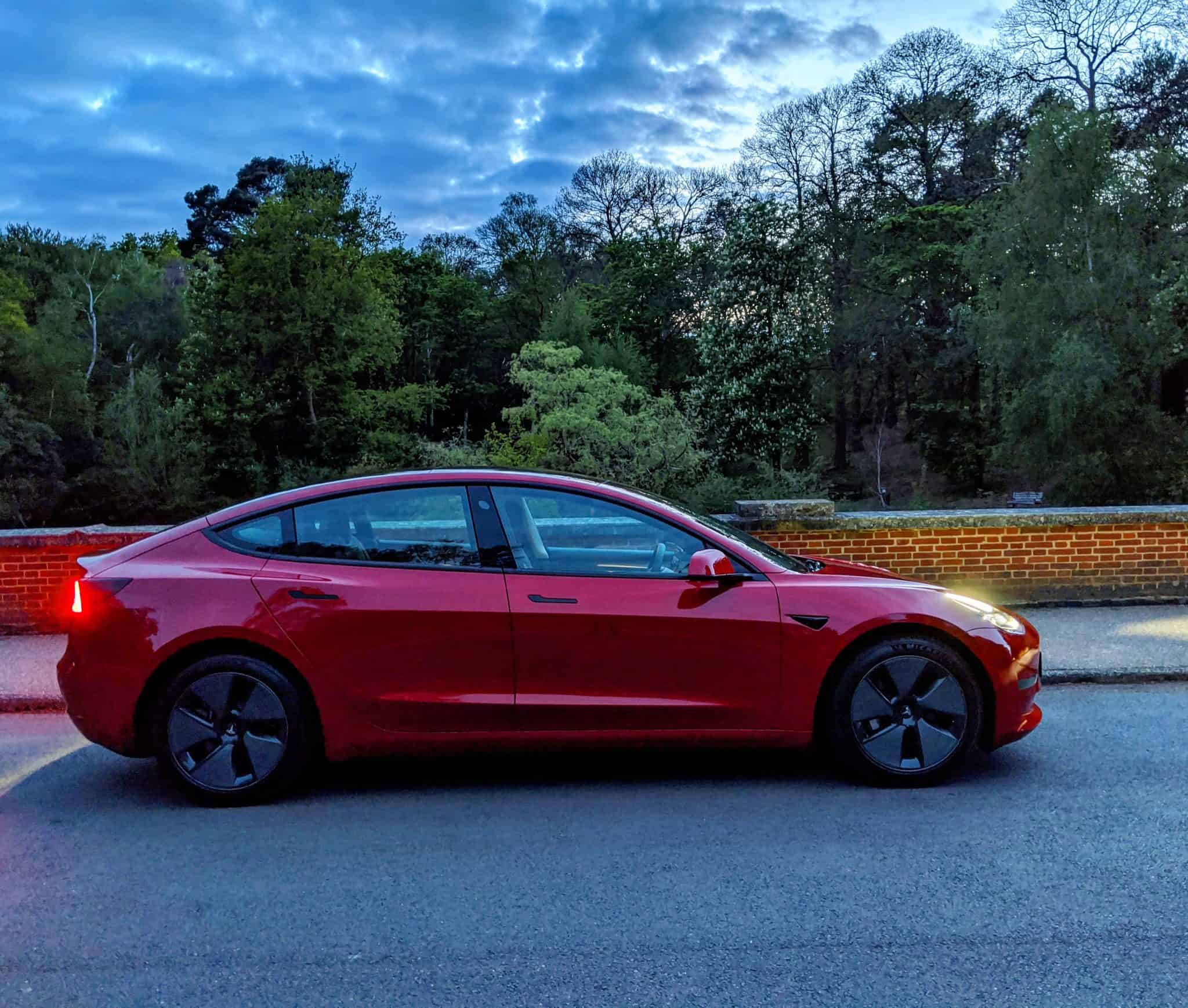 I then fell into the trap of hitting some more familiar B-roads, having been spoiled on a diet of hot hatches recently. Where they were crisp and agile, the Tesla Model 3 was numb and cumbersome. It certainly packs a punch, with 0-60 being delivered by the dual motor, all-wheel drive set up, in 4.2secs. There's also enough mid-range acceleration to keep you pinned back in your seat, but it struggles along a flowing B-road.
I soon came to realise that this was grossly unfair and silly of me. A family saloon is never going to hold a candle to a Civic Type R or GR Yaris in this setting. In urban settings, A-roads and motorways is the Tesla Model 3 most comfortable. Or just sitting in traffic. It's very calm and you have the knowledge that there's great dollop of acceleration to call upon should you need it. Theatrical? No. Efficient? You bet.
If Tesla is serious about adding a sense of driver engagement to its repertoire, then the most glaring area for improvement is the steering. There is zero feedback. I mean none. This is a shame because the car handles better than you'd expect, but pushing it is a nervy ordeal as there's no sense of connection with the road.
The Tesla Model 3 doesn't reward you for driving quickly. It's at its best being gently pushed and prodded. The straight-line acceleration is a great party piece, but the real-world use cases for it are limited. Perhaps the entry level, standard range plus is the pick of the Tesla Model 3 range? You still get 250+ miles of range and all the amenities, with a saving of nearly £8000.
One other negative, whilst we're at this juncture, is the enhanced auto pilot. It's a £3500 option and, well, it's a little underwhelming. To instigate auto lane changes on the motorway you must indicate and give the steering wheel a nudge. At which point, you might as well just change lane yourself. The auto pilot fitted as standard works well, although the name writes cheques the functionality can't cash, which causes confusion among those who haven't been in one before. It won't drive you home while you sit there reading a book. Yet. Software updates are already on the horizon. At present, it's adaptive cruise control, which is the same as you'll find in most new cars.
Driving the Tesla Model 3 back to Park Royal, this time first thing in the morning, I was minded of two things. Firstly, I'd forgotten how utterly soul crushing it is to drive in West London at rush hour. Secondly, that this one of the best cars for the job. It's so calm that it calms you as you sit there sandwiched between two busses in the wrong lane of a six-lane roundabout. No need to panic. I'll have these off the line.
Practicality
Now this is where the Tesla Model 3 excels itself. It's got a lovely bright, airy cabin with the sense of space enhanced by the panoramic roof. It's undeniably a nice place to be. Loads of head room, loads of storage space, nice and quiet. The stereo is very good, too.
The boot is massive and you get a front trunk, or 'frunk'. The centre console is basically one big storage unit, the door bins are adequate and the glove box is spacious. There's isofix in the rear, too, so you can basically get everything you need in here.
Before you set off, you can set the ambient temperature, heated seats and heated steering wheel via the app, although remember to do it early because the app can take a while to wake up. You can also lock and unlock the car and open/close the boot from the app. All handy features to have, as well as seeing how much range you've got left.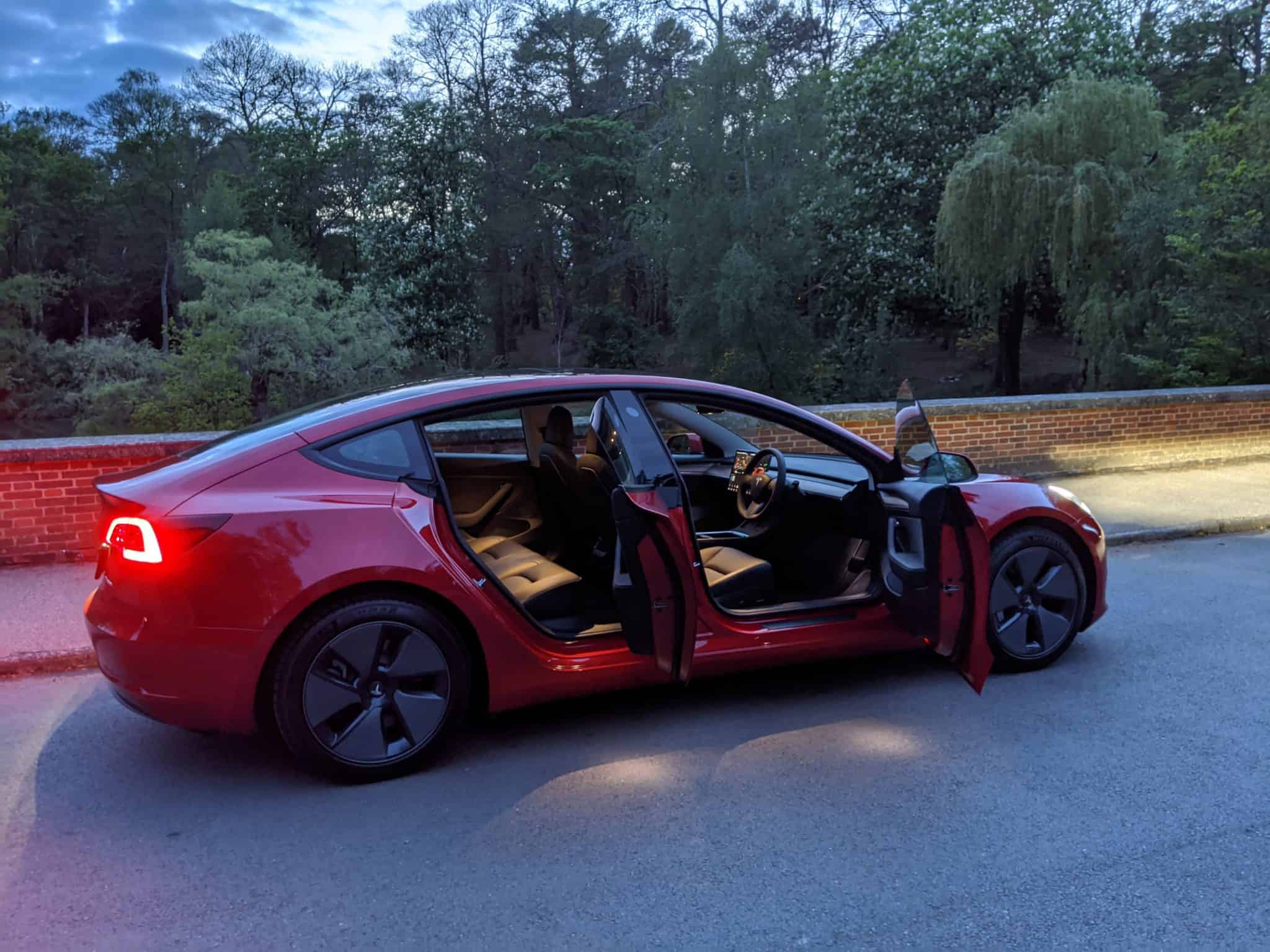 If you don't like touchscreens, then bad luck, because that's all there is. The whole car is operated via the 15" touchscreen. It's worth familiarising yourself with it because there's a lot of functionality, but I found it easy enough to get to grips with. Everything from opening the glovebox and adjusting the wing mirrors are controlled here.
The windscreen wipers are near silent. That might not matter, but they really are quiet. A lot of thought has gone into making the cabin as relaxing as possible – and it's worked.
Conclusion
With great range and a good charging network, the Tesla Model 3 already has considerable EV appeal. Add to that the practicality and ease of use and it has considerable all-round appeal, too.
If you're looking for an engaging, edge-of-your-seat driver's car, then the Tesla Model 3 isn't for you. The steering and lack of any feedback or sense of connection to the road ruin that, but that's not what this car is designed for.
If you want an easy, peaceful and stylish car with great range, then the Tesla Model 3 has arrived on the scene to ruffle the feathers of its more established rivals. It's unfussy and straightforward to get along with. As an everyday car it works brilliantly. There's plenty of substance to back up the style and as a fine-tuned first attempt to create a mass-appeal family saloon, it's impossible not to be impressed.
Related: TLE Drives: The Polestar 2