The saloon car used to be the vehicle of choice for everyone. Then SUVs came along. People prefer their dominant ride height. They also think they may need to scale Snowdon in their car at some point in the not too distant future. Or move house. Of course, they won't. Where the BMW 3 series used to dominate sales, you're just as likely to see an X5, GLC or Q5 now. As a relatively new entrant to the UK automotive market, Genesis is trying to muscle in on that market place with the Genesis G80, GV80 and G70 and GV70 variants. We rather liked the GV80 although had a little less to say about the G70. Where, then, does the Genesis G80 fit in?
First things first, the Genesis G80 attracted a fair bit of attention. Curious looks were observed across car parks and out on the road. "What is that?" was a common question. It's also a question that betrays the overarching sentiment of the UK's automotive landscape. Where Asian and American buyers are willing to try something new, the UK is more reticent. Which seems a bit silly when you start looking at the competition.
The Genesis G80 starts at £43,000. The model tested, however, is fitted with all the bells and whistles and comes in at £63,000. Not cheap, yet also not expensive. What else can you find for that price that comes with heated and ventilated massage seats, executive heated and ventilated reclining rear seats with TVs, sunroof, upgraded audio, nappa leather, all manner of driving aids, technology and a whisper quiet driving experience? If you want all those creature comforts at a decent price, then look no further. When you start mentioning the name 'S Class' you're into lofty territory immediately.
Living with the Genesis G80
To be clear, there's no real comparison with the S Class. Nor should there be, given the huge price differential between the cars. Yet, if you want something approaching luxury limo levels of refinement for family saloon money, the Genesis G80 is a compelling proposition.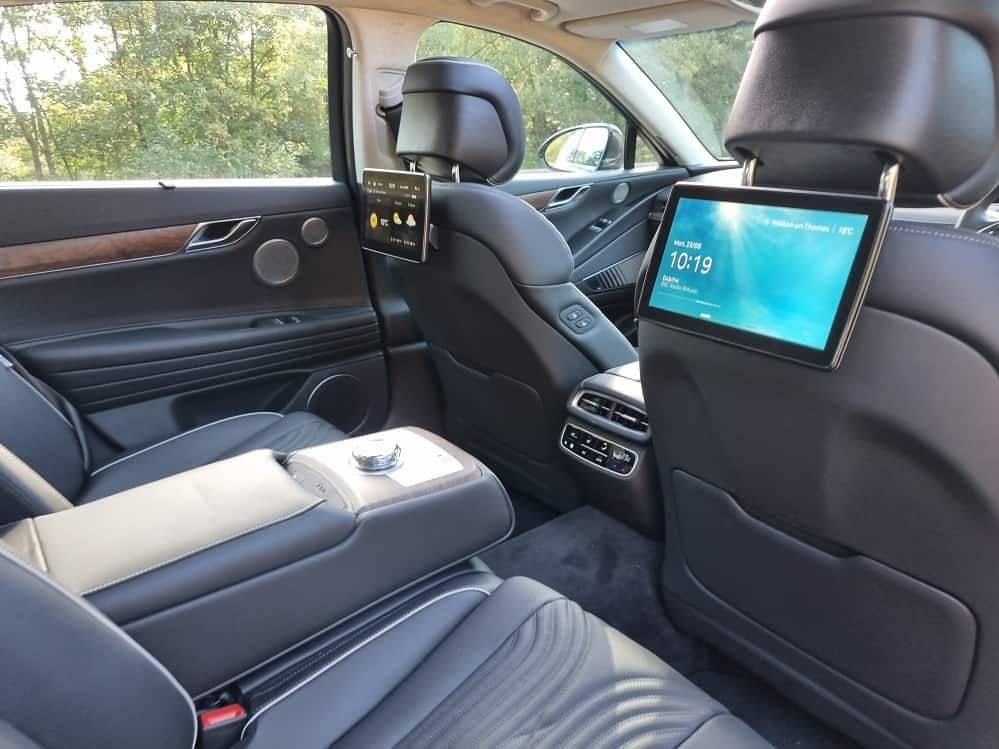 I covered 549.3 miles in the Genesis G80, across 12hrs 39mins. The luxury façade never once slipped. The cabin looks impressive when you open the door and this extends to the ongoing experience of driving it. It's laid back and comfortable, with plenty of storage space.
One minor complaint is the two rotary dials in the centre console. One is for selecting your drive, forward, reverse or park; the other is to control the infotainment system. More than once I went to select reverse and ended up changing the radio station. You'd get used to this over time, not least because the tactility of them is different.
The infotainment system works very well. It's a touchscreen, but having a rotary dial is very useful. The far left of the screen is a long way from you which can be distracting when you're on the move if you need to reach it.
The driver assistance systems aren't overbearing, either. The Genesis G80 doesn't incessantly bong at you when you hit 71mph on the motorway. It flashes a warning, but its unobtrusive, which is nice. Through average speed camera zones it also gives you a readout on the satnav screen of your average speed in the zone. Again, a very useful feature.
With a 360-degree parking camera and all manner of sensors, it makes traversing the Genesis G80 through tight car parks and into spaces very easy. Sit back, have a massage, take the stress out of the situation.
What's the Genesis G80 like to drive?
Bizarrely for a car review, this isn't really the main focal point. The Genesis G80 has an engine and it politely gets on with the business of propelling you in your chosen direction. It's a 2.5ltr turbo charged four cylinder unit. It produces 304hp, 422Nm of torque and will send the Gensis G80 from 0-62mph in 6secs flat. So, it's not slow.
Send it down a B-road and it all feels somewhat unfair. This isn't the Genesis G80's raison d'etre. It will punch from corner to corner, but the vague steering and sudden awareness of its heft – 1930Kg before anyone has got in – put paid to any notion of enjoyment. A hot hatch it isn't, but you knew that from looking at the pictures. You're also not looking at a luxury saloon for thrills and spills.
Instead, to the commute. The Genesis G80 excels here. It's quiet and refined, rolling over road imperfections impressively. There's the slightly floaty sensation you get with SUVs, but it's generally pliant. Preferably in this scenario you'll be in the back, reclining and watching a bit of morning TV.
On the motorway, too, the Genesis G80 excels. I drove to Leeds and back, c.400 miles all in, in a day and the Genesis G80 was a perfect companion for such an excursion. There's enough poke in that engine to keep your journey progressing without eviscerating the laid back ambience. The seating ergonomics also move your seat subtly to help alleviate everything going numb. There's also massage functions to further relax your journey and ventilation to avoid the dreaded sweaty back.
All in all, it's a supremely comfortable environment to be in. Just don't expect it to impress on your favourite B-road.
Conclusion
Where the Genesis G70 didn't blow my hair back, the Genesis G80 really impressed. You can't help but be seduced by the array of functionality available. Sometimes these elements can come across as gimmicky, but they're well integrated in the Genesis G80. This level of luxury just doesn't exist at this price point elsewhere.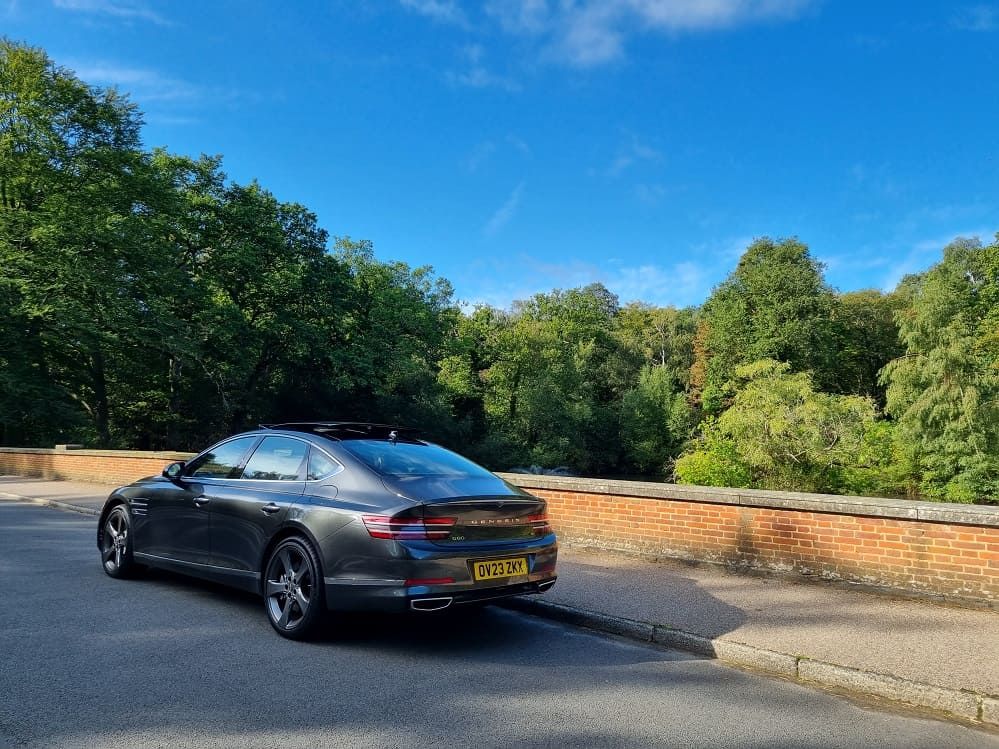 Which makes it slightly strange that uptake has been slow and people don't know what this car is. A similarly spec'd German rival, with similar straight-line performance, will set you back at least – at least – £15,000 more. There's also Genesis's five year or 50,000 mile care plan. All servicing, roadside assistance and a warranty is covered, including courtesy cars and collection and delivery to your address to carry out any work.
As part of the Hyundai family, you're not going to be sweating over reliability, either. A car like the Genesis G80 really ought to at least bloody the noses of its well established rivals. There's no escaping the value this car represents. All it's lacking is brand equity.
Which brings us to brand snobbery. Is the real value of a car in its brand or in its functionality and capability? Aesthetics matter, of course, and a car can say a lot about you. Equivalently priced German cars aren't exactly duds and there's a reason why they sell so well. But if you want an extra layer of polish and panache for your money, the Genesis G80 is well worth a look.