A dramatic video shows the moment a self-styled 'paedophile hunter' was struck with a van while confronting a suspect.
The video shows Jay Hunter, 25, being hit by the vehicle and shouting "he tried to run me over" before running after the red Ford transit van.
The hunter, who posed as someone else online, arranged to meet with the man on Hawkesbury Road, in Canvey Island, Essex yesterday morning (Feb 27).
The video was uploaded to Facebook during a live stream on Wednesday morning.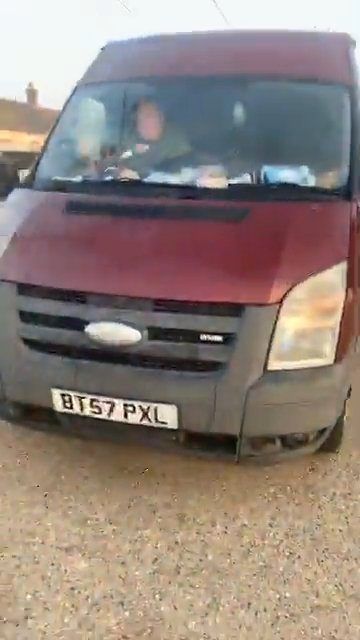 Jay, from Kent, who is part of the group Dirty Online Predators Exposed, suffered injuries in the incident at Canvey Island but declined medical attention at the scene.
In a comment posted on the video, he said: "I'm home from the hospital guys.
"This maniac is in custody. Just goes to show how dangerous this can be.
"A reality shock but another one bites the dust."
A 49-year-old man from Leigh, in Essex, was arrested following reports of sexual grooming, and of assault and dangerous driving, yesterday morning (Feb 27).
Police were initially called to the scene following reports that a pedestrian had been hit by a car at 7.20am.
The driver was arrested two and a half miles away from where the incident took place shortly after 8am.
An Essex Police spokesperson said: "A man from Leigh has been arrested following reports of dangerous driving, assault and sexual grooming.
"We were called shortly after 7.20am on February 27, to reports that a man had been involved in a collision with a car on Hawkesbury Road.
"The victim, a pedestrian, suffered injuries that are not believed to be serious and declined medical attention.
"He has since been released on bail until March 20."
by Emilia Bruce-Watt