A commemorative gold watch given to a Manchester City legend following the 1904 FA Cup final has been unearthed after gathering dust in a drawer for over half a century.
Shelia Stevenson, 87, did not realise the sporting significance of her son's 115-year-old watch "belonging to some footballer" – because the pair are both rugby fans.
Her son Simon, 57, inherited the memorabilia from his great-grandfather 51 years ago and the family has now been left stunned to learn it is worth thousands of pounds.
The watch was given to Man City idol Billy Meredith, who has been described as the Cristiano Ronaldo of his day, after he lifted the trophy during the 1903/04 season.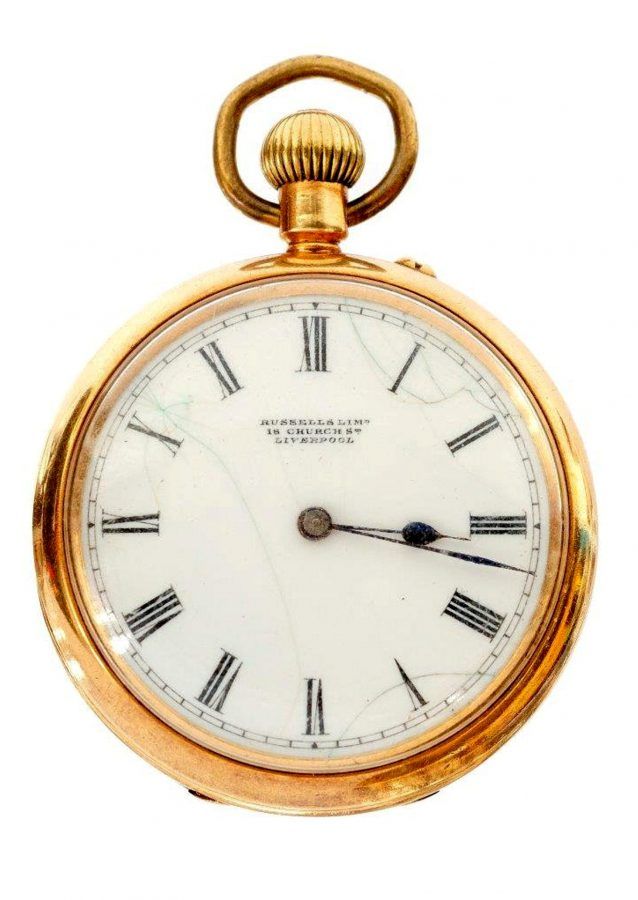 It has been found ahead of this season's FA Cup final showdown between The Sky Blues and Watford which takes place this weekend.
The pocket watch will go under the hammer in the summer where it is expected to fetch between £2,000 and £4,000 pounds at Hansons Auctioneers.
Decades ago, Shelia took the item to be cleaned which revealed the inscription: "Presented to W. Meredith, Manchester City FC, to commemorate winning the English Cup, 1903-1904."
But she was completely unaware how important Billy Meredith was in the footballing world and has kept it tucked away in a drawer since 1968.
It was only when she and Simon, a PCSO, took it to a free valuation day at the auctioneers that it emerged it was a significant piece of sporting memorabilia.
Mrs Stevenson, a retired welfare officer from Cosby, Leics., said: "Neither myself or my son Simon are big football fans.
"We follow rugby and Leicester Tigers. So, we didn't realise the significance.
"The watch was left to Simon when he was six by his great grandfather Jack Reid. I never thought anything of it, just that it was a nice gold watch. I put it away in a drawer.
"When Simon became a teenager, I thought he might like to use it so took it along to a jeweller's to get it cleaned.
"It was only then that we discovered the inscription to Billy Meredith.
"The watch stayed in the drawer for decades. Then one day I mentioned to a visitor who supported Manchester United that I had 'a gold watch from some footballer'.
"When he saw it had been presented to Billy Meredith he couldn't believe it, he was on cloud nine.
"After that we did some research and discovered what an important player Meredith was.
"We're not related to Meredith but think the watch may have come into our family through friendship.
"Jack Reid's wife was a Cowan and a Samuel Cowan signed for Manchester City in 1924 and later managed them in 1946.
"Jack's daughter, Catherine, said the watch had been given to her father by his best friend."
Sports valuer at Hansons Alistair Lofley said: "This watch has phenomenal sporting pedigree.
"Billy (William) Meredith was a football legend who player for Manchester City and Manchester United.
"Cowan and Meredith would certainly have known each other as Billy's last playing season was in 1924 at Manchester City.
"He's been described as a superstar of his day, an old-school Cristiano Ronaldo. He played until he was 47 and his gimmick was to chew on a toothpick during games.
"He scored the winning goal and captained the Sky Blues when they beat Bolton Wanderers 1-0 at Crystal Palace in the 1904 FA Cup final.
"It was the club's first major honour. Perhaps it's an omen we've found the watch now – just before Manchester's City latest FA Cup final game."
Meredith was born in Chirk, Denbighshire, Wales, in 1874 and started his playing career at Chirk.
He went on to play for Northwich Victoria, Manchester City and Manchester United and gained 48 caps for Wales.
In 27 seasons in the Football League from 1892 to 1924, not including four seasons lost to the First World War and the 1905–06 season in which he was banned for bribing an opposition player, he scored 176 goals in 740 league and cup appearances.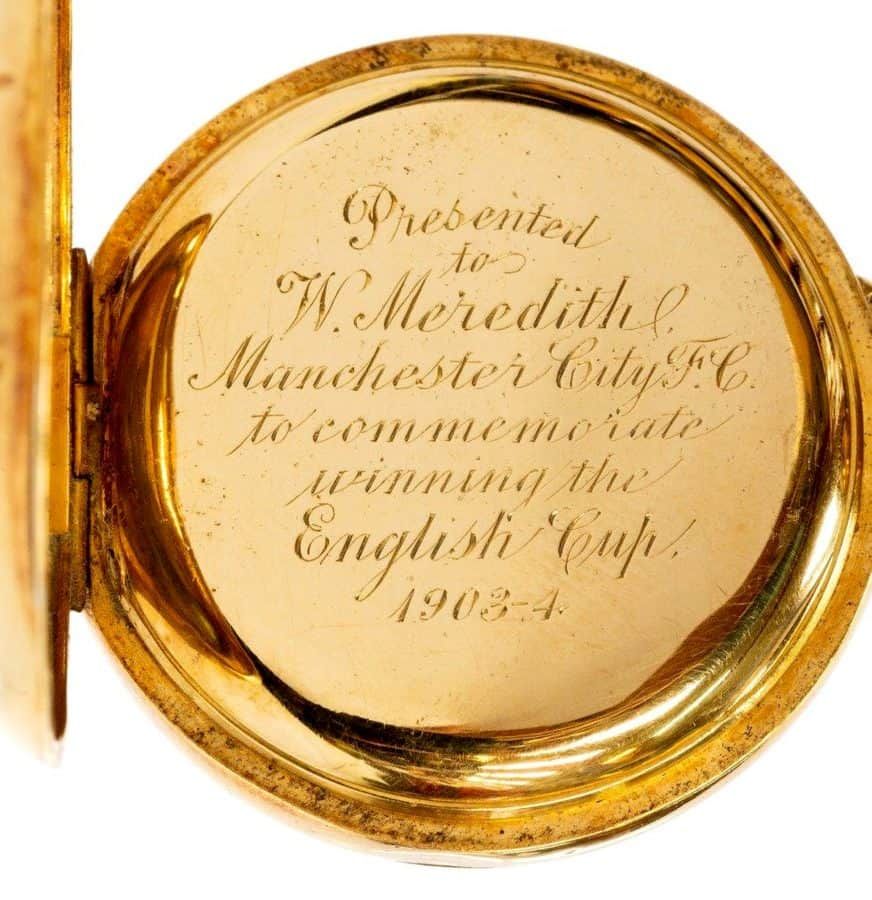 He retired from football at the age of 47 in 1924, making him the oldest ever Manchester City player.
He avoided injury throughout his career. This was put down to his extraordinary balance and agility, which allowed him to avoid clumsy challenges, and toughness built up from spending his adolescence working in the mines.
Meredith died in Withington, Manchester, in 1958 at the age of 83.
After spending many years in an unmarked grave, the Professional Footballers' Association, the Welsh FA, Manchester City and Manchester United agreed to cover the cost of upkeep on a new headstone.
Meredith is honoured in the hall of fame at the City of Manchester Stadium and in 2007 he was inducted into the English Football Hall of Fame.
The watch will be sold at a Football in Focus and Sports Memorabilia Auction in Etwall, Derbys, on August 22.