A family's £700,000 brand new dream home has turned into a stinking nightmare after builders installed 11 drains and a sewage pumping station – in their front garden.
Mark and Rhian Buller bought their house when it was still under construction, were left disappointed when they learned their front lawn would be riddled with manhole covers.
But their disappointment soon turned to disgust soon after they moved in, because the entire area began smelling like waste – and they learned a sewage pumping station had been installed under their lawn.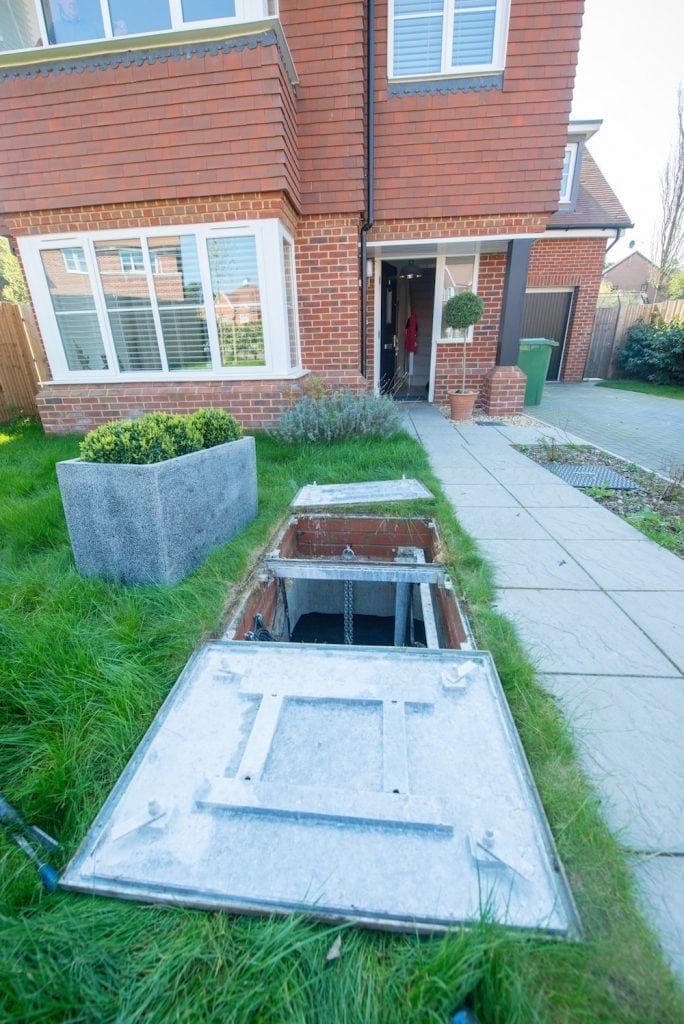 Sales manager Mark and marketing consultant Rhian, both 41, moved into their house in a new development in posh commuter town Frimley, Surrey, in June 2016.
But instead of being able to have barbecues or play in the garden with their children, 12-year-old Emily-May, Thomas, nine, and four-year-old Holly, the family are forced to stay inside with all the windows closed whenever the weather is warm – otherwise they are bombarded with the stench.
Mark said: "It's ridiculous – the whole situation absolutely stinks.
"The kids can't even play outside in nice weather, because that's when it's worse.
"We can't have people over for barbecues in the sun because we never know if it'll smell of poo – who wants to sit outside with that smell lingering.
"Why should my family have to live in a house that smells like poo?"
The only respite they get from the stink is occasionally developer Linden Homes, who are still building houses on the posh estate, send a team round to pump out the sewage.
After trying to cope with the smell on-and-off for eighteen months and trying to talk to the developers directly, the family decided the only option was to start legal proceedings against Linden Homes.
Mark said: "We keep being fobbed off.
"Linden come and clear the sewage when it flares up, but the reality is the smell is never going to get better until the pump is moved out of my front garden."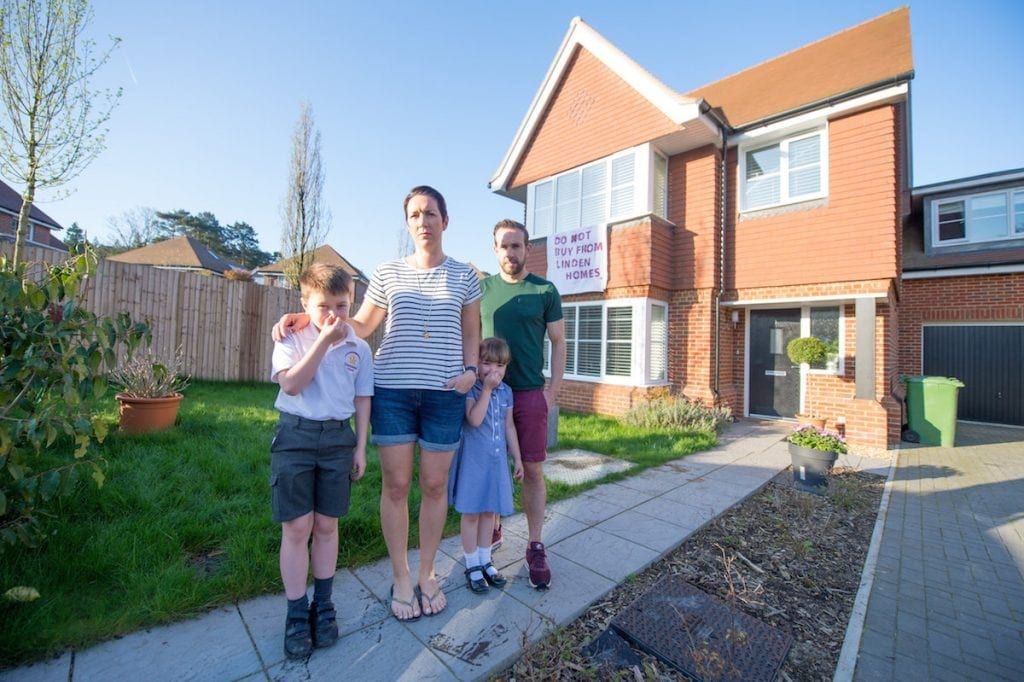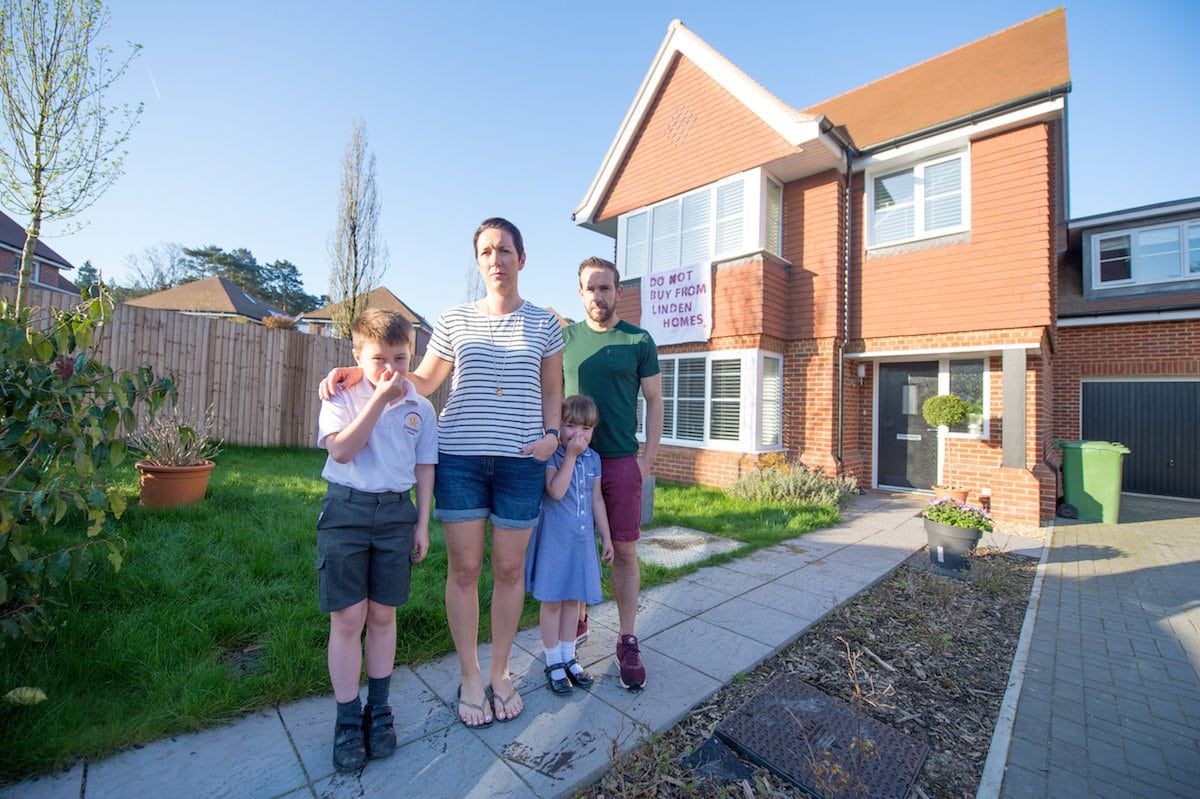 After months of trying to get the pump moved, Mark is frustrated at the lack of communication from the developers.
He said: "Linden Homes haven't done anything, they don't reply to my emails or calls so the only option left for me is to hit them in the pocket and stop people from buying homes in the development.
"I'm going to put up a banner on the front of the house to warn potential buyers off the development.
"I've even parked my car in front of the contractors entrance to the site to get their attention before.
"That time someone came to look at the pump and sort the smell within minutes.
"I'm starting to take legal advice now but it could drag on for years and cost me a fortune.
"Linden have lawyers who deal with this but I have to pay for my own expenses."
Surrounding the family home are 15 manhole covers – 11 out front – that provide access to the sewage pump, with the main metal cover right in the Buller's front lawn.
He said that originally the pump was not even supposed to be placed in his garden
Mark said: "When we first looked at the house, it was still a building site so there wasn't much more than a shell to see and there wasn't anything about a sewage pump on the plans given to our surveyor.
"Linden don't offer a long term solution.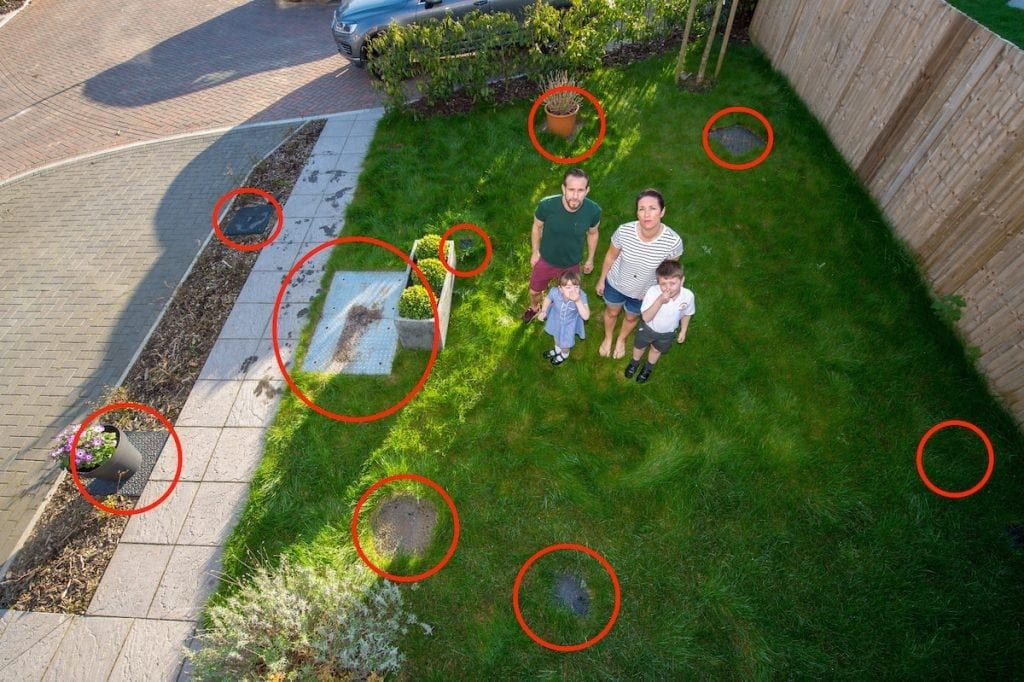 "There is even unused land opposite to the house where a sewage pump could have been put, so why did they choose to put it on my land.
"I've had specialist contractors in to try and find a solution and even they are astounded that the pump was put in my garden – it never should have happened."
The smell of sewage has been a reoccurring problem for the family-of-five.
Mark said: "We've had about 15 call-outs to deal with the stench since moving in and each time Linden deal with the immediate problem but the smell keeps coming back.
"It's so bad we can still smell it with the doors and windows shut.
"They just deal with the issue when it happens, they don't do anything to fix it long-term.
"I don't want to live with this in the front garden.
"Linden will just clear off once they've finished the next phase of the housing development and then a maintenance company will take over."
Neighbours have also complained about the smell on the street and other problems with their brand new homes.
Mark added: "Sometimes I get home from work at 9pm and there will be men on my front garden trying to fix the pump because neighbours have complained about the stench.
"It's incredibly noisy. It keeps my children awake."
The Bullers are sadly just one of many families who have spent their savings on new-build homes only to be left disappointed, and Mark says evidence of shoddy workmanship riddles the estate.
He said: "Next door had to have their entire ground floor re-laid because it was getting bumps.
"Another neighbour had no insulation in the walls.
"We've had a few problems with this too.
"If you walk between my son's bedroom and then the room next door it's noticeably colder, but Linden tell us everything meets guidelines.
"Would anyone who works for Linden would want to live with the smell of poo? No, they wouldn't."
Linden Homes have been approached for a comment.
Campaign to change name of road named Bell End gets nobbled by rival campaign to keep it up!