Rishi Sunak was heckled as he vowed to pay compensation to victims of the "appalling" contaminated blood scandal "as swiftly as possible" following their decades of suffering.
The Prime Minister's promise that the Government's work "continues at pace" was laughed at by attendees of the Infected Blood Inquiry as victims and relatives question the delays to setting out a full compensation scheme.
Thousands of people died in what is widely recognised as the worst treatment disaster in the history of the NHS after being given contaminated blood products in the 1970s and 1980s.
Mr Sunak was warned by inquiry chairman Sir Brian Langstaff against being "too thorough" after declining to give a timeframe for a compensation scheme, arguing that he did not want to add to a "litany of broken promises and dashed expectations".
The Prime Minister recognised the scandal is not just about "historic wrongs", accepting that every four days someone dies as a result with only an interim payments scheme established so far.
Asked by inquiry counsel Jenni Richards KC if he understands if justice delayed is justice denied, he said victims have been "let down for decades by successive governments".
"The Government is committed and I am committed to acting as swiftly as possible," he told the hearing in Westminster.
But the audience groaned and one person said "you don't listen" as he was cross-examined over the delay.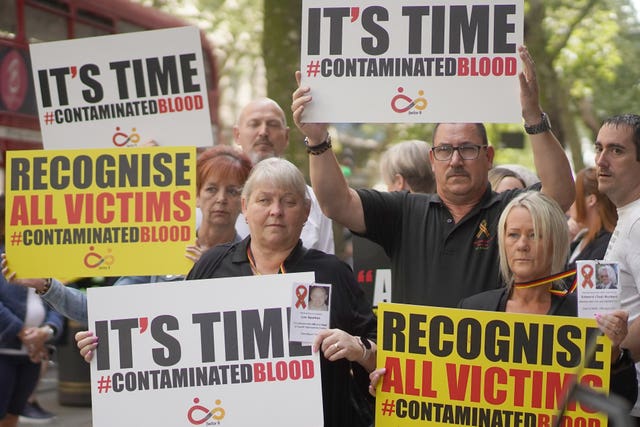 One round of laughter came after he said "extensive" work across Government had been undertaken so it can act as quickly as possible, adding "that work continues at pace".
He said the Government would wait until the conclusion of the official inquiry – expected in the autumn – before setting out further details.
Mr Sunak was also heckled as he seemingly tried to distance himself from the delays.
Sir Brian told those watching the evidence that there is a tradition of "respecting the witness" as he acknowledged the "evidence is emotive to many of you".
Ms Richards told Mr Sunak victims had heard assurances of working at pace and action being taken "as soon as possible" since last year "but that doesn't tell us what the pace is".
"These are words, mantras potentially, that don't necessarily have much content unless you can be more specific," she said, asking for reassurance on timescales.
Mr Sunak cited the chairman apparently saying he wanted the inquiry to work as "quickly as thoroughness allows" as being a guide to the Government's work too.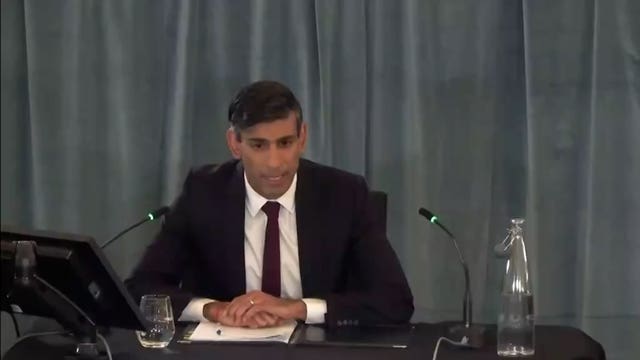 Sir Brian countered: "I think I used the phrase reasonable thoroughness – because you can be too thorough."
Mr Sunak said he would not "speculate or go into more detail about what may or may not happen" with regards to individuals whose children or parents would also receive compensation.
Haemophilia Society chief executive Kate Burt urged Mr Sunak to "find the political backbone to right this wrong".
She said his refusal to set out when and how compensation will be delivered was "a betrayal of those who have already endured such a lengthy wait for justice".
Jason Evans, director of the Factor 8 campaign group, said Mr Sunak's failure to offer details left them with "profound disappointment, dismay, and a sense of deepening sorrow".
Des Collins, whose law firm says it represents more than 1,500 victims, urged Mr Sunak to "act now", saying it was "not good enough just to be visibly moved by the victims' testimonies".
Closing the hearing, Sir Brian urged Mr Sunak to give reassurance by "action, preferably" that victims will get compensation that is "just and fair and it will be delivered as soon as possible".
"Because if it troubles my conscience, I would think it will trouble the conscience of a caring government, and you have said that's what you would wish to be," the chairman said.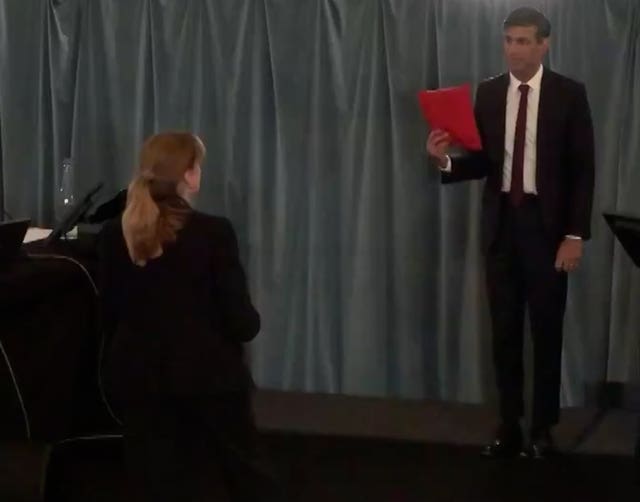 His comments were met with loud applause.
The Infected Blood Inquiry was established in 2017 to examine how thousands of patients in the UK developed HIV and hepatitis C through contaminated blood products.
About 2,900 people have since died.
Many had the blood-clotting disorder haemophilia and were given injections of the US product Factor VIII.
Sir Brian has said an interim compensation scheme should be widened so more people – including orphaned children and parents who lost children – can be compensated.
He said in April he was taking the unusual step of making the recommendation ahead of the publication of the full report into the scandal so that victims would not face any more delays.
Under the initial scheme, only victims themselves or bereaved partners can receive an interim payment of around £100,000.
Chancellor Jeremy Hunt will give evidence to the inquiry on Friday.
You may also like; Climate activists paint over portrait of King in Scottish museum