Shorter notice periods for people to leave asylum support accommodation after being granted refugee status are driving some into "destitution and homelessness", charities have warned.
A raft of major organisations insisted all refugees must be given a minimum of 28 days before they are required to move on from their accommodation, to give them a chance to find alternative housing and try to get a job.
In a letter to Home Secretary Suella Braverman and Housing Secretary Michael Gove, the Refugee Council claimed many refugees have, in recent months, been in a situation where they have just seven days' notice to move on from their accommodation.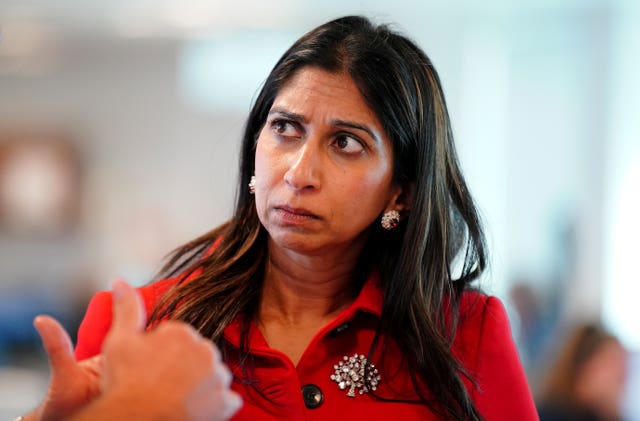 The letter, signed by various other human rights organisations as well as homeless charities Shelter and Crisis, stated: "This is causing severe hardship for refugees, as well as placing unnecessary pressures on local authorities who are already facing challenges finding accommodation for other groups.
"We are finding that local authorities have not been told of the new arrangements, meaning that they are not ready to respond quickly."
The Refugee Council said the 28-day so-called "move-on" period had previously started from when a person received their Biometric Residence Permit (BRP).
But the council said recent changes have seen the 28-day period instead begin when someone receives a grant letter telling them their protection claim has been accepted, rather than when they receive their BRP.
Due to delays between people receiving the grant letter and a BRP being delivered, many can end up "already … well into the 28 days before they can even start to engage with the processes that are vital for them to avoid homelessness and destitution", the Refugee Council said.
They said the changes "are already driving people who have recently received their refugee status into destitution and homelessness, instead of getting the support and protection they are entitled to".
Among their requests in the letter, the charities called for people to get their refugee grant letter, BRP, letter containing the date when their asylum support will end, and the notice to quit their accommodation all on the same day, adding that the 28-day notice period "should never begin before someone has received their BRP".
They also called for the move-on period to be extended to at least 56 days "in line with the Homelessness Reduction Act and the application for Universal Credit".
The Government said when someone is given notice that their asylum claim has been granted, they are informed that the prescribed period is 28 days, and will get a "notice to quit" support letter in writing at least seven days before their accommodation and support payments are due to end.
The Home Office added that support is offered to to newly-recognised refugees during the 28-day period, including advice on accessing the labour market, applying for Universal Credit and signposting to local authorities for assistance with housing.
A Home Office spokesperson said: "The pressure on the asylum system has continued to grow, with hotel accommodation costing an unacceptable £6 million a day.
"We encourage individuals to make their onward plans as soon as possible after receiving their decision, whether that is leaving the UK following a refusal, or taking steps to integrate in the UK following a grant.
"We are also modernising the asylum system, increasing productivity by simplifying and digitising processes, and recruiting record numbers of asylum decision-makers, with 40% more in post compared to the start of December 2022."
Refugee Council chief executive Enver Solomon said: "Being given refugee status should be a moment of huge relief for the men, women and children who have waited anxiously for months and years to hear whether they will be allowed to stay in the UK.
"Instead, by giving them very limited time to start anew, they are very likely to face destitution, homelessness and fall into crisis."
Refugee charity Care4Calais raised similar concerns.
Chief executive Steve Smith said: "Our volunteers are witnessing refugees being evicted from their accommodation before the Home Office issues their residence cards. Having been denied the right to work during their asylum claim, and forced to live on £9 per week, new refugees are not being given the time to find work or claim universal credit in order to secure new accommodation. When we approach councils and other NGOs for help, they are already being overwhelmed by the sudden increase in need.
"Being granted refugee status should be a happy moment. Instead, hundreds, if not thousands, of refugees are facing homelessness and destitution. Refugees are telling us they are being forced to buy tents and sleep rough in the streets. Is this really how the UK should be treating the survivors of war, torture and modern slavery?"
You may also like: Minister admits Rishi Sunak rejected funding for crumbling schools