A lack of help for renters "stands in stark contrast" to Government action to support mortgage holders, a coalition of charities and tenants' groups has said as they called on Rishi Sunak to do more.
An open letter to the Prime Minister called on him to "take seriously the insecurity that is plaguing private renters" in England and to speed up the passage of new legislation through Parliament.
Signatories to the letter, co-ordinated by the Renters' Reform Coalition, include housing charity Shelter, The Big Issue founder Lord Bird, Citizens Advice and Independent Age.
They wrote: "We saw how quickly your government moved to introduce a 'Mortgage Charter' in response to recent rising interest rates, in order to prevent repossession and ensure mortgage-holders have security in their homes.
"The Government's record in delivering on security for renters unfortunately stands in stark contrast."
Chancellor Jeremy Hunt recently held a summit with mortgage lenders and a new mortgage charter was agreed to support those who are struggling.
The letter also lamented the slow progress made by the Renters (Reform) Bill through Parliament, having had its first reading in May and no date having been set for a second.
The groups called on this to be expedited and for its contents to be beefed up.
The letter said: "More than two months ago, four years since it was first promised, the Government introduced the Renters (Reform) Bill. We welcomed this – but we are now left wondering why the bill hasn't been seen since.
"Moreover, despite many welcome aspects, in order to meet the government's ambition to create a fairer, more balanced private rented sector, the bill must be strengthened – this legislation is a once in a generation opportunity to fix renting.
"With rents rising at record levels, many renters will still be at threat of eviction based on unaffordable rent rises. Your Housing Secretary has said that rent rises of up to 20% and 30% are unacceptable, yet the Renters (Reform) Bill will not prevent these increases happening in many instances.
"Further, the Bill retains some unsatisfactory aspects of the current system. Renters can still be served an eviction notice – through no-fault of their own – after four months of a tenancy. If renters are to receive anything resembling the security of other tenures, feeling confident to put down roots in their communities, this needs to be considerably longer."
They also called for the two month notice period before tenants can be evicted to be extended, saying "it is simply not long enough – and is a major cause of homelessness following evictions from their privately rented homes".
The letter comes as the latest official homelessness statistics, published on Tuesday, showed that the numbers of households and children in temporary accommodation in England are at record highs.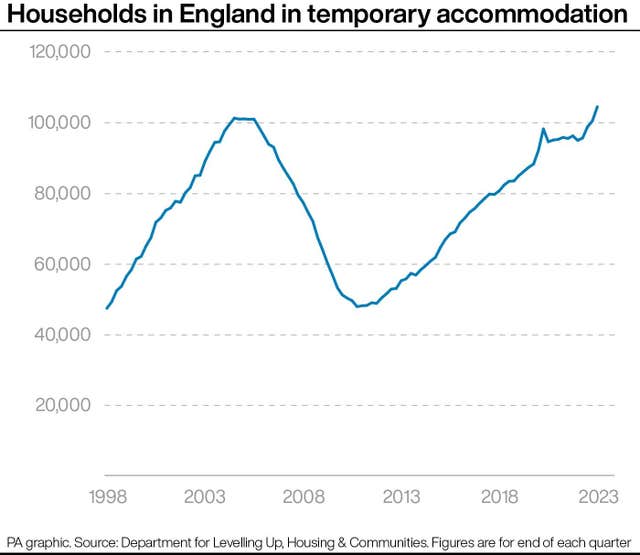 Some 104,510 households were in temporary accommodation by the end of March – a 25-year high, the Government figures showed.
The total number of children in this situation is also at the highest level since records for that measure began in 2004 – with 131,370 children living in temporary accommodation as of the end of March this year.
The most common reason for households being owed a prevention duty by their local authority – aimed at preventing a household threatened with homelessness within 56 days from becoming homeless – was that a private rental tenancy had come to an end.
This accounted for 14,530 or 38.3% of households and was up by 2.5% from the same quarter last year.
Giving a breakdown, the department said the most common recorded reasons were that a landlord was selling or re-letting the property (9,180 households), unknown or other reasons (2,320), and rent arrears due to change in personal circumstances (800).
Tom Darling, campaign manager of the Renters' Reform Coalition, said: "Four years after promising change, and two months after first giving people hope by introducing legislation, the Government's continued delays to the Renters (Reform) Bill are inexplicable."
He referred to recent statistics from Shelter which suggested almost 200 families each day are being handed no-fault eviction notices across England.
He said: "This is the human cost of the Government's lackadaisical attitude to delivering on this key piece of legislation."
"That is why we as the Renters' Reform Coalition and partners have joined together today to write to the Prime Minister and ask why the Government can't seem to see that private renters deserve security in their homes, just like everyone else, and that they deserve it now."
The Government has previously stated that it is "committed to creating a private rented sector that is fit for the 21st century and works for responsible landlords while strengthening protections for renters".
They added: "Our priority is ensuring that we get these reforms right. The date for Second Reading of the Bill is subject to parliamentary scheduling and will be announced in due course."
You may also like: Rishi Sunak slammed for 'desperate' attack on Labour over asylum policy