Javier Milei has declared that the "reconstruction of Argentina begins today" after a resounding victory in the country's presidential election on Sunday.
With 99.4 per cent of the votes tallied, the populist candidate had 55.7 per cent compared to economy minister Sergio Massa's 44.3 per cent, according to Argentina's electoral authority – the widest margin since the country's return to democracy in 1983.
"Argentina's situation is critical," said Mr Milei, a self-described anarcho-capitalist who has been compared to former US president Donald Trump.
"The changes our country needs are drastic. There is no room for gradualism, no room for lukewarm measures."
Mr Massa, the ruling Peronist party candidate had conceded early in the evening, saying Argentines "chose another path" after a fiercely polarised campaign in which Mr Milei promised a dramatic shake-up to the state to deal with soaring inflation and rising poverty.
"Starting tomorrow… guaranteeing the political, social and economic functions is the responsibility of the new president," Mr Massa said.
With victory to Mr Milei, the country will take an abrupt shift to the right with a president who got his start as a television talking head blasting what he called the "political caste".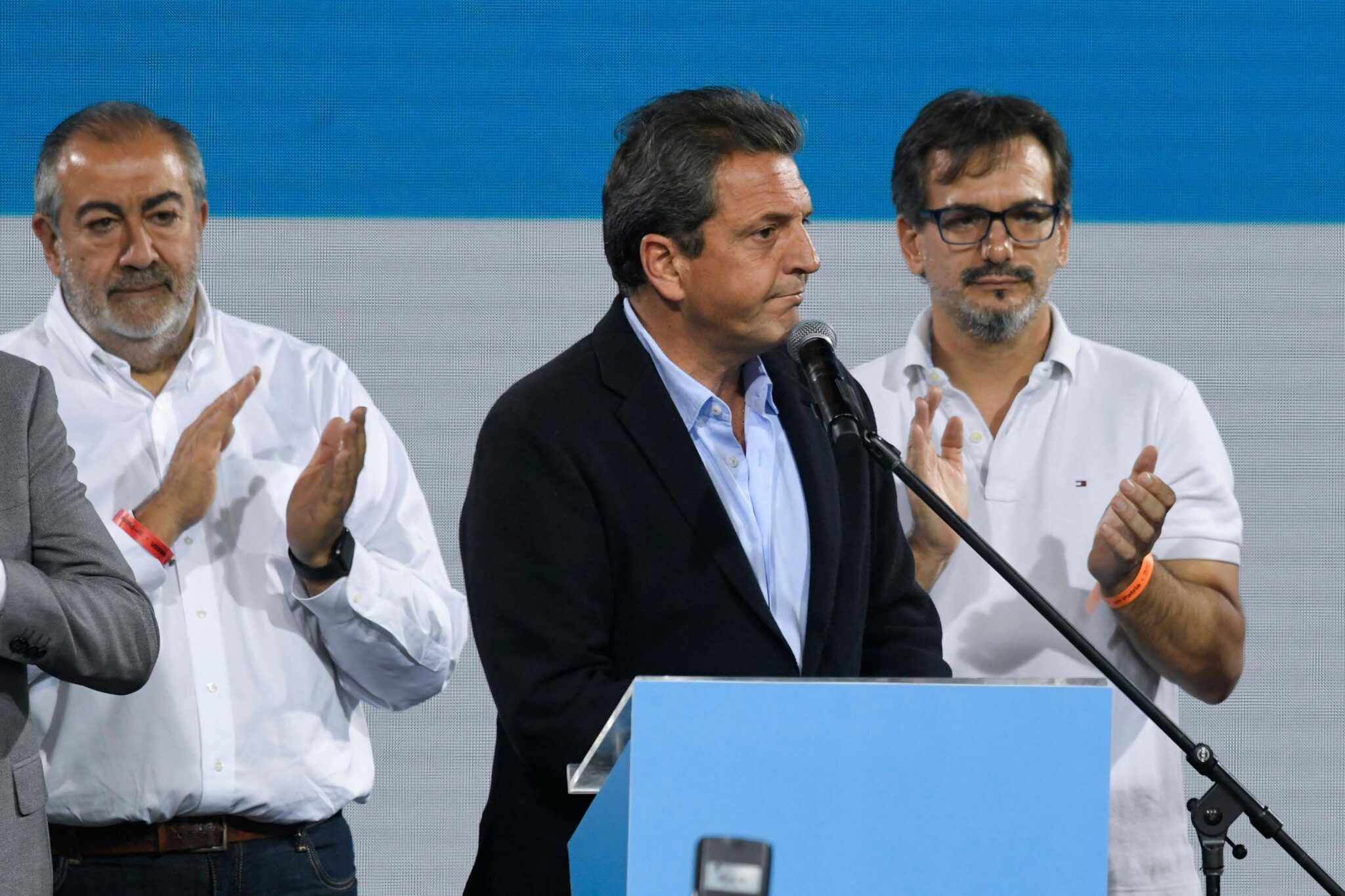 Inflation has soared above 140 per cent and poverty has worsened while Mr Massa has held his post.
Mr Milei has said he would slash the size of the government, dollarize the economy and eliminate the central bank as a way to tackle galloping inflation that he blames on successive governments printing money indiscriminately in order to fund public spending.
He also espouses several conservative social policies, including an opposition to sex education in schools and abortion, which Argentina's Congress legalised in 2020.
Mr Massa's campaign cautioned Argentines that his libertarian opponent's plan to eliminate key ministries and sharply curtail the state would threaten public services, including health and education, and welfare programmes many rely on.
Mr Milei accused his opponent and his allies of running a "campaign of fear" and he walked back some of his most controversial proposals, such as loosening gun control.
In his final campaign ad, he looked at the camera and assured voters he has no plans to privatise education or health care.
Mr Trump congratulated Milei on social media.
"The whole world was watching! I am very proud of you," Mr Trump wrote on his platform, Truth Social. "You will turn your Country around and truly Make Argentina Great Again!"
Posting on X, formerly Twitter, US Secretary of State Antony Blinken wrote: "We look forward to continuing bilateral co-operation based on shared values and interests."
Related: Richest 1% emit as much CO2 as poorest two thirds of planet, says Oxfam report