Barnardo's is calling on London boroughs to find better ways to help young people who are leaving care get into education, employment or training.
As local authorities around the UK start work on publishing their new local offer of services for care leavers, Barnardo's is calling on London councils to carefully consider what can be done to help those leaving care in the capital.
The children's charity believes local authorities should commission improved quality services as part of their local offer for care leavers. This would include:
advice on employment, training and skills
a range of suitable accommodation options
preparation for independent living
well-trained personal advisors available to each young person
Barnardo's Chief Executive Javed Khan said: "If young people leaving care are to go on and succeed in life then it is imperative that they get the support they need to get a job or access training.  We know at Barnardo's that with the right help and a bit of belief those leaving care can achieve positive futures for themselves.
"The new requirement on local authorities to publish their offer of services available to care leavers provides a perfect opportunity to revisit whether they are doing enough to support care leavers into education, employment or training. While we recognise central government needs to provide increased resources, local authorities must rise to this challenge too."
In London, a new Barnardo's programme Building Hope ensures young people leaving care have the opportunity of a secure home and support with their transition to independence, through training into employment.
The Building Hope Academy, a partnership between Barnardo's, construction industry group Saint-Gobain, Barking and Dagenham College and Phoenix Community Housing, launched in Lewisham in April 2018.
The Academy includes a 12-weeks traineeship programme for care leavers aged 16-25, offering functional skills in maths and English, work placements, CSCS card training and intensive support alongside a City & Guilds Level 2 Award in dry lining – the skill of putting up plasterboard walls, for which there is an urgent need across the construction industry.
Young people who join the course will be supported to engage with industry employers to access apprenticeships or employment afterwards. The first group of young people and are expected to complete the course this month.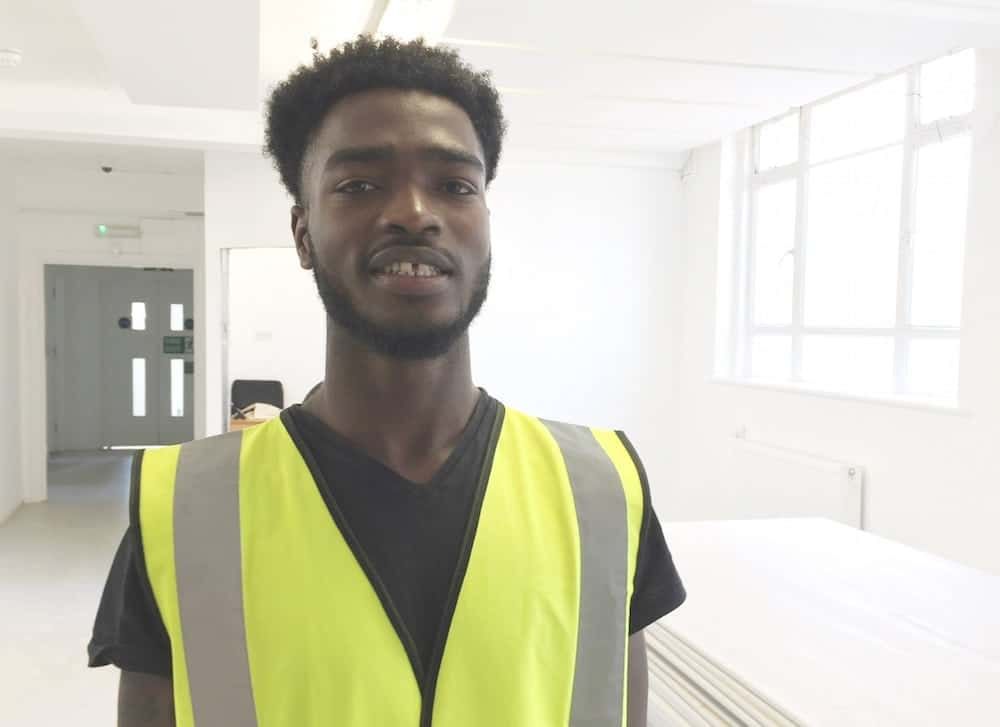 Abdel, 20, Bellingham:"I came to the UK from Benin in West Africa with my dad when I was 14. I couldn't speak any English. Life over there is really hard – here there are plenty more opportunities.
At the moment I'm living in shared accommodation. There are six of us, I have my own room and bathroom and there's a shared kitchen.
"My personal adviser told me about the course at the Building Hope Academy and Barnardo's are helping me a lot. They help with things like going for a job interview – how to present yourself, what to do and what to say. You need people to tell you things like that, because otherwise you don't know. We get support with things like housing and managing finances, which makes it easier for us to be independent.
"This is a big opportunity for us. A lot of us would usually be out on the streets, so this is really helping – all the time that we're in here, we're not on the streets and we're safe. We're getting the skills we need and at the end of it we might even be able to get a job, so I think we're really lucky."
Derek, 20, from Forest Hill in London said: "I've had a bad start to my life and I've moved around lots of different hostels and foster homes.
"I asked my social worker what they could do to get me on a course. I just wanted to get a job and sort my life out.
"I knew that dry lining skills are something that they're most lacking in the building industry so when this opportunity came up through Barnardo's, I jumped on it. I came along to a taster session and then applied, and since the first second of the course I've loved it.
"I love producing things. When I was a little boy I used to keep smashing things, but now I've got older I prefer building rather than destroying. I want to get a job first of all, then a house and a car. Then after a few years I'd like to open my own business, that's what I'm working towards. You've just got to never give up, and keep trying."
Donations to Barnardo's can make a huge difference to care leavers. £10 could pay travel costs to a job interview while £25 could buy them a smart outfit to wear to a job interview.
https://www.thelondoneconomic.com/lifestyle/black-history-month-2017-stories-young-black-people-supported-barnardos-victorian-london/02/10/
https://www.thelondoneconomic.com/lifestyle/portraits-young-people-ready-work-now-mark-150th-anniversary-barnardos-first-ragged-school/02/03/