Mass Murderer responsible for grisly killing spree to start race war died in hospital of natural causes.
The notorious mass murderer credited with ending the Sixties in a bloodbath in order to start a race war died late on Sunday night, November 19, 2017.
America's most infamous prisoner had spent 47 years in prison, where other members of the "Manson Gang" still serve their lengthy sentences.
Manson and six members of his cult were jailed in 1971 after a brutal 1969 killing spree left seven dead in Los Angeles.
He had become obsessed with the Beatles song "Helter Skelter" which he believed predicted an apocalyptical race war between whites and blacks, who Manson referred to as "blackies" and regarded an inferior race.
In his many spells in prison from crimes ranging from robbery to pimping, Manson avoided black inmates. When he moved to California at the height of the hippy movement he built a cult of followers among the drop outs that gravitated to him.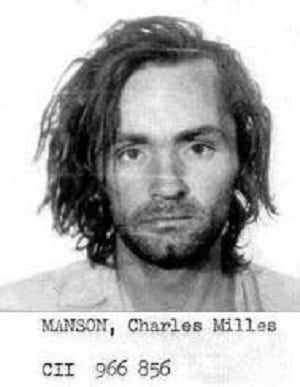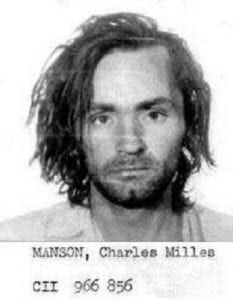 He told cult members that the blacks would rise up and win a race war with the whites as they were savages and that if they did not do what he told them to, they would eventually be enslaved or butchered when the black population won.
Manson had hung out with Beach Boys drummer Dennis Wilson and the band's producer, Terry Melcher, and harboured ambitions of a music career too.
When Terry Melcher refused to give the weird gnome-like drug-addled figure a recording deal, Manson was hell-bent on revenge on Melcher and the elites he saw the recording industry as part of.
Even though he knew that Terry Melcher had moved out, he sent his brainwashed followers to his former house to kill anyone that lived there – which now happened to be film director Roman Polanski and the heavily pregnant actress Sharon Tate.
Manson told his gang to leave clues to pin the bloodbath on black power militants the Black Panthers so as to precipitate the race war he had predicted such as scrawling words associated with the Black Panthers in their victims' blood.
In a brutal murder spree that many saw as a shocking end of the Sixties hippy era, on August 9, 1969, the "Manson Gang" – Charles "Tex" Watson, Susan Atkins and Patricia Krenwinkel, butchered eight and a half months pregnant Sharon Tate, her friends celebrity hairstylist Jay Sebring, heiress Abigail Folger and her boyfriend, filmmaker Wojciech Frykowski, as well as Steven Parent who was visiting the caretaker there. Polanski was filming in Europe at the time.
Charles Manson sent the three drug addled killers out again on the night after, together with fellow Manson Gang member Leslie Van Houten. They entered the house of supermarket magnate Leno LaBianca and his wife, Rosemary LaBianca and stabbed them to death.
Three months later, a cult member arrested on an unrelated charge, mentioned the killings to a cellmate, leading the investigation to the Manson Gang who were sentenced to death in 1971, though California outlawed the death penalty a year later, so they mainly remain in prison.
Despite the overwhelming evidence against him, Manson maintained during his tumultuous trial in 1970 that he was innocent and that society itself was guilty.
In a bizarre trial, despite overwhelming evidence, Manson attempted to defend himself, maintained innocence, saying the bloodbath was society's fault, with pronouncements such as:
"these children that come at you with knives, they are your children. You taught them; I didn't teach them. I just tried to help them stand up."
Manson become the embodiment of evil for America, carving an "X" into his forehead during the trial, which he later cut into a swastika shape.
His ramblings and weird recordings and extreme views ensured he remained a cult figure throughout his life imprisonment until November 15, 2017 when he was taken to a hospital in Bakersfield, dying of natural causes four days later.