This is the frightening moment animal activists were repeatedly RAMMED by a 4×4 while driving to intercept a hunt.
Hunt saboteurs were on their way to monitor the Grove and Rufford Hunt when they claim they were stalked by a dark blue Land Cruiser.
Dash cam video shows the car – driven by masked vigilantes – emerging from a side road and ramming at speed into the side of a vehicle carrying the sabs.
Shockingly the attackers then reverse – and then ram into the front of a second car also carrying the anti-hunt campaigners.
Video shows the balaclava-clad gang speeding off while the driver sticks his middle finger up at the saboteurs.
Police are investigating the attack in Edingley, Nottinghamshire, on Saturday and urged anyone with information to come forward.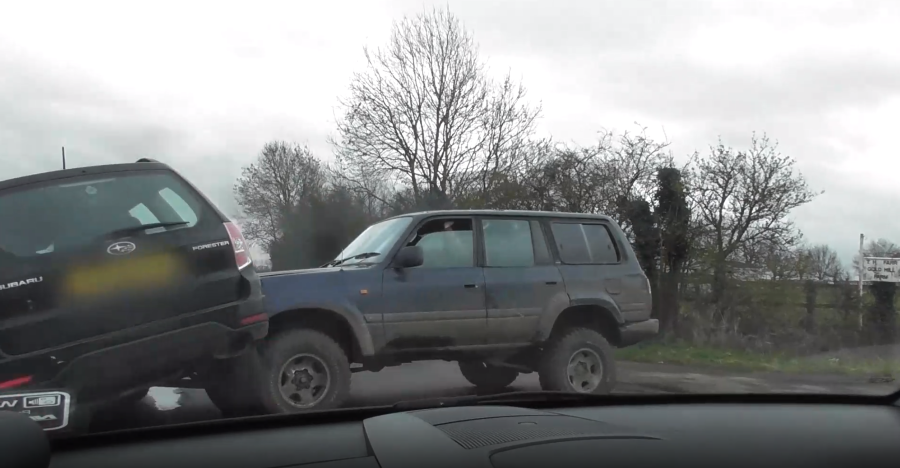 Alec Holland, 32, a volunteer with North West Hunt Saboteurs, who was in one of the vehicles, said: "Sabs are used to some degree of violence but I never expected them to use their car as a battering ram like that.
"I've been assaulted on several occasions but this was by far the most extreme incident I've been involved in.
"We tried pointing out that these members of the public did not appear to be that intimidated when they were illegally driving an unlicensed 4×4 and using it as a weapon, but this fell on deaf ears."
The saboteurs were on their way to a hunt when they ended up in a "game of cat and mouse" with alleged hunt supporters.
Video shows the two sides encountering each other on roads around the area, and Alec said his team called Nottinghamshire Police before the attack.
The sabs said they were filming the incident to aid future police investigations.
Alec said police handed out dispersal orders to the saboteurs and "lectured" them on how they look to members of the public.
They said they were going to oversee the hunt after alleged assaults in Lincoln and West Yorkshire by "aggressive" supporters last week.
A Nottinghamshire Police spokesperson said: "We're investigating a report of driving offences and criminal damage involving a vehicle in Lower Kirklington Road, Southwell, which happened at around 11.18am on Saturday.
"We received a report that two vehicles were rammed by a dark-coloured 4×4 vehicle. One person suffered minor injuries.
"We're aware of the existence of video footage of the incident which we have requested as part of our investigation."
Grove and Rufford Hunt has been contacted for comment.