The Conservative chairman has repeated claims his party could lose 1,000 councillors in May's local elections but denied he would quit if they had a bad night.
Greg Hands said independent experts had made the prediction and denied he was overplaying the potential losses on May 4, which will be Prime Minister Rishi Sunak's first electoral test.
"Those are independent academics and the leading academics in the country on the subjects of local council elections – Rallings & Thrasher and Professor John Curtice – that is what they are saying, that the Conservatives are set to lose 1,000 seats.
"We'll have to wait and see.
"I know that I find from activists and councillors ad council candidates, in places like here in South Gloucestershire, that people are more upbeat and more optimistic."
Within hours of the Conservatives losing both the Tiverton and Honiton and Wakefield Parliamentary by-elections last year, then party chairman Oliver Dowden had quit.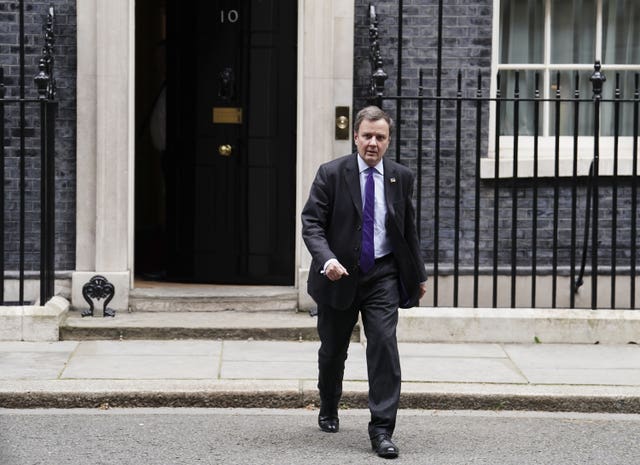 Asked if he would be resigning, Mr Hands replied: "No very much not. We're getting on with the job.
"We are delivering on Rishi Sunak's five priorities overall.
"We are making sure that we fight a good set of local elections.
"Conservative councils are very much worthwhile voting for – the councils, the councillors, the council candidates, these are people who are delivering better public services at a lower cost."
During a campaign visit to South Gloucestershire, Mr Hands said voters on the doorstep were receptive to the Prime Minister's five pledges on halving inflation, growing the economy, cutting debt, reducing NHS waiting lists and stopping the small boat channel crossings.
"The reason for voting Conservative is clear that a Conservative council costs you less and delivers better public services for less money," Mr Hands said.
"In Conservative-run councils you are less likely to be a victim of crime, you're more likely to have your potholes filled and your bins collected more regularly,
"Conservative councils deliver more for a lower cost.
"People are warming to that Conservative local message.
"South Gloucestershire is a really important council.
"It's a well-run conservative council that delivers very good quality public services at a lower rate of council tax, significantly lower than Labour-run Bristol next door.
"I think people also react well to Rishi Sunak and to his five priorities of halving inflation, cutting the debt, restoring growth, cutting hospital waiting lists and stopping the boats.
"People respond well to those five priorities and those are very much the people's priorities as well."
Mr Hands also accused Sir Keir Starmer of "flip-flopping" after the Labour leader criticised the Conservative record on housebuilding at Prime Minister's Questions.
"Of course, people need housing and in fact this Government has delivered 2.3 million new homes since 2010 – that's a lot of homes," he said.
"Housebuilding is recovering and after the pandemic house building slowed considerably.
"We're providing more homes right the way across the board and I think Keir Starmer needs to say what does he actually stand for?
"He's flip flopped so often on these things, as with almost everything else.
"The Conservatives say we need a strong local voice as well when it comes to house building, that houses need to be built in appropriate areas we need to protect the greenbelt and so on."
Voters in 230 local authorities across England are going to the polls on Thursday and elections are also taking place to choose mayors in Bedford, Leicester, Mansfield and Middlesbrough.
Many of the seats being contested this year were last up for election in 2019.
The Conservatives will be hoping to keep losses to a minimum, while Labour leader Sir Keir Starmer and Liberal Democrat leader Sir Ed Davey will be judged on whether their parties are able to make gains at the expense of the Conservatives.
You may also like: WATCH: Flynn mocks Labour's 'Nick Clegg moment'