The model ex wife of a Russian oligarch hired a fake bailiff to extort money off him at his Chelsea home, threatening him with deportation if he didn't cough up, a court heard.
Reality TV star Marinika Smirnova, 34, whose family founded Smirnoff vodka is accused of hiring Robin Murray, 29, to pose as a debt collector and steal valuables worth £2,000 from Sergei Windsor's home.
Mr Windsor had taken her to court over a share of her first husband's divorce payment that he said she had agreed to hand over to him.
Smirnova won and Mr Windsor was ordered to pay her £87,000 court costs.
Mr Windsor, formerly known as Sergei Kapchuk, is a former regional deputy in Sverdlovsk, Russia, who was granted asylum in the UK.
After the assassination attempt on Russian spy Sergei Skripal in Salisbury Windsor voiced concerns he would be 'next'.
Smirnova and Murray are both charged with one count of conspiracy to commit fraud, while Murray is also charged with fraud and burglary.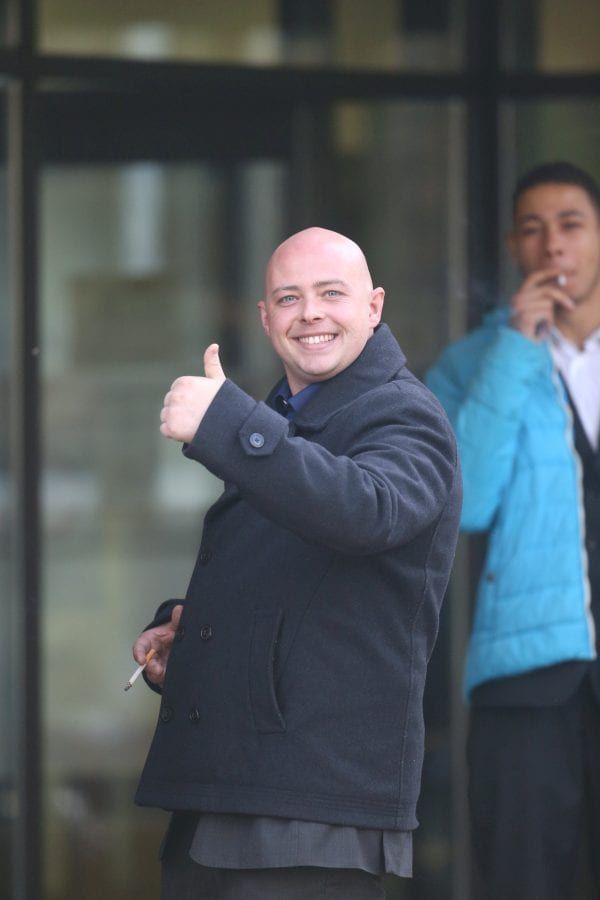 Murray is alleged to have gained access to Mr Windsor's home in May 2016 with fake documents stating he was a court bailiff from the Royal Courts of Justice.
He stole two Apple Macs, a Samsung television, a watch, a printer and an audio recorder with a combined value of £2,000, the court heard.
Smirnova and Mr Windsor met and started a relationship in 2012, when she was divorcing her husband in Russia and seeking a financial settlement in the British courts.
They split up two years later, after which Mr Windsor took Smirnova to court because he alleged she had promised to hand over cash from the settlement.
Prosecutor Tyrone Silcott said: "During the relationship Mr Windsor claims that he obtained a promissory note from Ms Smirnova stating that she would share any monies she might obtain from her ex-husband because of the family court proceedings.
"This did not happen and Mr Windsor instituted proceedings in the High Court.
"This finally resulted in his case being thrown out and the High Court ordered Mr Windsor to pay £87,000 towards Ms Smirnova's court costs."
Addressing the jury, Mr Silcott said: "The basic facts of the case are that the defendants hatched a plan to obtain money from Mr Windsor.
"Mr Murray went to Mr Windor's house, with another man we have not been able to find, and pretended to be a court bailiff. He basically said 'give us your stuff'."
The court heard about 9pm on May 31, 2016, the two arrived at the Chelsea home.
Mr Silcott said: "They both stated to Mr Windsor and Ms Shamratova – a friend who was at the house – that they were High Court bailiffs acting for the Royal Courts of Justice.
"They showed some form of ID to him which included a badge and an iPad which bore the Royal Courts of Justice Crest and details of Ms Smirnova's court settlement."
Mr Windsor let the two men into his home and once inside, Mr Murray "demanded money" from him and searched the house.
Mr Silcott said: "Mr Murray read paperwork and documents belonging to Mr Windsor and he and the other male removed two Mac book computers, an audio recorder, a TV, computer printer and a watch all belonging to Mr Windsor.
"The following day someone called Mr Windsor from a withheld number demanding to know when he would be able to pay the remainder of the money owing to Ms Smirnova.
"That number was traced to Mr Murray.
"Mr Windsor was suspicious of the males as they did not give him any receipt for the items they took and had threatened him while in the address saying he would be deported if he did not pay them."
Mr Windsor contacted the High Court and Smirnova was asked if she had sent an enforcement officer to his home. She denied she had and claimed she "knew nothing" about it.
The following November police searched both Smirnova's Kensington home and Murray's home in Surrey.
The court heard a phone with WhatsApp messages between the Russian socialite and Murray dating back to February 2016 was found in Smirnova's home.
Mr Silcott said: "The messages show that they have met on numerous occasions and include images sent to Ms Smirnova by Mr Murray showing the entrance to Mr Windsor's address.
"The texts include discussions regarding Mr Windsor and the monies owing to Ms Smirnova.
"They appear to show that Mr Murray was working for her.
"Ms Smirnova sent images of documents relating to Mr Windsor including copies of his passport and driving licence."
In his police interview, Murray denied he had pretended to be a bailiff and said he went to the house to buy a TV.
But when confronted with evidence that showed he had been investigating Mr Windsor he said: "I went round there to find out who he was and to find out what he's about.
"Because the guy is here on political asylum.He is involved with a number of fraudsters and murderers. Some drug dealers…"
Murray later said he was working as an investigator for a company and believed Mr Windsor was part of a "huge fraud".
Although at first he said there was no financial arrangement between him and Smirnova, he later admitted there was.
The court heard Ms Smirnova admitted in police interview that she contacted Murray "to discuss his services as a financial investigator and for personal security".
Mr Silcott said: "She said 'I was so scared that when he lost his case he would physically harm me'.
"'That is the explanation of the text messages and images..'"
The blonde Russian socialite, who was crowned Mrs Russia in 2008, denied she was in a sexual relationship with Murray, which he refutes.
Smirnova, wearing a white shirt, black skirt, and grey jacket, did not show any emotion in the dock.
The socialite, who starred in reality TV show 'Meet the Russians', is the great niece of Pierre Smirnoff and the daughter of gymnastics champion Elena Kolesnikova.
The heiress denies conspiracy to commit fraud while Murray, of Warlingham, Surrey, denies conspiracy to commit fraud, burglary and fraud.
The trial continues
By Ben Gelblum and Grainne Cuffe