After a week of repeated apologies to the victims of the Windrush scandal and assurances by Prime Minister Theresa May and Home Secretary Amber Rudd that they would not be facing any more deportations, we have discovered evidence of a special chartered removal flight to Jamaica next week.
We know of at least three grandmothers with British families who were due to be removed on the secretive flight.
One, Yvonne Williams, a 59-year old grandmother of seven, whose mother arrived from Jamaica in 1962, had been detained in the scandal-ridden Yarl's Wood detention centre for OVER EIGHT MONTHS since last August.
She had been given removal directions by the Home Office for next week's flight despite all her family being based in Britain and having none in Jamaica.
Thankfully, on Friday, the Home Office told Yvonne after she had been incarcerated for months away from her elderly mother, 82, and from the grandchildren that she had been caring for, that she would not be removed on the flight and that she could finally be released from detention.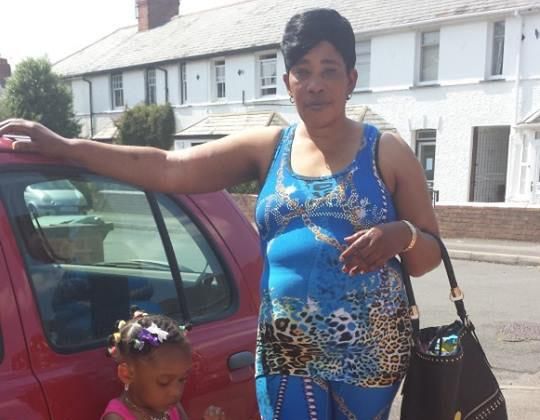 We spoke to a very relieved Yvonne on her way home with her daughter and granddaughter last night.
Kareca Jones, her 40-year-old daughter, said that being detained indefinitely had taken a great toll on her previously healthy mother's mental and physical health.
"She now has diabetes and had to go hospital with an enlarged heart," said Kareca, "before she was detained she never had health problems.
"It was really horrible her feet were swollen and went black."
Kareca accused health staff at Yarl's Wood Removal Centre of ignoring her mother's repeated please about her deteriorating health. She also spoke of the stress and cost for all the family of having her 59 year old mother taken away. The grandmother was the main carer for her young grandchildren, who along with her siblings, mother and children, all have British citizenship.
Yvonne says she has not been given a reason why she has been released now after nearly nine months incarcerated with the threat of deportation by the Home Office.
Labour MP Anneliese Dodds, had taken up her contituent's case with the Home Office. The MP for Oxford East told us:
"I am very concerned about Yvonne Williams' situation. She has no family left in Jamaica and her grandchildren and mother are in the UK (after her mother arrived as part of the 'Windrush Generation'). The way she is being treated suggests the government really doesn't 'get it' when it comes to the treatment of Windrush generation people and their families."
Another grandmother incarcerated at Yarl's Wood detention centre has not been as fortunate.
Yvonne Smith, 63, remembers waving to the Queen when she visited Jamaica. She was born a citizen of the UK and Colonies eight years before Jamaican independence.
Yvonne's father and mother came to the UK in the 1950's.
Yvonne stayed behind with her grandmother joining her British siblings and father in Birmingham after her mother and grandmother passed away.
Her brother, sisters, nephews, nieces, children, grandchildren are all British and she has no family left in Jamaica.
Yvonne has been making attempts to regularise her stay since 2010 as the main carer for her 92 year old father. The Home Office insists that she has not got enough significant family ties and has incarcerated Yvonne since last August.
She says it breaks her heart talking to her father on the phone: "He starts crying, he doesn't want the NHS to look after him, he wants me, it's too hard to hear him cry."
Being detained for over eight months has also taken its toll on Yvonne's health. She has been diagnosed with Diabetes since being locked up, complains of pain and her eyes fading.
"They treat us like criminals in here, come into your room, search you. We are treated worse than pigs," says Yvonne who received removal directions on Friday saying that she would be on charter flight PVT070 to Jamaica any time after 5 working days.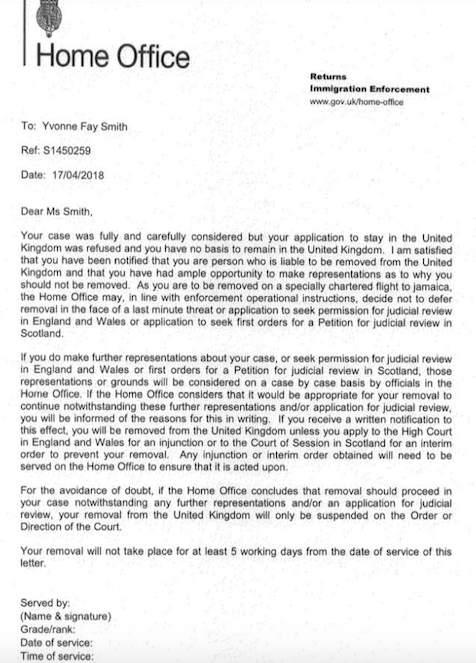 Around 40 people were removed to Jamaica on a specially chartered flight with the same number in March last year, some in shackles.
At the time of writing this article, Yvonne is still due to be removed on the flight and we have heard of another Jamaican grandmother locked up in Yarlswood scheduled for the charter flight who is 66 years old.
"All charter flights rob people of the right to fair hearings and due process. PVT070 and all charter flights need to be stopped," said Karen Doyle of Movement for Justice, who has been supporting both Yvonne Williams and Yvonne Smith.
She called for an amnesty to ensure fairness for a wide definition of the Windrush generation who had come to work in Britain from the Commonwealth as well as their families.
"Both Yvonne Williams and Yvonne Smith are classed by the Home Office and the legal system as 'overstayers,'" she added, "just because a human being has been labelled 'illegal' does not make it fair, just or right. This is why we need an amnesty."
The Home Office refused repeated requests for a comment on the flight.
Since Theresa May was Home Secretary, the Conservatives have forcibly removed thousands of people to Commonwealth countries. Over 7,600 people have been returned to countries including Jamaica, Nigeria, Pakistan, Sri Lanka on charter flights on the controversial Home Office charter escorted flights since 2010.
Home office chartered removal flights are controversial and very secretive, with people due to be removed given only a few days notice and not told what day they will be deported.
A report by Her Majesty's Inspector of Prisons last year said detainees on one charter flight to Jamaica had "lived in the UK for a long time, leaving family behind, including children" adding, "one woman and one man said they had no one to go to."
Another report into an accompanied chartered removal flight of 35 people to Jamaica by Her Majesty's Prison Inspectorate in 2011 when Theresa May was Home Secretary found that "there had been incidents where force had been used," warned that some of the vulnerable  people on the flight complained that they were leaving all their family connections in the UK for none in Jamaica, and were physically manhandled by staff using "unprofessional language, swearing freely, telling offensive jokes and indulging in sweeping generalisations about national characteristics."
Passengers on the secretive flights can be handcuffed or fitted with leg and waist restraints.
Movement For Justice are organizing an emergency protest outside the Home Office on Tuesday.
LATEST:
https://www.thelondoneconomic.com/news/breaking-news-home-secretary-amber-rudd-finally-resigns-over-windrush-fiasco-lies/29/04/
https://www.thelondoneconomic.com/news/theresa-mays-hostile-environment-immigration-policy-compared-to-nazi-germany-by-her-own-ministers/19/04/
https://www.thelondoneconomic.com/news/will-theresa-mays-child-abuse-inquiry-explain-how-so-many-abuse-survivors-records-have-disappeared/24/04/
https://www.thelondoneconomic.com/news/faith-leaders-ask-home-secretary-amber-rudd-time-limit-inhumane-indefinite-immigration-detention/17/02/