By Tara Carey Fair Funding for Schools representative in Lambeth
The row over school funding has taken centre stage in the general election campaign, with parents and teachers across the country rising up in protest against budget cuts put forward by the government and Department of Education.
To highlight concerns, a national day of action is being planned this Friday, May 26, with events happening in parks and high streets up and down the country.
Campaigners say at the heart of the problem are plans introduced by Education Secretary Justine Greening to change the school funding formula, which allocates state money to local authorities, which come on top of existing pressure on school budgets.
In an attempt to make things fairer, the government wants to tackle what it describes as a postcode lottery, whereby urban areas like London, Bristol and Manchester are well resourced, while other areas receive less.
Following a restructuring set out by the Department for Education, state schools in England now face 8 per cent real-terms budget cuts. According to analysis by the National Audit Office, this means schools will have to find £3bn in savings before 2019-20.
Head teachers already voicing concerns about how successive years of underfunding and rising costs mean they are now facing the impossible task of trying to balance the books while providing quality education for all children.
Record levels of pupils in the system are straining budgets and cash-strapped schools are struggling to cope with substantial budget deficits that are leading to increased class sizes, reduced subject choices, and a fall in support to children with additional educational needs.
London pupils are being particularly badly hit, with every state-funded school in Camden, Lambeth, and Hammersmith and Fulham, expected to cope with either less or the same funding as now.
Other boroughs facing some of the biggest cuts to funding anywhere in the country include Southwark, Lewisham, Haringey, Tower Hamlets, and Hackney.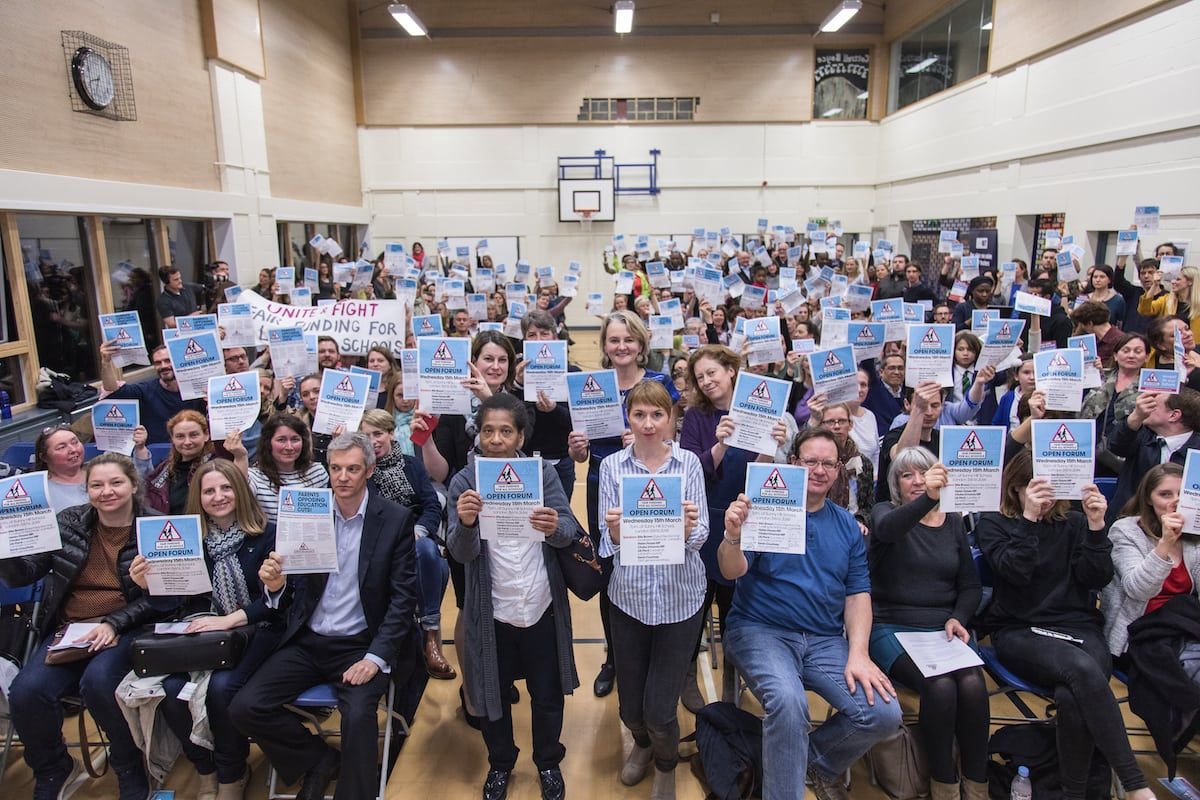 There have been reports of schools with no money for supplies asking parents to provide paper, and lunchtime assistants being made redundant so that teaching assistants can cover lunches for no extra pay.
Some state schools are responding by asking parents for financial help, and a survey in January by the charity PTA UK found one third of parents had been asked to donate money to their child's school.
Labour has already made a pledge to improve school funding with a £5bn package, while the Liberal Democrats have promised £7bn.
Following pressure from school parents and a groundswell of opposition from some Conservative MPs, the party's election manifesto has pledged to increase the overall schools budget by £4 billion by 2022, "representing more than a real terms increase for every year of the parliament".
The Tory party claims that no school will lose out under their new national schools funding formula, with Theresa May promising schools an extra £650m a year by scrapping universal free lunches for infants and introducing free school breakfasts for all primary pupils.
However, head teachers from around 3,000 schools say the Conservative's new national funding formula ignores inflationary cost pressures, and the proposed £4 billion won't be enough to protect schools from cost increases.
The BBC reports that schools will have to cover unfunded rises in pay, National Insurance contributions, and pensions, which will account for between 6% and 11% of their budgets by 2019-20. Experts have also warned that the proposed reforms divert funding away from schools with the most deprived student population.
Luke Sibieta, Research Director at IFS, tweeted that the £4bn extra in school spending equates to real-term cuts in spend per pupil of just under 3% between 2017-18, and 2021-22.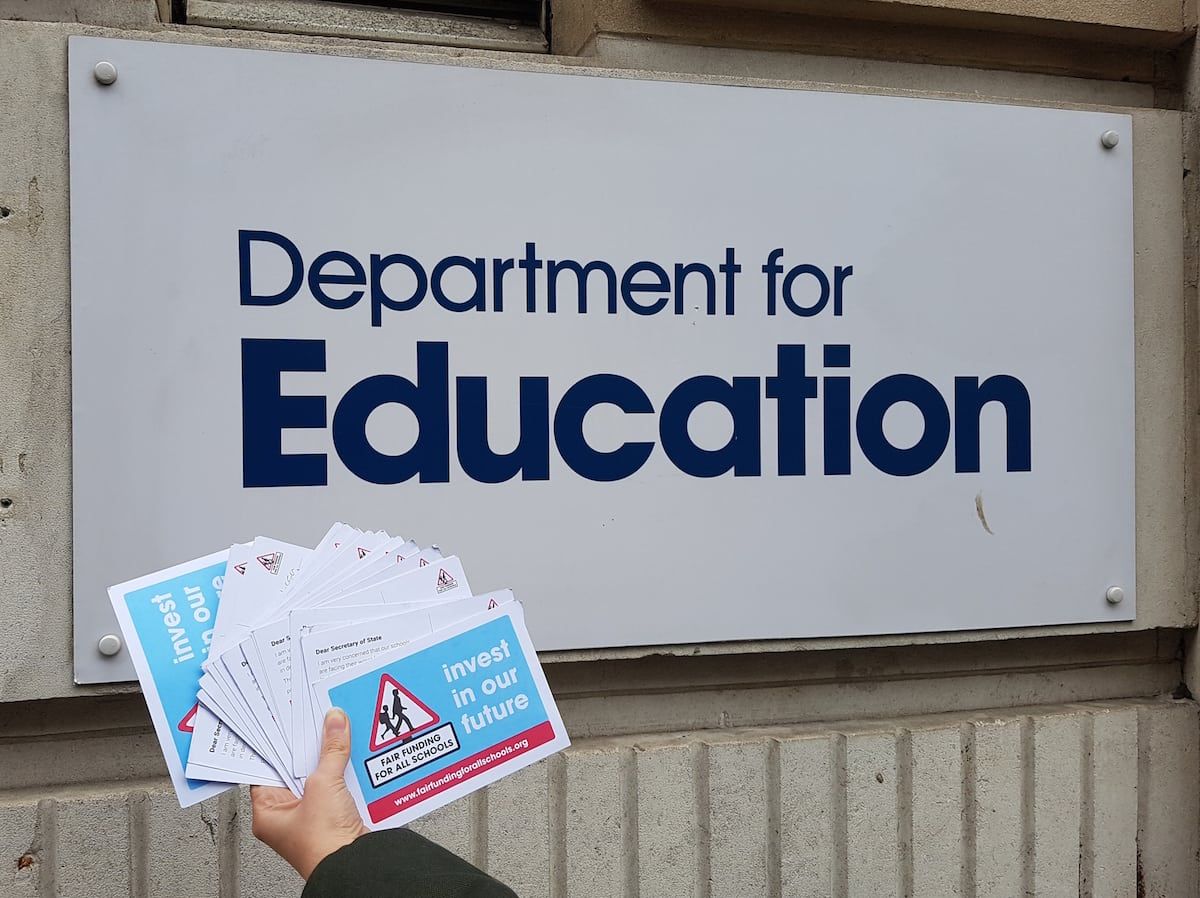 Lambeth head teacher Ms. Alex New, who runs St.Jude's C of E Primary School in Herne Hill, says: "This year we have already introduced a reduced staff structure with teaching assistants shared between classes, as well as reduced support for special educational needs, sports coach provision and music specialist teaching."
"Additional budget cuts will have a catastrophic effect on our children's education and life chances, and will be seen in the reduction of support we provide children in small group interventions, as well as whole class team teaching and streaming of groups."
"A further reduction in the number of teaching assistants will impact on class teachers' workload considerably as they have a key role in supporting lesson preparation, making resources and supporting groups in class. Speech and Language Support, Literacy Specialist support and counselling services for family support, which we buy in, will not be sustainable."
A national campaign has been launched by a network of concerned parents, Fair Funding for All Schools, and local groups are springing up across the country. Campaigners are calling for: "per-pupil funding to be protected in real terms over the lifetime of the next parliament and for no school to lose funding as a direct result of the new National Funding Formula".
South London group Fair Funding Lambeth says: "All three of the main party manifestos in the general election have now recognised both the need to find more funding for schools and to ensure no school loses from the National Funding Formula.
"The proposals outlined in the Labour and Lib Dem manifestos come closest to meeting demands but concerns remain that the Conservative's commitment to an additional £4bn by 2022 will mean that per pupil funding will still be cut over the next five years, leaving schools facing further losses."
On Friday 26 May, local Fair Funding Campaign groups are inviting parents, pupils and teachers come together to make sure the voices are heard in the run up to the election. Events will be happening across London, including in Hackney, Haringey, Hammersmith and Fulham, Lambeth, Southwark, Wandsworth and others.
Jo Yurky, one of the parents who set up the national Fair Funding for All Schools campaign group, said the election provides a "fantastic opportunity to ramp up the pressure…When headteachers speak, parents listen. When parents speak, politicians listen."