Over £5,000 has been raised by 411 kind donors within a day to help pay for the funeral costs of murdered teen Jodie Chesney.
The GoFundMe page was created on Saturday and by lunchtime had received £5,520 of its £5,000 goal,
And more than 50 bouquets of flowers have been placed at the scene of the 17-year-old's brutal killing.
The sixth-form student was murdered on Friday evening by a knifeman in an east London park.
A crime scene remains in place, with a cordon covering the entirety of Saint Neots Road Play Park in Harold Hill.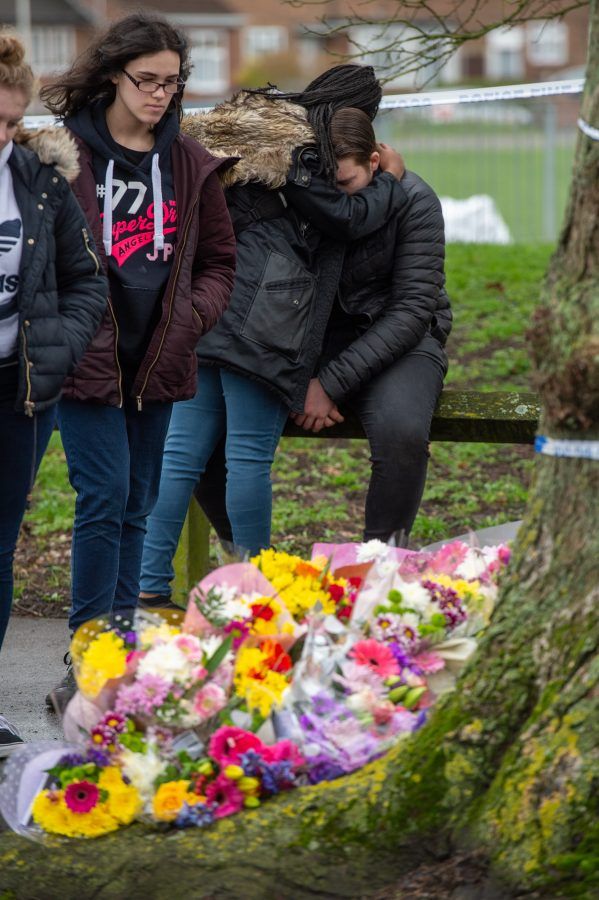 Dozens of white, red and yellow flowers have been placed beside the entrance – alongside a wreath of lilies.
One tribute read: "Jodie, my heart and prayers are with you. Rest in peace Angel. Janice xxx."
Local Jerry Carr, 57, said that gangs have been a problem in the immediate area for years, leaving locals 'scared to go out at night'.
She said: "I was told that there was an argument in that park. Then those boys came back half-an-hour and attacked her.
"To be quite truthful people are too scared to go out after dark around here. It's been going on for years.
"When you walk past you can always smell marijuana. You see young boys hanging outside the flats, selling drugs.
"There are so many gangs, that's why they put so much CCTV in. They barely have any in the parks, that's why they go there.
"Someone was stabbed by someone on a bike just at the end of the road recently. Someone tried to take the bike off him.
"It makes me feel scared to go out. Especially as you get older, you lose your confidence in case they do something to you."
A GoFundMe page set up to raise money for the funeral has reached more than £5,000 in 24 hours.
The page read: "The whole community are still trying to come to terms with this shocking event.
"As a local charity we want to support the family as much as we can to alleviate the financial stress on this young lady's funeral.
"We are in contact with the immediate family and have agreed to support them with the cost of the funeral arrangements.
"Once a funeral directors have been chosen we will be writing a cheque to cover the costs.
"We are aware that the local community will want to help with this appeal so as well as making a financial donation towards this from our own account."
Among those posting were Victoria Dewar who wrote: "Jodie, words can not express how we are all feeling. Especially you dad, sister and family.
"You were such a beautiful funny happy little girl and I will never forget that little girl I met all those years ago.
"You will be so missed by Us all. You brightened up our lives and you are now with the angels.
"I will never forget you and you will always have that special place in my heart even though it is broken. Love always xxxxx RIP beautiful girl my heart is breaking sn"
Natasha Blaauw added: "We are lost for words. Jodie was a good friend of my son Sean.
"They are an amazing, lovely group of friends. My heart goes out to all of them and to Jodie's family. xx"
And Sadè Akinyemi said: "Jodie was in my GCSE music class in your 10 and 11, she was always a kind,funny and harmless soul and I'm devistated (sic) that this has happened to such a genuine person."
By Daniel Hammond